While restaurant operators in Singapore do take necessary steps to ensure higher revenue and profit margins, they often tend to ignore a critical aspect of restaurant operations, that is, kitchen waste management. According to the National Environment Agency, food waste accounts for around 10 percent of the total waste generated in Singapore. Out of which, only 17 percent of the food waste is recycled. To ensure that your restaurant generates minimal waste, you can implement techniques such as proportioning and recipe standardization. However, food wastage is unavoidable to only some extent. This is where recycling and responsibly disposing of the waste is extremely critical. This article discusses the importance of restaurant kitchen waste management and how Singapore restaurants can achieve it.
How Can Singapore Restaurants Curb Food Wastage By Employing Kitchen Waste Management Techniques
Not managing kitchen waste effectively will not only cost you extra money but also impact the environment negatively. Considering that kitchen waste management is a vital aspect for all restaurants in Singapore, this article points out the various techniques that you can implement to ensure your restaurant is generating minimum waste and responsibly disposing of the waste.
1. Train Your Staff
The foremost step towards controlling the kitchen waste is to educate your staff on how to prepare the dishes while eliminating food wastage. Unless your restaurant staff realizes the negative impacts of improper ways of disposing of the kitchen waste, they would not be able to act responsibly to curb the generation of the waste. Implement a central recipe management system with the help of your restaurant POS system and ensure that your staff follows a set of standard procedures, ingredients, and quantities mentioned in the central recipe management system. 
2. Minimize Wastage With Food Waste Audit Sheets
To keep a count of how much kitchen waste your restaurant has generated, create a waste sheet. Food wastage mostly includes food items or drinks that are prepared incorrectly. A waste sheet should typically consist of the details of all items wasted, the reason for food wastage, quantity of items or raw materials spent, and the estimated cost.  
Restaurant operators must also consider the waste generated by customers. This is known as the post-consumer waste where customers pay for the food but don't consume it entirely. There may be multiple reasons why customers waste food, but you need to keep track of the food waste generated from the customers' end. This will help you evaluate the changes you should bring in your food preparation processes and reduce the generation of kitchen waste.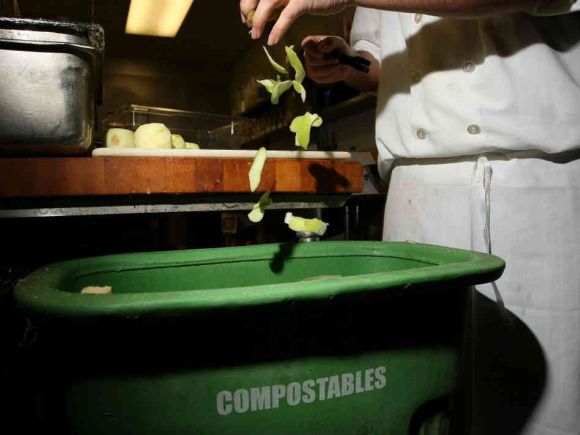 3. Reduce The Generation Of Kitchen Waste
The kitchen waste can be segmented into two categories.
(i) Pre-Consumer Waste
(ii) Post-Consumer Waste
Pre-consumer food waste is the waste that is generated during the preparation of any dish or beverage. Pre-consumer food waste can be any raw food product or improperly prepared food. However, post-consumer food waste is the waste that is produced on the level of consumers. 
Pre and post-consumer food waste together accounts for around 4.2 percent of total sales in an average restaurant. Controlling pre-consumer and post-consumer food waste loss would offer a critical boost to the restaurant's profitability. These are some tips to control food waste;

Strategically design the menu with menu engineering techniques to reduce pre and post-consumer waste

Manage your inventory effectively and ensure that your restaurant has proper storage facilities

Use

the right restaurant kitchen equipment for

preparing food and control the portion size 

Track both pre and post-consumer food waste and utilize this data to bring changes in the operating procedures and make menu changes

On average, patrons leave around 17% of the food on their plates. This offers restaurants an excellent opportunity to combat post-consumer waste through service style and menu design

Offer multiple portion choices and a range of alternative dishes to allow guests to choose meals that best suit their appetite and taste
4. Get Rid Of Disposables
Items such as plastics, cans, disposable bottles that cannot be consumed also constitute restaurant kitchen waste. Rather than throwing them away along with the decomposable waste, find effective ways of the garbage disposal to reduce its impact on the environment. You can also run a composting program in your restaurant. Separate the kitchen waste into compostable and non-compostable categories. You can also get in touch with a composter who will collect the trash and dispose of the waste properly. 
Kitchen Waste management can be a daunting task if the right measures are not followed properly. Utilize these effective techniques in managing your restaurant's kitchen waste and avoid food wastage to a greater extent!