Across the world, the trend of online food delivery is picking up like never before. With a shift towards the online delivery model, the market share of cloud kitchens, also known as dark kitchens, ghost kitchens, virtual restaurant, and delivery-only restaurant, have been steadily growing. Singapore is no exception. The restaurant industry in the island country has observed a substantial rise in the total number of cloud kitchens that have come into operation recently. These include three cloud kitchens by Deliveroo, two by Foodpanda, and the latest brand to venture into the cloud kitchen space is GrabFood. In this article, we will broadly discuss the main factors that are contributing to the rising popularity of cloud kitchen business in Singapore. 
A Brief About Cloud Kitchens
As the name suggests, a delivery-only restaurant specializes in online deliveries. They function as a big production unit with adequate space for food preparation. Orders are received online via third-party services or in-house delivery app/website, and the entire management is structured in a way that can be easily handled by limited staff. An evolution of the basic cloud kitchen model, Kitchen as a service(KaaS), or shared kitchen spaces, take it a step further by providing centralized kitchen infrastructure where food operators can rent the space they need, and serve a new customer segment without setting up a brand new restaurant.
Dropping sales, stiff competition, and higher operational costs are some factors that are resulting in more restaurants switching to the cloud kitchen business. This is also because the number of dine-in customers has reduced significantly with the rise of coronavirus. Due to the evolving customer preferences, home food delivery is gaining momentum, leading to the growth of cloud kitchens.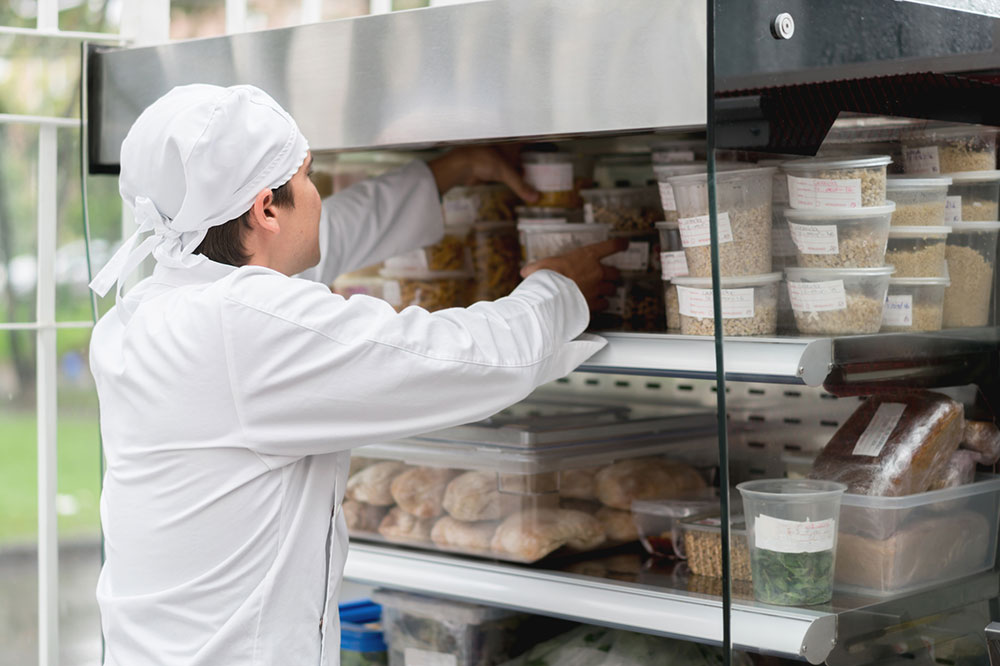 Why Has The Cloud Kitchen Business In Singapore Gained Popularity
According to statistics, the total revenue in the Online Food Delivery segment in Singapore amounted to US$418m in 2020. Over 60% of the food delivery revenue comes from the platform-to-consumer delivery segment or food aggregators. Platform-to-Consumer Delivery services like Deliveroo, FoodPanda, GrabFood, etc. operate on a more cost-intensive business model, but take care of the entire food delivery logistics on behalf of cloud kitchens.
In a city like Singapore, the initial set-up costs for a new restaurant can be substantial. This has been one of the critical points that drew the attention of F&B operators towards the cloud kitchen trend. Low capital investment, reasonable recurring costs, the potential to expand operations and increase revenues without being constrained by physical location are some other advantages of a setting up a cloud kitchen business in Singapore. 
The rise of food tech startups and food aggregators has made it easier for consumers to order food online, thus increasing the overall order volumes for operators. A cloud kitchen restaurant focuses on maximizing the number of deliveries per day by emphasizing the mass production of food and optimizing the overall order packaging and fulfillment time.
Where online delivery platforms disrupt the marketing and distribution of the food items, cloud kitchens are disrupting the production cycle. Food delivery startups are also looking to automate the supply chain aspects of food production by cutting down on quality issues and long lead times. This is easily achievable by implementing the hub and spoke model, managing the kitchen operations centrally. 
According to statistics, the projected market size of cloud kitchens is expected to reach $1.05 billion by 2023. With lower entry barriers and scalability at significantly lower costs, cloud kitchens are irrevocably revolutionizing the F&B landscape in Singapore. The cloud kitchen model is evolving and benefitting those investing in this model with an endless pool of opportunities. More restaurant businesses are now entering the delivery-only segment, including food aggregators. The future outlook for the cloud kitchen segment is bright, making it the best time for restaurants in Singapore to invest and grow their business!