Running a successful restaurant business in a lucrative market like Saudi Arabia is challenging. However, technology solutions like the latest restaurant management software can play a significant role in determining its long-term success. A powerful restaurant management software can boost operational efficiency and optimize customer experience.. That is why, it is vital to invest in a solution that is customizable, secure, and helps in seamlessly integrating business operations at all levels. This article offers a comprehensive list of must-have features to look for before choosing a restaurant POS system for restaurants in Saudi Arabia. 
Must-Have Restaurant POS Software Features
A robust restaurant POS system is a catalyst for growth. Consider these essential features while investing in a POS system. 
1. Cloud-Based Technology
Traditional POS systems are server-based and prone to data loss and system breakdown. Upgrading these systems involves a lot of manual work, which often affects operations like billing and inventory management. On the other hand, a cloud-based POS system runs on a remote server, which makes it easier to access business information from any location or device, including smartphones. Cloud POS systems offer better flexibility and adaptability. They help in keeping the data intact in spite of poor connectivity or device issues. 
2. Ordering Ease
A prominent feature to look for in a restaurant management software is the ordering system. A robust restaurant management software accelerates and automates the entire billing process and ensures secure order taking. It enables the servers to view the entire menu on a single screen, allows instant KOT (Kitchen Order Tracking) generation, integrates orders from multiple platforms, and allows swift order delivery. A stellar ordering system equipped with the latest features such as Contactless Dining Feature or  QR code ordering dashboard helps in delivering excellent customer service. 
3. Supports Mobility Features
Accessing restaurant data regularly from any device is a must-have feature for your POS system. Systems that support mobility enable better management and allow you to analyze critical restaurant data in real-time. 
Mobile POS software performs the same functions as a cloud POS system, and the only difference is that they are portable. Restaurateurs can implement mobile POS systems to accept orders, generate bills, receive payments, access sales, and inventory data, maintain customer records, etc.
Choosing systems that are mobile-friendly will enable full control of restaurant operations on a 24X7 basis, allowing critical staff to work remotely if need be. While choosing a restaurant POS, look for a mobile supportability feature that significantly accelerates restaurant operations.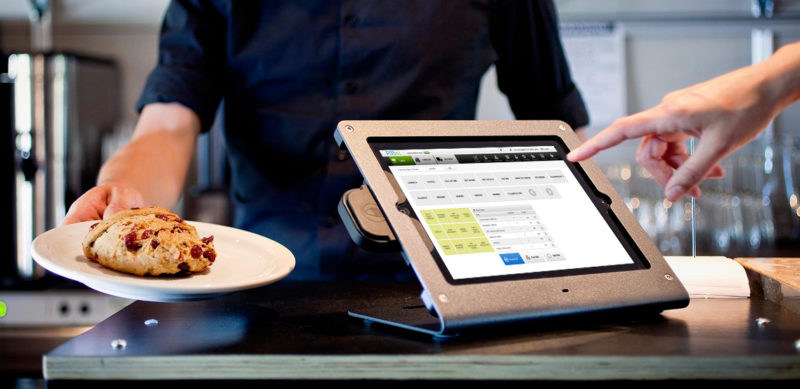 4. Generates Detailed Reports
Generating detailed reports is crucial to gain an understanding of the operational performance of the business. This is because reports and in-depth business analyses provide critical insights into margins on sales, fixed overheads, inventory levels, cash flow, etc. 
Look for restaurant POS software that is capable of providing real-time reports of all the critical restaurant data at any given point. This feature allows restaurant owners to make better decisions and manage resources better. 
Therefore, restaurant owners in Saudi Arabia must invest in a restaurant POS that automatically generates reports and simplifies the task of running the business.
5. Keeps A Check On Internal Theft
When it comes to internal thefts, the restaurant industry is one of the worst-hit sectors. Internal thefts in restaurants are either monetary or inventory related. While CCTV cameras seem to be an essential tool for keeping an eye on internal thefts, they might lead to complacency. That is why it is advisable to invest in a restaurant POS software with anti-theft features. This will allow you to run restaurant operations smoothly and provide room for innovation to your staff members. 
6. Robust Inventory Management Module
Inventory management is considered one of the critical aspects of running a successful restaurant business. Without automating inventory management, restaurants may incur higher labor costs, unchecked wastage, and increase the potential for internal theft. In a competitive market such as Saudi Arabia, where the cost of running a restaurant is quite high, poor inventory management may often lead to extra expenses. 
This is where a robust inventory management software comes into the picture. It helps in streamlining inventory management, cuts down on recurring food costs, and automates restaurant operations. 
The inventory management module automatically calculates the entire inventory level and sends real-time alerts when an item reaches the reorder level. It greatly helps to save the restaurant from running out of stock unexpectedly, which makes it a must-have feature in your POS software.
7. Integrated Customer Database
A restaurant management software that integrates customer data from different sources into a unified dashboard greatly helps in attracting more customers and designing better marketing campaigns. Operators in Saudi Arabia must choose a restaurant POS system that maps their regular patrons' behavior, understands their spending habits according to the demographic data, and provides critical insights. 
8. Open To Third-Party Integrations
As most restaurants have adopted the online food delivery model, your restaurant might also need to partner with food aggregator or online payment platforms. Integrating third-party services with the POS system enables restaurants to integrate data from multiple sources and utilize them in a much efficient way. When synced with your POS system, such tools generate maximum performance and help in running data-driven campaigns. Always invest in POS software that seamlessly integrates third-party platforms and does not require vendor support.
The growing popularity of fast food and casual dining restaurants in the Saudi Arabia F&B space has encouraged many investors and food startups to enter the restaurant space. Restaurateurs are on the lookout to win more customers by offering exceptional food and service quality. Choosing the right restaurant POS system will significantly help restaurant operators in Saudi Arabia to manage the operations more systematically. Consider these critical features before choosing the right POS software and take your restaurant to new heights!