As an indication of the worsening economic situation and the recent Corona outbreak, the entire restaurant industry is dealing with rising food costs and other issues that are affecting their business. This has had a direct impact on the restaurant industry with a corresponding rise in food costs. However, with a few smart hacks, you can not just sustain the hard times but also make profits.  
Dealing With Rising Food Costs? Let's Look At Your Menu Again! 
Rising food costs are never easy to manage. Lately, the rise in onion and potato prices has been all over the internet. In retaliation to the same, restaurateurs from Bengaluru removed Onion Dosas from their menu. Handling your food costs is the first step towards efficient revenue management at any restaurant. Restaurateurs can take care of their food costs in a number of ways. From standardizing operations to changing their menu costs. However, here are some smart tricks you can use to manage your food costs without rising your menu prices. 
i) Try Keeping A Seasonal Menu 
As a restaurateur, you know that not all your menu items sell equally well throughout the year. Some menu items that are bestsellers in the summer almost add no profit to the restaurant in the winter. This is why, you must think of keeping a seasonal menu, including specials for different seasons. One such example is mentioned below.
ii) Introduce Food Combos To Your Menu 
In her recent study titled Consumption Effects Of Bundling, Professor Kathryn Sharpe of the University of Virginia discovered some interesting facts about how people prefer combo meals over single menu items, irrespective of their value or size. 
Many restaurateurs have established the fact that the introduction of food combos increases sales marginally. This is why everyone from the top QSR chains to budding standalone restaurants put in some kinds of food combo options on their menus. Here are a few tips on how you can introduce them into your menu! 
Add two of your menu items together by reducing the amount of both! 

Add a drink to your combos to make them more attractive! 

Make a meal with your high and low-priced dishes! 

Add time-limit to your food combos!
iii) Keep Dishes In Your Menu That Use Similar Ingredients To Be Made
One of the most innovative ways to keep a check on your food costs is to have similar-ingredient dishes on your menu. This way, you will be able to prepare a number of dishes with the same raw material and still surprise the customers, every time. 
For instance, former MasterChef contestant Sadaf Hussain mentions that using the same ingredient for multiple dishes in the menu helps you reduce food costs marginally.
Here's an example!
If you look at this menu, they have separate categories where the basic ingredients used in their menu items remain the same. The restaurant also uses the same topping for their garlic bread, pizza and sandwich, made and presented in different ways.
iv) Try Switching Your Supplier/ Vendor
Switching to another vendor/supplier is one of the quickest ways to keep a check on the food costs. Your vendors might be keeping extra margins and profits from you all this while. Having a variety of food vendors makes it easy for you to choose. 
v) Buy in Bulk, But Not Too Much 
Buying raw materials in bulk might be available at a much lesser amount, but does not really assure keeping your food costs in check. Look at it this way! You ordered 20 kgs extra of the raw material you require at wholesale prices. But, 10 kilos of the material went stale by the time you finished the first 10 kilos. In a way, you wasted the extra raw material and have to purchase it again, thereby increasing your food costs.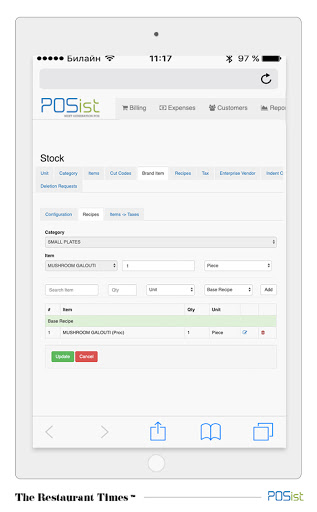 What you need to do here is estimate the amount of raw material that you need. Your restaurant management software becomes your savior here. It tells you exactly the amount you need for the next day, or the next week and so on. 
vi) Standardize Restaurant Operations To Reduce Food Costs 
A successful restaurateur knows that consistency is the key to success. When we talk about consistency, we don't just mean giving out the same quality of food to your customers every day, but also to have your restaurant processes in order. Standardized restaurant operations like uniform recipe preparation across all your outlets, or setting a wastage limit, helps to keep a check on the food costs.  
A standard recipe, with a standard amount of all raw materials to be put in it, along with a set duration in which it is to be prepared prevents wastage. This also helps you track your inventory better since the variance is now reduced. 
vii) Upsell Menu Items By Identifying The Needs Of The Customer 
Identifying the needs of your customers, especially the loyal ones, can help you go a long way in increasing your overall revenue. Once your staff knows what the customers like, they can always suggest a high-priced dish, or a newly introduced combo to the customers, on the basis of their preferences in the past. This way, you not only upsell your menu items but also create a bond of trust between your brand and the customer.
All in all, to reduce food costs, it is ideal that you change your menu a little or use newer tricks in your menu without actually increasing your menu prices. A slight change in your menu prices can snatch your customers away! This is why increasing your menu prices should be your last resort while dealing with food costs. Even when you actually change your menu prices, make sure you are able to give your customers a legitimate reason for the same.