Customers in restaurants and bars have veered and stretched for a year and a half to adapt to the altering reality of going out in a pandemic. Masks on, masks off, shutdowns, curfews, social isolation, and staff shortages may all come and go in tandem with coronavirus caseloads and the economy's health. However, these weird times have created a lot of smaller, less well-publicized events — innovations, modifications, and idiosyncrasies — that have the potential to last. Whether at fast-food counters, neighbourhood taverns, or formal dining halls, they add up to a profound shift in hospitality as we know it. With the introduction of appealing, user-friendly apps and tech-enabled driver networks, as well as shifting customer expectations, ready-to-eat food delivery has emerged as a significant market. Early on in the epidemic, lockdowns, and physical separation rules provided the sector with a huge boost, with delivery being a lifeline for the struggling restaurant industry. It is expected to become a permanent presence in the dining scene of the future. 
The food delivery business model is continually developing, even as it expands. As the sector matures, factors such as brand, infrastructure, operating efficiency, depth of offerings, and changing consumer behaviours will determine who wins and who loses. Its ongoing evolution will take into account any regulatory limits, such as changes to how drivers are rewarded. With a few exceptions, distribution platforms or aggregators have remained unprofitable despite the industry's exponential growth during the global pandemic.
Push For Takeout and Delivery
During the pandemic, takeout orders skyrocketed, and they aren't showing any signs of slowing down. Consumers requested delivery 69 percent of the time before Covid-19, but that percentage has risen to a stunning 88 percent during the epidemic. 82% of customers will order delivery or takeout from a restaurant even if they aren't ready to eat in person. Many people are less motivated to leave their houses to eat in a restaurant, even when it is safe to do so because they have had meals delivered to their doors for months. Customers expect a relatively easy transaction now that restaurants have had more than six months to polish their carry-on and delivery systems. A quality pickup or delivery experience is enhanced by clear signs and prompt service. Diners now have more delivery options than ever before, if their preferred restaurant doesn't provide a pleasant experience. Many restaurants have developed physical measures, such as drive-thru lanes dedicated to taking up online and mobile orders, by partnering with third-party delivery providers. Restaurants could benefit greatly from allocating space and resources to pickup and delivery.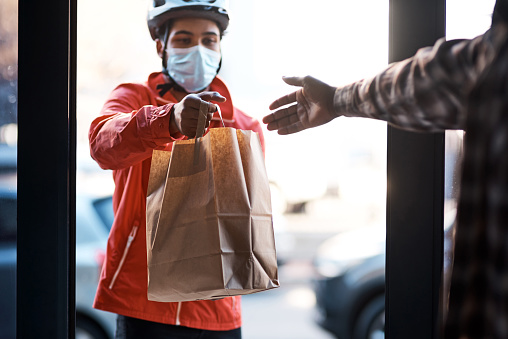 Physical Spaces Have Changed 
Restaurants will have to adapt their interior spaces as more diners opt for takeout and delivery. Social distance requirements are likely to remain in place for a long time, forcing many eateries to restrict the number of customers who can be accommodated at any given moment. There will be fewer tables strewn across restaurant interiors, as well as less bar and open seating. As takeaway and food delivery become increasingly popular, many restaurants may shrink their dining rooms to provide room for cooking and prepping orders. Many restaurants are adopting the ghost kitchen model, in which their kitchens are used to cook food for pickup and delivery in the absence of a physical dining room. Outside, restaurants are converting grassy areas and alleys into dining pavilions. The most important factor in people returning to in-person restaurants is outside dining. What began as random picnic tables in a parking lot will become permanent restaurant features. As the weather cools, restaurants will come up with inventive ways to keep outdoor eating going for as long as possible while keeping guests and personnel comfortable.
Menu Adaptation 
Restaurants are keen to find out which menu items will taste just as excellent in-house as delivery orders that would arrive 45 minutes later, in response to shifting consumer needs during and as a result of the COVID-19 pandemic. Controlling quality can be difficult. Guests will be dissatisfied if their food arrives chilly or if hot items are served with cold items. As COVID-19 continues to wreak havoc on the food industry, several eateries have been forced to pivot their business models virtually overnight. In the midst of a crisis, transitioning from a solely or primarily dine-in establishment to pick-up and delivery may seem daunting, but as a company built to streamline and grow success in takeout and food delivery, Kitchen United is doing everything that can assist restaurants in navigating these unprecedented times. Your menu is a terrific way to stay connected to your consumers in these unpredictable times. Remember that although you're streamlining your menu to fit the demands of pick-up and delivery, your menu is also an opportunity to deliver what your community requires.
Restaurants can't stay the same, as Covid-19 has demonstrated. They must always seek out new methods to improve their service, menu, and experience. Restaurants must stay in touch with their consumers' needs and adjust their experiences accordingly, such as lowering menu pricing, offering incentives, or allowing customers to order and pay online. This frequently entails investing in new supplies, training, and physical enhancements in the post-Covid-19 reality. However, those costs may be necessary for long-term success, and restaurants cannot afford to remain stagnant. Restaurants must be flexible in all aspects of their operations, from staffing to supply chain management. Customers will return long after the pandemic is over if you focus on hygiene and provide a reliable, trustworthy experience.
Read similar article: Trends Emerging In The Food Delivery And Online Ordering Post Pandemic