Even though life is slowly returning to normal following the COVID-19 epidemic, many restaurants and foodservice enterprises still face many challenges. For those who have made it this far, the future appears bleak, as the government bailout package they expected didn't come to pass. Trends come and go, and, indeed, they're never here to stay. However, we are living in exciting times with new opportunities emerging out of utter chaos. A global health pandemic, a shift in the collective consciousness, and global economic instability have spawned a slew of new business trends that are quickly becoming the norm rather than the exception. Restaurant startup developments in recent years have included a variety of food delivery alternatives, company expansion, service innovation, extended online ordering, assemble-your-meal popup businesses, and many others.  
The outbreak of the pandemic in 2020 ushered in new market dynamics that threw the traditional restaurant business model into disarray. The economy, on the other hand, is recovering and presenting new opportunities and problems. The labour shortfall and supply chain constraints that plagued 2021 have persisted into 2022. These difficulties are producing instability, forcing operators to cut costs and find new niches.
Investing in labour-saving technologies and providing simple and fewer menu selections, for example, has allowed them to free up cash flow and recruit more people or raise compensation. On the other side, the food and beverage business will be transformed by several automation breakthroughs such as robot bartenders, smart ordering, and delivery choices. These evolving trends will aid the restaurant sector in continuing to thrive, addressing labour shortages, changing guest tastes, and the industry's ups and downs.
Popular Restaurant Start-Up Trends 2022
Here are 3 restaurant startup trends to keep in mind in 2022.
1. Sustainable Business Practices

 
More than a decade ago, millennials started to advocate the cause of sustainability, and Gen Z has only added to it. The concept of sustainable business growth has developed significantly over time. It's no longer about waste and environmental damage. It also won't be accomplished by simply creating a green restaurant logo or promoting it on social media. Restaurant sustainability refers to how restaurants reduce their environmental impact by tackling issues such as sustainable farming, carbon footprint, supply chain shortening, food waste, packaging, water conservation, energy use, recycling, and more. Restaurant sustainability entails not just participating in environmental activities, but also allowing consumers to contribute to these beneficial efforts. People nowadays choose where to eat depending on a company's beliefs. It helps them get the most out of their money and lets them feel like they're making a difference. Ensure that restaurant workers are paid a decent wage. 
Some pertinent examples of sustainable practices are:
Food ingredients are sourced without the use of animals that have been subjected to cruelty.

Efforts to reduce the high turnover of restaurant employees.
Only restaurants and food companies who are enthused and serious about a sustainable approach will survive as consumers grow more conscious and knowledgeable about the options available to them. Observing health standards, making genuine attempts to reduce kitchen waste, and resolving problematic workplace behaviours toward employees (discrimination, 'hazing,' and other issues) are some of the principles that can set you apart from the competition.
Customers are more concerned about the environment, and they want the food and beverage industry to make significant adjustments to safeguard it. Businesses are taking steps to reduce plastic waste and pollution by removing plastic cups and lids, straws, and packaging bags, for example. Instead, they are investing in green kitchens by employing eco-friendly alternatives or biodegradable products.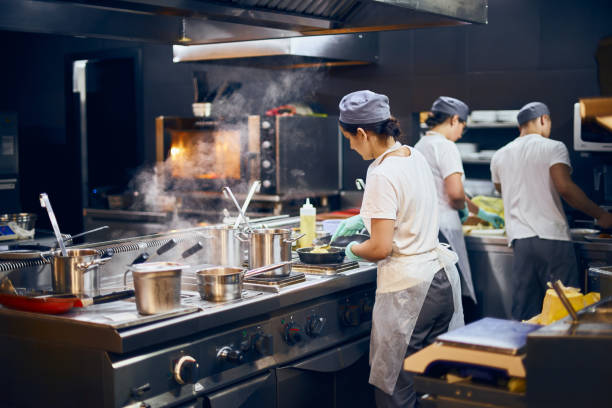 2. Restaurant Tech
Restaurant technology is evolving in ways never seen before, thanks to the introduction of artificial intelligence (AI). Robots, cashless POS systems, and other innovations are making their way into the mainstream restaurant and food business. And these aren't innocuous adjustments. Restaurant start-ups are always looking for solutions that will help them outshine their competitors. The proliferation of restaurant technology is no longer limited to internet orders. The front-of-the-house and back-of-the-house restaurants are both being digitized.
While restaurant tech solutions have typically concentrated on the front end (online ordering, restaurant applications, and so on), business-end solutions are gradually taking the lead. Contactless payment systems remain one of the most popular retail trends today. During the COVID-19 pandemic, they, like QR codes, grew in popularity. According to Mastercard, contactless payments were used by 80% of people surveyed in 2020. Why? Contactless payments are up to ten times faster than traditional in-person payment options, according to the report, and 74 percent of consumers stated they will continue to use them when the pandemic is over.
Restaurant startup owners are increasingly turning to one-stop-shop restaurant management software systems that can handle everything from order management to inventory tracking, and from POS to insights and marketing. These comprehensive digital solutions allow chefs and entrepreneurs to focus on customer experience and innovation while technology handles the business side. 
3. Cloud Kitchens Are Here To Stay 
The rapid expansion of ghost kitchens is a key trend that has caught the industry by storm. Although the name sounds menacing, the thought behind it is brilliant. The term "ghost kitchen" refers to a restaurant that does not have any seats or physical presence. It's nothing more than a remote kitchen where you may order food for delivery or pickup. You may even go to one of these eateries, order food, and eat it while driving. Restaurant startup founders choose ghost or cloud kitchens because they significantly reduce overhead costs. There's less risk, lower costs, and a lot more room to grow and improve. Your ghost kitchen can be the foundation for something much more with the appropriate strategy, enough cash, and a sound business plan. Third-party deliveries are being shunned by restaurants. They choose to manage their online ordering and delivery in-house instead. In order to control their end-to-end restaurant startup experience, most restaurateurs will provide food delivery in 2022. By taking control of consumer engagement, they hope to create frictionless customer involvement. They also want to keep centralized customer data, which will enable them to conduct stronger loyalty programs and marketing activities.
To survive the after-effects of Covid-19, most eateries diversified their business streams. These include new food and retail products, subscriptions, meal and cocktail kits, and more. As a result, the distinction between retail, services, and restaurants has become increasingly blurred. The restaurant business has not been immune to the global developments that are occurring. Consumers are getting more aware, technology is rapidly advancing, and humanity is rapidly adapting to a new normal. These are exciting times to not only advocate for positive change but also to become pioneers by adopting restaurant startup trends that can lead to healthier lifestyle choices.