The entire F&B industry is rapidly changing its trends and Gen Z plays a major role in it. Mini metro cities like Pune, Kolkata, and Chennai are experiencing the changing trends in the hospitality industry. From the establishment of theme-based restaurants to vegan menus or pop up stalls in the car boot, Pune's restaurateurs are evolving as great innovators with innovative ideas for their restaurant marketing.
The first pubs came to the city back in 1994. They gained a lot of attention from the people of the city. 20 years since, the city has many late-night bars, pubs and party places around catering to the demands of millennials. The changing demands of the customer are driving Pune restaurateurs to innovate fast. The locals have witnessed a varied range of restaurants, from breakfast places to cute date cafes to high energy night places.
The rise of the restaurant industry in Pune is one of the trending topics of discussion for restaurateurs across India. Established brands like Toit from Bangalore and Arth from Mumbai have transformed Pune into a hub with great food, great energy, and incredible experiences. The city is also witnessing the setting up of new startup restaurants that are mostly themed around a particular area, and all-day fine dines.
New Themes, New Restaurant Marketing Strategies – Learn From Pune Restaurateurs
It is wisely said that to attract the Gen Z, you must think like them. Restaurant marketing strategies must hence speak to them in the language that they engage with.
For instance, a lot of new restaurants in Pune are coming up with their all-day breakfast theme, to ensure that they serve the tiny hunger pangs of the Generation Z at odd hours of the day. Most of the people from this generation tend to skip their meals due to lack of time.
Cafe Goodluck is one such restaurant in Pune, nearby the Fergusson College Road. The cafe mostly targets students from nearby colleges and fulfills their hunger pangs to make profits.
Let's dive into other restaurant marketing strategies that restaurateurs are adapting to attract Gen Z.
i) The Rise Of Theme-Based Restaurants
Apart from the preset restaurant formats, the city of Pune witnessed an entirely different array of restaurants in the last few years, serving the growing demands of the people. Since Gen Z mostly likes to visit places that treat both their eyes and tongue, restaurateurs are working fiercely on the themes of their restaurant. The way they have started to build a great ambiance at their restaurant is commendable. Here are a few examples for you to look at, and take some inspiration home!
a)The OPD Themed Restaurant :
The restaurant revolves around the theme 'madness' and gives a vibe of an OPD clinic, a vibrant club called Donkey's Arse with quirky decor and a children's recreation center called Superheroes. What makes it stand out is the close attention to detail, right from the bright lighting and a wipe-clean floor to the serving platters that remind you of kidney trays, beakers, and injection syringes.
"It's a place of surprise where you can experience things you are usually afraid of with a smile on your lips, and enjoy a tasty meal. This is exactly what attracts the younger lot,"
says Dashmit Singh Chhabra, 32, the brain behind this theme venture. Here, you have wheelchairs and benches to sit. Sink into a special dentist's chair or sit on hospital beds while you wait for your food and drinks to arrive with servers dressed as surgeons and hospital staff.
b) Bungalow Converted Into A Restaurant:
Another example where a restaurateur took theming and conceptualizing to another level is URBO in Banter, Pune. Customers are going crazy over how beautiful and classy the decor has been set.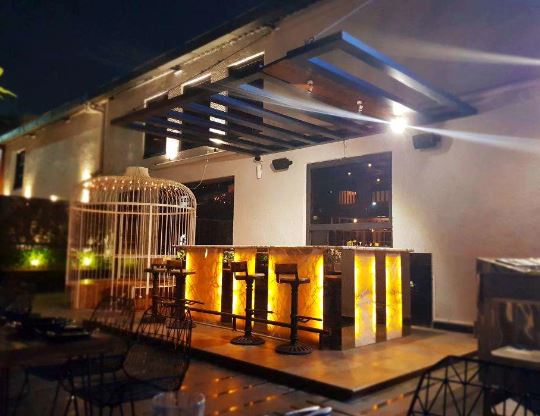 c) Orion- Constellation Themed Restaurant:
With an entirely new theme, Orion, a restaurant in Pune uses the most mysterious constellation as its theme to create wallpapers and decors. The place has a stunning ceiling decorated with stars and galaxies, giving the customers the vibe of dining under the stars. Their entirely new menu with international cuisine has been the recent talk of the town.
There are many other examples of such highly-themed restaurants in the city. It's time for you to use your creativity and bring something new to attract people in Pune.
ii) Influencer Marketing Is On The Rise
With Instagram becoming second nature to Gen Z, a large number of people are influenced by what they see on their Instagram feed every day. The restaurateurs of Pune are leveraging influencer marketing and food blogging to engage with Gen Z. Here are a few food bloggers in Pune with the most wonderful blogs.
Megha Chhatbar -FitFoodieMegha,  Madhav– punehungry, Sonia Gupta– Sonlicious, Neha Ratta– tummycravings, Pragati Bidkar– kamalkitchen, Dr. Sania Siddiqui– allthingsgud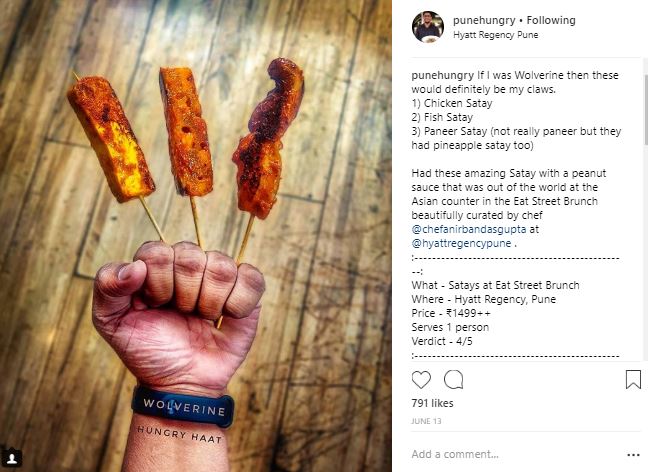 You can try to reach out to these bloggers and offer them discounts for lunch/dinners at your restaurant. Having a good review of your restaurant at a verified page from a verified authority who has a lot of followers would lead to a higher footfall at your restaurant.
iii) Employ User Generated Content
The craze of social media and food blogging has engaged Pune in the last few years. The food lovers of Pune are hitting the streets to experience their favorite food. They are sharing their experiences on their blogs and social media aggressively. It's the cool trend.
Restaurateurs are engaging with such user-generated content by reposting customer's pictures while they are at the restaurant, putting up people's stories where they tagged your restaurant into your own social media platform, etc. creates an overall image of a happy restaurant. This not only brings in more people to your restaurant but helps to keep the existing ones!
Here's one example from TRP Pune where the restaurant reposts pictures of the customers coming in and tags them to increase customer engagement.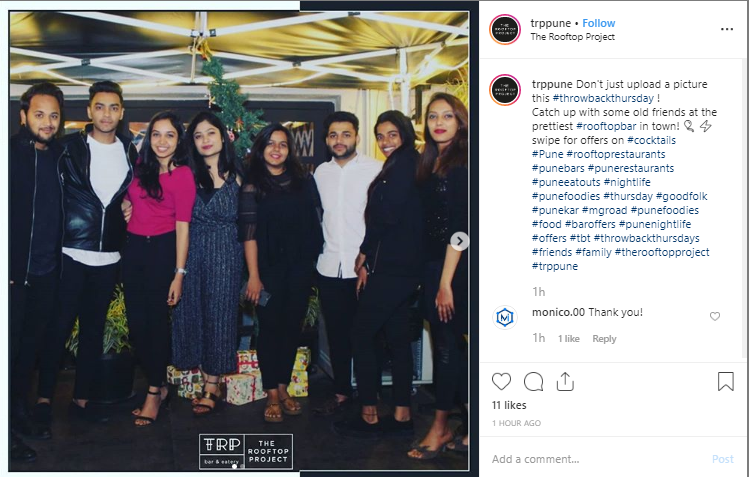 iv) The Change In Favorite Cuisines Of Pune- Increase The Scope Of Your Menu
The phenomenal rise in new formats has led to the discovery of new cuisines by the food lovers of Pune. This is an interesting trend to observe. Some of these trends include vegan-only food, international cuisines, and the all-day breakfast culture.
Clearing the misconceptions that the meat lovers would have for the vegan-only restaurants, the owner of Real Green Cafe gave us some beautiful insights.
"Vegans are perceived to be missing out on tasty food and our cafe aims to break these misconceptions and offers them an option to enjoy wholesome healthy vegan food,"
says Aishwarya Vishwanath, 26, who founded Real Green Cafe, Pune's first vegan cafe in 2015. Her love for animals made her turn vegan five years ago when she was in the UK. "When I came back to India three years ago, I realized that there were hardly any options in vegan food" she adds.
Places like All Day Cafe, The French Window and The Flour Works are serving all-day breakfasts and are made around a theme, to attract the Gen Z.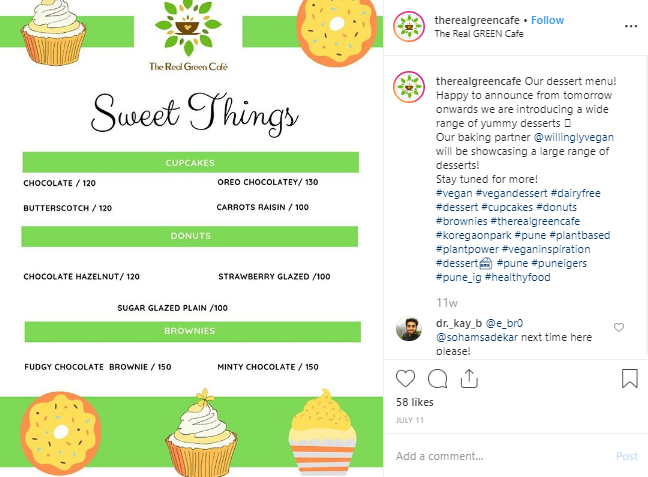 iv) Promotional Events Like Wine Tasting
People in Pune are always looking out for something new to try. Hosting events and contests in your restaurant is a great way to attract more customers. You and your restaurant marketing team need to sit down and brainstorm ideas about the kind of promotional events you want to host at your restaurant. Although, we have a readymade list for you to go to while thinking of new event ideas.
Wine Tasting Event: Just like the famous Wine tasting festival of Pune, which attracts a lot of food bloggers and influencers of the city, a lot of restaurateurs are adopting a similar promotional event into their restaurant marketing strategy. Puneites have always been open to experimenting and trying something new when it comes to food. That makes this the right time to bring out new events at your restaurant for the Gen Z in Pune.
Cheese and Chocolate Tasting Events: Gone are the days where a dinner or launch party would have a three-course meal. People now prefer to have an elite supper than a heavy dinner. This is why many restaurants are adapting to the newly introduced 'Chocolate and Cheese tasting', inspired by the wine and cheese events in the city!
Birthday Promotions: A restaurateur could attract Gen Z in huge numbers if they start a culture of celebrating their birthdays and anniversaries. Not only for the customers, but a lot of restaurants also celebrate the outlet's birthdays with their regular customers, host a couple of contests around that time, and offer discounts to engage customers.
Local Art Events: Pune, as a city, has a lot of opportunities for growing artists. Since a lot of these artists look for places to put exhibitions and contests in, why not provide them with the ideal space and thus attract more customers. This seems to be a fun and profitable idea as you tend to promote their events on your social media, making your brand look great.
Live Music Events as well as Karaokes: Apart from the regular promotional events, you could light up your place by introducing a karaoke night, or live music event at your restaurant.
v) Taking Leverage Of The Rise Of Online Food Aggregators
Online food delivery has emerged strongly in the past few years. The segment reached as high as USD 750 million in 2017, expanding to a 150% revenue growth annually. The online food aggregators thereby decided to expand to tier-II and tier-III cities, after saturating the markets of metropolitan cities.
With this rise, restaurants in Pune are taking leverage of the changing trend to attract more orders. Focusing on your online orders would lead to an increase in your sales to a marginal level. Collaborating with online food aggregators is a good idea for both established restaurants as well as the budding ones. One drawback that you might face while collaborating with these aggregators is the hefty margins that you would be needed to pay.
Recent news reported that the Food and Drug Administration, Pune has ordered food aggregators to maintain the health records of its food delivery staff to ensure the hygiene of the food delivered. So, you need not worry about any complaints about the hygiene of your food delivery.
Summing up, the changing consumption trends of people in Pune demands a change in the ideology of restaurant marketing in the city. Gone are the times when restaurateurs would only have a social media presence in the name of restaurant marketing. They are now looking at many different strategies to make a concept and culture out of their restaurant, and not just an eating space.