Creating a comprehensive band of loyal customers is by far the most important aim of all restaurants owners. As long as you are able to attract and tempt customers to visit your restaurant, your business will run. While retaining customers is important, increasing your customer trial base must never be neglected, and you can do that by employing smart restaurant marketing strategies. 
Your restaurant's customer trial base is essentially the number of customers who visit your restaurant for the first time. Getting customers through the gates of your restaurant is a major task that involves multiple factors. Once you do get these first timers in your restaurant, you can then go ahead and apply your loyalty programs and customer engagement techniques to retain them. With the right restaurant marketing strategies, you can attract more customers and turn them into loyal patrons! 
Restaurant Marketing Tips To Increase Your Customer Trial Base
The only way to increase your restaurant's customer trial base is by applying effective restaurant marketing strategies. Online, offline and word of mouth, all work well in attracting the customers to visit your restaurant. This is however difficult, for the simple reason, that every customer has their comfort restaurant, and most of them, if not everyone, will prefer the restaurant they have visited multiple times rather than doing an experiment and visiting some new place. However, there are effective restaurant marketing techniques, which when implemented aptly can help you in increasing the customer trial base of your restaurant.
1. Online Restaurant Marketing
Targeting and tapping the right customers online is exceptionally important since it is here where the majority of the customers hover daily. This makes online marketing extremely crucial. There are several things that you must do to increase your visibility to potential customers. Keep a close check on the restaurant marketing ideas and trends, what's working these days and what's not. This will automatically increase your visibility and in turn the scope of these customers to be a part of your customer trial base.
Create your own restaurant website, with your own domain name. Prepare a stellar website content following the SEO guidelines and insert the relevant keywords appropriately. These will help you to rank well in your customers' search engine. When a potential customer searches for restaurants nearby on Google, your website should appear in front of him.
Create pages on the various social media platforms, and remain active there. The biggest mistake restaurant marketers often end up making is simply creating a Facebook Business page and having no activity there. Engagement on the page is crucial to increase the reach of the page to reach out to potential customers. 

Post pictures and videos of your restaurant, of actions behind the scenes that is your kitchen, of the various events you host and will be hosting. You can also start a video kitchen tutorial, where your head chef might share his knowledge about a particular dish, every week for all the home cooks out there. look for unique restaurant promotion ideas that can leave an impact on your customers. 

Integrate with online delivery platforms to tap on the customers who are looking for home delivery options. You can also consider restaurant marketing on Online food aggregators such as Zomato and Swiggy.
Get your restaurant listed on the various restaurant review sites, to garner the insights of your customers. This will help you to understand what are the changes that must be brought forth to further hone your restaurant operations and keep your customers happy.
Form an association with the various social media influencers, they will help to increase your restaurant's reach to all the potential customers out there. These influencers already have a following and will help you tap the right audience.
Your restaurant's affiliations with the food guides is a must. List yourself on travel guides and search engines like Just Dial and witness how it proves to be beneficial in increasing your customers trial base. Tourists especially refer to food guides while deciding on a new place to dine at. One of the subtle ways of marketing is to get your restaurant affiliated with various platforms that will not only increase your brand visibility but will also help you in increasing your customer trial base.
2. Offline Restaurant Marketing
While the trend of online restaurant marketing is on the rise, you definitely cannot neglect the traditional offline marketing techniques. Taking into consideration that, there are several potential customers, especially those who belong to the older generations who are not that tech-savvy, you cannot and must not leave your marketing just on the online modes. The various ways, you can use offline modes to attract first time customers:
Take part in music, film and food festivals. This will help you to increase your reach to all the potential customers out there. You will also be able to make your customers taste your dish, and this will further increase the chances of seeing them back at your restaurant. This is a great unique restaurant promotion idea!
You can distribute free samples of your food items in your restaurant's storefront. This will help you to make your customers taste what you have in store for them. If they happen to like your product, there are high chances that they will walk into your restaurant.
Put hoardings, posters or distribute flyers and pamphlets to the passersby or, distribute them in your vicinity with the newspaper. These should publicize your restaurants USP, or the offers or the events that will be organized at your restaurant.
Engage with bloggers and organize bloggers to meet at your restaurant. This will help you to carve a niche for your restaurant in the industry. Your association with bloggers will also help in increasing the scope for them featuring your restaurant on their blogs.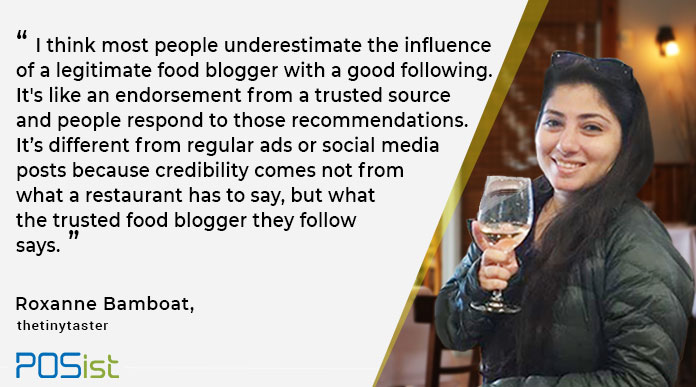 Here are some other offline marketing tips that will help you reach out to new customers.
3. In-House Marketing
This is a very lucrative way to attract and increase your restaurant's customer trial base. Offers, discounts, and exciting events never fail to turn the heads of foodies and the ones who are interested in having a splendid experience. How you can do in-house marketing just right are:
Host appealing events in your restaurant. Organize karaoke, comedy, Bollywood nights at your restaurant. These are a sure way to attract customers.
You can use your restaurant's logo for branding purposes. Decide on a theme and a logo for your restaurant, and use it wherever you can. On your employees' uniform, delivery order packages.
You can also start your restaurant's own line of merchandise such as branded coffee mugs, coasters, cutlery, etc. that generates a market buzz, and gives exclusivity to these items.
Looking for innovative restaurant marketing ideas and trends is a task that requires hard work, but it is definitely worth the try! Hence, while the attempt of retaining customers is a must, but unless you are able to attract them in the first place, their retention is out of the question. Hence, in all probability, try an increasing your customer trial base through these restaurant marketing techniques.