You have done your research, calculated the investment cost, and are now ready to set up your first-ever restaurant franchise. However, in spite of all your efforts, there is still a high likelihood that your business may not take off as you would like it to. Thus, to minimize errors in running your franchise and maximize your profits at the same time, we have devised a step-by-step guide to help you run your venture successfully. 
A Step-by-Step Guide for Running a Restaurant Franchise Business Successfully
We know how a restaurant franchise could be a great opportunity for someone who's just starting out in the food and beverage industry. And while the franchise owners provide you with a pre-and post-training module once you set up your outlet, you will still need to work hard to run the franchise at its maximum potential. 
i) Be Clear on the Terms of Agreement
The first crucial item you need to focus on before investing in a franchise outlet is the agreement that you're about to sign. You must be sure about all terms and conditions listed out in the agreement, from the royalty you have to give to the mother brand to the marketing and training support you will receive from the mother brand. 
A typical agreement would consist of a brief history of the mother brand, the initial costs, the support the mother brand would offer the franchise in terms of marketing, location analysis, and other training and support, and the royalty structure of the mother brand. 
Now, let's take a closer look at each of these segments. 
a) Initial Costs 
The initial costs segment of your franchise agreement would include the cost distribution of the company and the first few transactions that are to be done. Generally, a mother brand conducts an in-depth analysis of the location before opening an outlet at that particular location. 
In most cases, there are other costs involved too, including the equipment and setting up costs. You must carefully look up each of these costs before agreeing to the terms and conditions. 
b) Royalty Fee 
The next important segment is the royalty a mother brand expects from its outlets. There could be multiple ways in which the royalty could be structured. A mother brand could either ask for 10% of the investment, or a part of the sales made by the outlet each month. Different businesses require different royalty modules. 
c) Training and Support
Mother brands generally provide extensive training and support to their employees as they require all their staff to meet a particular standard. A restaurant management software would help you achieve this by standardizing all the operations of your particular franchise centrally. 
d) Marketing Support
As a mother brand is already well established, there will be a set of fixed marketing strategies revolving around the brand name already. However, your particular outlet needs to make its presence felt by applying not only these strategies but also devising your own strategies.  
The brand could help you with different marketing strategies in that particular location or give you an allowance to offer a couple of discounts just at your outlet to attract customers. Either way, your business plan should also include a separate set of marketing strategies to announce your presence and have customers lining up at your outlet. 
e) Brand Name and Signage
The last segment of your agreement should consist of a single page including a precise letter of joining, with your signage. This segment would be a bond between your mother brand and you, explicitly mentioning the date and time of opening of your particular outlet. 
Taking example of one of the most successful franchise businesses in the world, Mc Donalds. Their disclosure agreement includes every single detail, including the initial set up cost, the royalty fee, marketing support, so on and so forth. This is how a typical Franchise agreement should look like.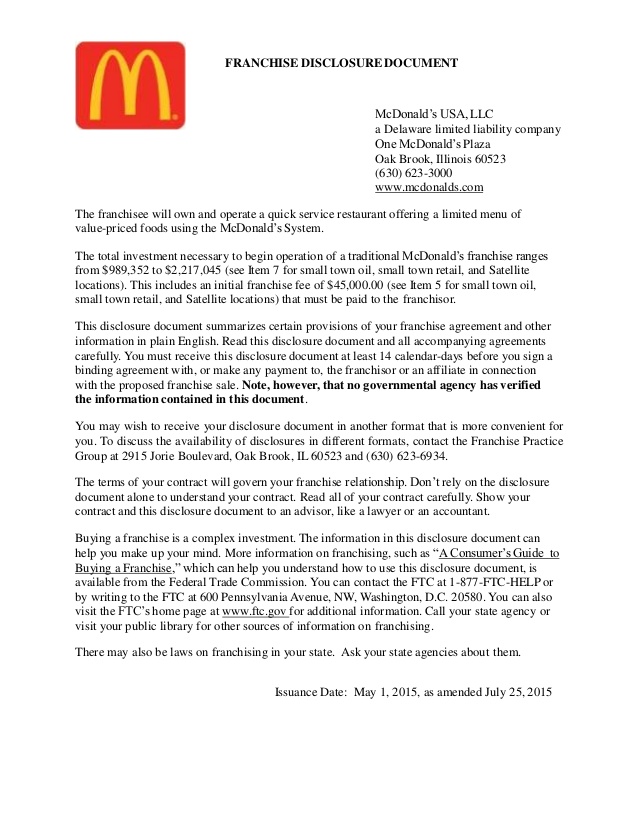 ii) Get All the Details Right 
In case you've just started with your restaurant franchise business independently, you will need to set up everything from scratch. However, an advantage that comes with a franchise is that it gives you a preloaded set of rules and instructions on how your outlet should look, the staff's dress code, and your recipe protocol. 
A franchisor might also help you with getting the licenses, setting up your outlet, hiring the right staff and buying/leasing kitchen equipment. However, to keep a restaurant franchise running efficiently, you will also need to get the details right. Details such as your restaurant's interior, the way you present your food, and how you plan to acquire your first customers. 
This is why you need to go through each and every point of your deal before signing on the dotted line. You must pay attention to the training segment that your staff needs to go through and some extreme specifications like the color scheme and other interior details. A grand opening of the franchise with the help of your franchisor would be a good way to create an impact. 
iii) Chalk a Business Plan 
Having a business plan is essential for successfully running a restaurant franchise. Although owning a franchise cuts down half of your effort, you still need a full-fledged plan for the franchise to thrive in this world of cut-throat competition. A business plan will help you decide on the deal with your franchisor, as well as while operating and running your outlet. 
Further, it will also help in standardizing the operations at your outlet and streamlining the managerial work. For instance, if you are dealing with a sudden excess of raw material, a business plan will include all the measures to be taken in such an emergency. Your business model, therefore, should be able to solve or contain the issue to minimize the possible losses. 
Let's look at all the other aspects of your business plan. 
a) Company Description
A company description should include a summary of your company's vision and agenda. The initial sections of your business plan should also mention a brief history of the company and provide an outline of the products it offers. 
b) Risk Factors
Risk factors include changes in the economy, tax implementations, shortage of staff, and natural emergencies. Thus, your business plan should include several different contingency plans associated with the risks that may come in the way of operating your business smoothly.
c) Community Benefits
Your business plan must also shed light on how your outlet could be an asset for the surrounding market and the people nearby. 
d) Competition
A brief about your competitors, both local and national, must be included in your business plan as you will have to ensure your outlet stands out among your competitors.
e) Financial Estimates
Your last section must include an estimate of your investment in the equipment, rentals, and other supplementary costs. These financial estimates would help keep things transparent and help you in the upcoming years in terms of your outlet propagation. 
iv) Implement Out-of-the-Box Marketing Strategies
Once you've established your franchise outlet at a specific market, you will require a full-fledged marketing strategy to bring in that X factor. Although location and visibility are important but so is a good marketing plan. And while the parent brand does its own marketing nationwide or however large its spread is, you need to make a plan that's both crisp and targeted to your franchise's locality. 
a) Create Awareness
While this is no rocket science, but the first thing you need to focus on to attract customers is advertising your outlet. This could be done by either distributing pamphlets or putting up posters and billboards in and around the market where your outlet is located. 
b) Run Contests
 Another great way of promoting your franchise is coming up with quirky contests. You could organize different contests at your outlet and publicize them on social media sites to increase customer engagement with your franchise.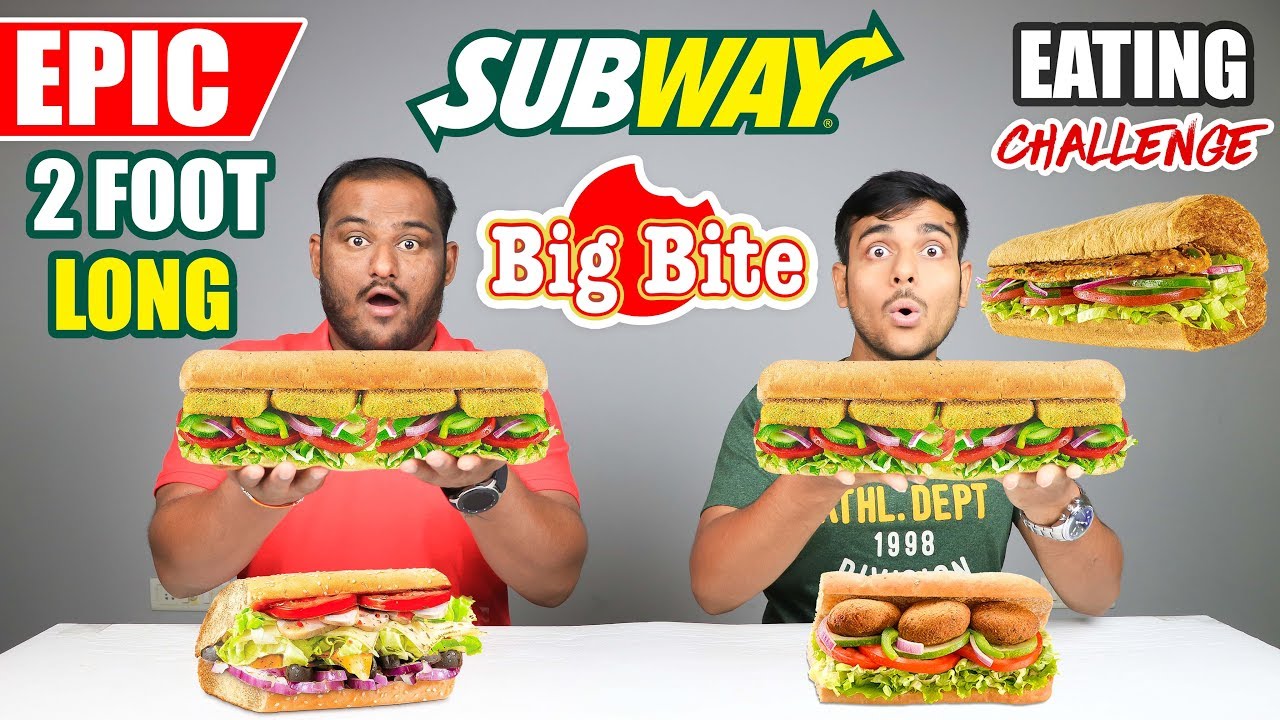 c) Try Giveaways
Another way to improve the initial response of your franchise is by offering giveaways to your initial customers. However, you may not want to just start giving away food, as that might not be allowed in the terms and conditions of the restaurant brand. You could, however, give away freebies such as toys with the meals to attract kids and their families. 
d) Email Marketing
A fine way to attract customers in today's world is by creating catchy emails and sending them out to customers from the customer database available with the parent brand. This database containing customers' contact information and order history details with the brand could also help you start great loyalty programs at your franchise outlet that is validated under your deal. 
v) Grow Your Network
Building a strong network and a healthy relationship with your franchisor, employees, customers and other local outlets will also help you grow your outlet further. 
a) Customers
As a restaurant franchise owner, there are often restrictions on the kind of products or services you can offer, the prices you can sell them at, and also the discounts you give on the products. This is because these trends, prices, and strategies have been proven to be successful for the brand on a larger scale. 
How you can turn these in your favor is by building a strong relationship with your customers. Since customer service goes a long way, you need to ensure that your staff follows the conduct and franchise SOP properly. 
Moreover, at times, customers also choose another outlet over the one nearest to them, in spite of it being the same franchise brand. This is highly a result of either bad customer service or an unfavorable interior. To avoid such a scenario, you must ensure that your customer service is top-notch. 
b) Employees
Staff retention is seen as one of the most problematic areas in the restaurant industry. As a restaurant franchise owner, you have limitations with respect to what your staff is allowed to wear, how they serve the food, their attendance, as well as their work shifts. Thus, if you wish to keep the attrition rate to a minimum, you need to build a high level of trust with your employees through constant interaction with them. 
c) Local Outlets 
Having a relationship with other local brands and outlets in the same market could also help you sustain in the market in the long run. Networking with the local outlets could help you gain more popularity as they may also tell their customers about your outlet. If you don't tend to maintain a healthy relationship with your neighboring brands, you may have to face a lot more hurdles in bringing more customers in. 
 All in all, having a foolproof marketing plan and paying extra attention to the specificities of your particular franchise would help you keep the restaurant running successfully. Also, some great ideas for campaigns, contests and other marketing strategies will help you firmly establish your outlet in the market. However, this will only be possible once you identify the missing element in your market. And once you have that, you are ready to fly.