Starting with a bare minimum investment of INR 20,000, Puneet Kansal has built an empire of more than 100 outlets of Rolls Mania throughout India. Kansal wanted to create a culture of Quality, Quantity, and Quick Service in his restaurant. The consistent efforts of the Quick Service Restaurant (QSR) to appeal to customers' childhood memories with their food has led to such restaurant expansion. Since QSR is the most preferred restaurant format in India, there is enormous competition. In such a competitive scenario, the story of Rolls Mania is an inspiration to fellow restaurateurs. 
Rolls Mania started with an idea of an ordinary businessman, Puneet Kansal, to offer people flavorsome food at an affordable price point. By 2011, Puneet met Gagan and Sukhpreet, who are now his partners at Rolls Mania. In 2015, the team of Rolls Mania started a franchise model, and in no time had more than 100 outlets. 
Let's dig into the dynamics of their business, and understand how they managed to build an empire in just a few years. 
Restaurant Expansion 101: Lessons For A Restaurateur
While thinking of offering the customers something unique, Kansal wanted to ensure that the customers ate something healthy on the go. The idea of wrapping a "roti" with a "sabzi" and running off to school inspired him to start making rolls. Since everyone you see around is short for time, it was ideal if you offer them healthy but quickly made food. That was when rolls came into the picture. 
"My idea was to start with something tiny and make a great thing out of it. Food is the only field where you can start with as much budget you have. You can even start with 10,000 bucks or 20,000 bucks or even a crore. When we wanted to create something that has the potential to go international, the unique food item that we could think of was Rolls," says Kansal. 
What We Believed In
The three fundamentals that Rolls Mania has been working on to aim for restaurant expansion are the 3Q's: Quality, Quantity, and Quick Service. Inculcating the 3Q's in the restaurant culture has been a challenge, for sure. 
"We don't believe what we're serving is fast food. It's completely nutritious fulfilling food made more quickly. We don't want to project ourselves as another junk brand! You can consume it faster, without messing your hands, without any compromises on the nutritional value," he adds.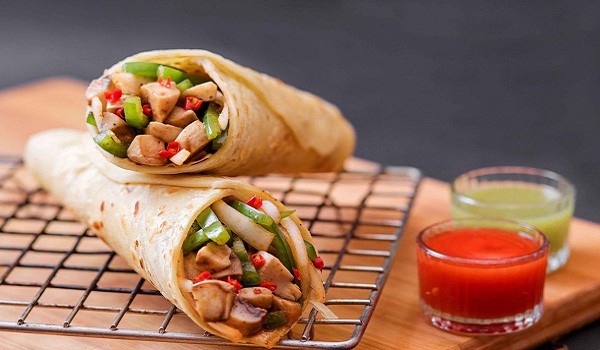 He believed that roti rolls are something that all of us have had as kids, and have conveniently forgotten about them as adults. Taking advantage of the gap in the market, Puneet decided to revive the traditional comfort food- roti rolls- with Rolls Mania. 
Way Ahead For Restaurant Expansion
The way ahead for Rolls Mania is more international exposure, and consistent service to make customers want to come back. 
On the healthier options for health-conscious patrons, Kansal says that their R&D team is full-time working on creating more and more healthy choices for their customers.
"Also, as we make everything fresh and within the store, cold storage items for our rolls don't come into play, hence helping us to keep all the original food values in our rolls intact," he said.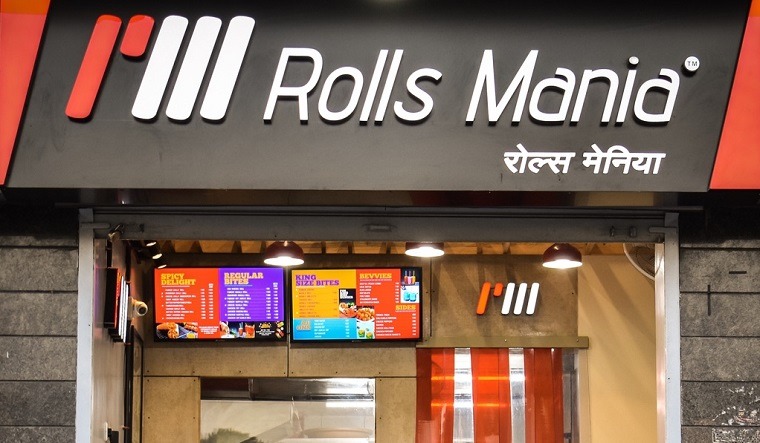 Since there were so many different pizza places already out there, he never wanted to compete with them. Instead, he created something that had the potential to be loved and craved for, not just in India, but abroad as well. What worked for the brand was that there was minimal or no competition at all, plus it brought back the nostalgia that most people crave for.
"The food connects with the customers on an emotional level, and that is the primary reason I started doing business out of it," says Kansal. 
Top Challenges During Restaurant Expansion 
Kansal believes that anything is only a challenge if you think it to be. But as philosophical as it sounds, it stands true for the restaurant industry as well. He believes that being in the restaurant business is a journey and that challenges were part and parcel of it. However, he mentions the top most challenges that a restaurant owner would face if he is thinking of restaurant expansion. 
1. Consistency:
Without technology, it's almost impossible to maintain consistency for restaurant expansion. Today, customers are aware of what they are being served. There are high chances that your inconsistencies in quality may cost you a loyal customer. This is why Kansal ensured that all the necessary processes are in order. Everything from placing orders, to pushing it to the right kitchen, to making sure that the customer has delivered the food delivery- routine operations that bring in sales and revenues- have been optimized in his restaurant using technology. 
2. Open all day, every day:
Being available for your customers, 24*7 certainly brings more customers and attraction for your brand. Since the millennials generation is always on the go, the demand for all-day QSR brands is on the rise.
"Standing for 14-15 hours every day, without a single break, for almost a year, has been one of the things I never thought I'd be able to do. People might call it a challenge. But I loved every bit of it," adds Kansal. 
3. Inculcating the Same Vision:
Consistency is the key to business growth. Since Rolls Mania is an empire of more than 100 outlets at present, it becomes crucial for the brand to teach the same vision in its employees across all the outlets. Having a standard set of ground rules helps you run your outlets better, and thereby enhance both your employee engagement and customer service. 
 "Opening 50 outlets from one, and then more than 120 outlets now have brought an array of difficult situations in front of me. I believe that these hurdles are part and parcel of the process. One major challenge I felt while expanding was to communicate the idea of your brand to your investors. Convincing them to work and manage your brand as you do was pretty tough. Keeping a firm hand on your choices and the idea behind your brand helps you keep your brand's soul alive," says Kansal. 
Kansal says that he had to realign his thoughts with the investors' beliefs, and that was a pretty stressful time. 
4. Staff Training 
Your staff becomes the face of your restaurant, especially your first-line staff. Everyone from the restaurant manager to waiters must be trained using the same set of guidelines so that uniformity is maintained across all the outlets. 
On a similar note, Kansal says, "We train our staff to ensure that a customer wants to come back. For instance, if one of my outlets is frequented by the same set of people 3-4 times, the manager of the place should know their name, and how they like their food. We want to give them a feeling of being special. This is why an emotional connection is our primary concern." 
5. The Right Marketing: 
In the present era of Internet, there are ample options and platforms for restaurateurs to market their brand. Restaurateurs combine social media handles, websites and blogs, newsletters, and endless ways to run personalized marketing campaigns to create a better bond with the customers. Using a pool of these marketing tools, Rolls Mania has constantly curated powerful marketing 'memes' on Instagram and Facebook to connect with their target audience. Let's have a look at them!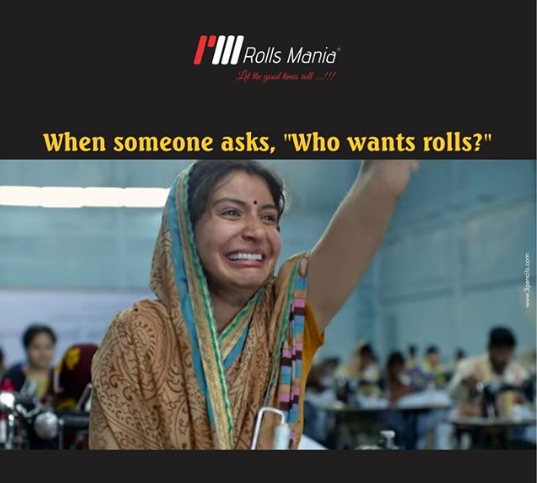 Research says that a major chunk of the millennial generation spend their time browsing for memes. Creating trending memes and designs related to your food pictures makes it easier for your brand to connect with them.
What We Learn From Rolls Mania 
Here are a few takeaways from the story of Rolls Mania! 
Don't ever compromise with the quality. Quality of food is one of the prime factors why customers want to come back to your restaurant. The other significant factors being customer service and your location. Ensuring that your quality is consistently maintained through technology across all your outlets improves your brand image, and eventually attracts more customers. 
It would help if you had a long-term plan, no matter what. Your long term plan should involve decisions about whether you want to adopt a franchise business, your contingency plans in times of any changes in the policies implied, arrangements for dividing your budget for each segment of your operations, and so on.  
Start researching on yourself. Your primary and secondary research, including what your competitors are offering, your business potential, the target audience, your market growth, and so on, helps you better your business every day. 
Standardization can save preparation time and reduce operating costs. Use restaurant technology to maintain processes for each of your operations. Such consistent reporting and analysis make it easier for you to grow your business.
Challenges in the industry are, in fact, hidden opportunities for growth. Tackling your problems with a properly planned strategy is essential for further restaurant expansion.
The story of Rolls Mania is one of the many inspirational stories on scaling a QSR with the least possible investment. Apart from creating a framework for your business growth, keeping track of your operations through consistent analysis helps you grow your business faster. I hope the story of Rolls Mania helped you take some inspiration home!