Do you want to be a part of the F&B industry? Are you planning to open a restaurant? Very well, go ahead! However, you must know, that a little plan, or instead implementing that plan and starting a restaurant will not ensure that your restaurant experiences a success. You must advertise your restaurant well. To enable word-of-mouth marketing, people should first be aware of your restaurant. Putting up an appealing Restaurant Poster might be one of the best ways to reach out to people. 

"Urban India with an estimated population of 444 million already has 269 million (60%) using the Internet."  There is still 40%  of the population who are not using the internet. This population includes people coming from the lower strata. However, this section might also include older adults who are not tech savvy and are not used to with the intricacies of the digital world. Teens, homemakers, and elderlies are the ones who often have a say in the restaurant choosing process. If they are not used to with the restaurant apps then how will they know about the new restaurants in the city? Or, the new offers or the introduction of the new items on your restaurant's menu?
Here, comes the importance of restaurant posters. Not only these posters and hoardings will catch the eyes of your existing or potential customers, but this will also help them to be aware of the new events in your restaurants. According to a study, posters are some of the most commonly used formats for communicating information. Hence, you will never go out of the mind of your customers! But at the same time, this means that your restaurant poster might get buried under the heap of other posters that are being handed out to consumers. Here comes the value of restaurant poster design. Here we have for you effective restaurant poster design tips to ensure that your poster stands out of the crowd. 
Smart Tips On How To Design Your Restaurant Poster
Designing a smart restaurant poster is an art, which most people fail to understand. Read below and unearth the trick on how you can do it just right!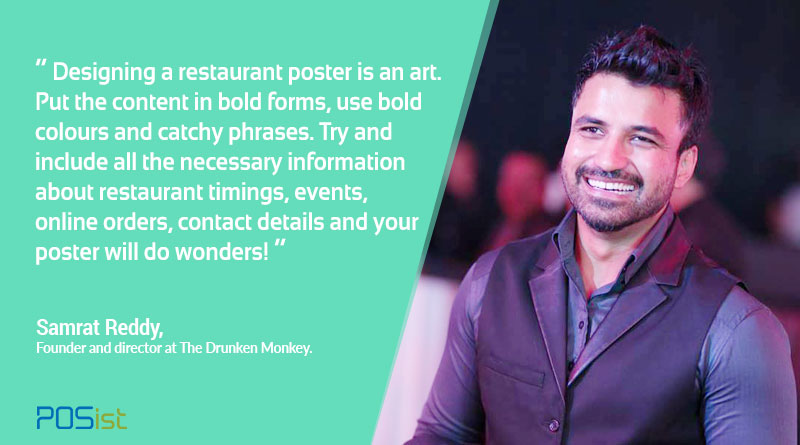 1. Plan The Location
Just putting up a big restaurant poster in a street where there are hardly any people or will not do you much good. It will simply ensure that you are wasting your time, money and energy into something from which you will not get anything in return. Hence choosing an appropriate location for your restaurant poster must be your utmost concern. Try busy streets, street shopping areas, malls, and food streets, precisely try the places which will see the influx of people and will ensure that your restaurant posters catch the right eyes. But remember your target audience must visit these areas or else you will reap no results.
Logo designing can be done from 5k-20k, and poster design cost ranges from around 7k-30k, depending on the size of the poster, the material of the poster, the content and the colors that go into making it.

2. Offers Always Work
Make sure that your restaurant poster has all the details of all the offers and discounts that customers can avail after visiting your restaurant. If your restaurant provides offers like the lucky draw, and the person who wins would be able to wine and dine at half the price, or a ladies night, or a karaoke night where you will be offering the top best singers free drinks or food, you are bound to attract a lot more people than you would normally expect. If your restaurant is located near the corporate house then, you can give discounts during the lunch hours, since you might see the influx of corporate meetings during this time. The above example explains that you must design your restaurant poster as per the targeted clients you are planning to approach.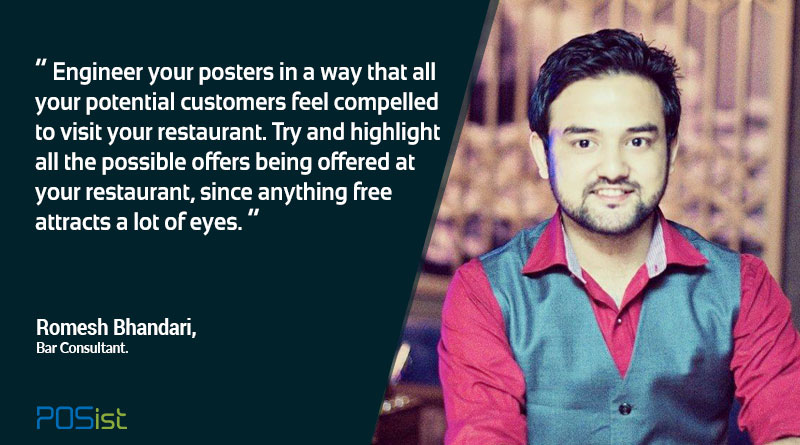 3. Insert All The Necessary Information
Your restaurant's logo should be prominent and appear at the top or the bottom of your restaurant poster. It should also carry further details like the opening and the closing hours. Also, give additional information, like if you have themes for specific days in a week, this will make it easier for your customers to decide when they must visit your restaurant.
Try and put the content in bullet points so that it remains readable to your customers and the various channels through which they can order online must also be mentioned. If there is a main event that you want to publicize, then make sure that all the information about the event, starting from the day, time, the main attractions of the event is mentioned.

4. How To Design Your Restaurant Poster
Always begin with a quirky quote or a tagline that will immediately catch the attention of the people. Use words like Limited Offer Available, Free Deals and the like; such words tend to attract the eyeballs of your customers. Your restaurant poster must answer one simple question, why people should eat at your restaurant?
Do not clutter your restaurant poster. Try and make it as easy to comprehend as possible. Your passersby will not wait to solve a puzzle in the middle of the street. Hence, keeping it simple must be your mantra. Feature photos of your restaurant that quite effectively reflects the ambiance of your restaurant or showcases your tantalizing dishes. The main motive of your restaurant poster must be to attract your customers, then inculcate interest and then ignite a desire within your customers.
Choice of colors is very important. Do not go with the colors that are trending, since fashion changes with seasons. Choose basic colors, and bold fonts so that the content is readable and your readers will not have to strain their eyes.

After reading this, you might understand the various mistakes that you are committing while designing a restaurant poster and hence you might not be garnering the profit out of it that you had initially expected. Hope you have unveiled the secret on how you should design your restaurant poster and see the influx of customers through your restaurant door!