Directed by, and starring Jon Favreau, the movie 'Chef' is an entrepreneurial food journey of the main character, Chef Carl Casper. Chef Carl is famously known for his amazing culinary skills but soon leaves the job after spiteful critics mock him and starts his own food truck business. Amidst rediscovering his passion for cooking and thriving in the industry, the movie gives an inside look at the ebb and flow of the restaurant business. While 'Chef' is set in a light tone and covers oodles of visually appealing food shots, it offers insightful takeaways to the restaurateurs. 
Learnings From The Movie 'Chef'
Here are seven lessons restaurant owners can learn from 'Chef'
1. Follow Your Passion 
Throughout the movie, the main character, Chef Carl Casper's passion for cooking is clearly evident. He's passionate to add new, innovative dishes on the menu of the restaurant he works at. In spite of getting fired from his job, he rekindles his passion for cooking and starts a food truck business. His love for food also wins him financial support that helps him to create his new restaurant where he gets full creative control. 
This is a great message for people who have an ardent passion for establishing their presence in the restaurant industry. Putting your skills and passion in the restaurant business will prove to be beneficial in the longer run. 
2. Welcome Ideas & Innovations
While working at the restaurant, Chef Casper wanted to bring innovations in the menu but the restaurant owner, Riva refused his idea of tweaking the menu and asked him to stick to the classics only. An adamant Casper was soon left unemployable, and the restaurant lost a phenomenal chef.
While working in the restaurant business, be open to accepting new ideas and innovations. Your restaurant should stay true to its values, but to adapt to the changing customer demands and stay ahead of the competition, embrace change from time to time. Implement new ideas such as menu innovations, and analyze whether they are working well with the customers.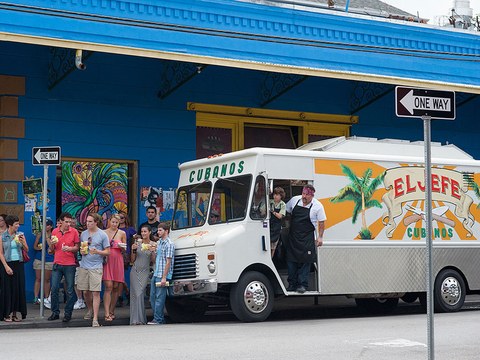 3. Listen To Your Employees
Like customers, employees are integral to your restaurant business. Without any doubt, Carl had all the functional skills to become a restaurateur, which is evident when his food truck business gets colossal success. But his idea of presenting innovative dishes to the critic Ramsey was not even considered and alas, the restaurant owner had to let go of Carl.
Consider the opinions of the employees who have stayed for long in the restaurant business. Not considering your employee's views hampers their confidence and communicates a negative message that their opinions are not valued. If you don't want to lose a good chef like Carl Casper, create a healthy work culture in your restaurant that accepts the opinions of your staff. 
4. Face Criticism Positively
Casper's dismissal from the job was mainly because of his inappropriate reaction towards the food critic, both in person and via Twitter. Carl was hurt because more than a job, cooking had been a passion for him. The movie teaches a beautiful lesson to the restaurant entrepreneurs especially: face criticism positively and learn from your mistakes.
There might be times when you may encounter harsh criticism from your customers, influencers or investors, either in person or over social media. Rather than reacting negatively, ponder upon the reasons behind the criticism and act positively towards it. Your restaurant's food, service or ambiance may not fulfill everyone's expectations, but criticism also provides a fantastic learning opportunity to undo your mistakes. 
5. Accept The Opportunities
Carl was reluctant to visit Miami or accept the food truck from his wife's ex-husband. It was only afterward that he rediscovered his love for Cuban cuisine, reminding himself why he wanted to become a chef in the first place. Carl started his business venture by transforming a dilapidated truck into a food truck and later expanded his mobile business into a physical restaurant with the financial support from Ramsey.
The restaurant industry is challenging, competitive and requires a lot of capital investment. Your first job in the restaurant or the first restaurant venture might not go as per your expectations. But implementing effective strategies, using the right resources and widening the scope of opportunities will make your restaurant successful in the longer run. 
6. Harness The Power Of Social Media
'Chef' is a wonderful example to demonstrate the power of social media in promoting your restaurant business and attracting new customers. Chef Carl Casper's Food Truck gained immense popularity via different social media platforms. Casper's son Percy gave the brand a young, vibrant personality by promoting the food truck on Facebook, Instagram, Twitter, and Vine.
The underlying importance of social media platforms is evident in the movie. For connecting the restaurant brand with customers, restaurateurs need to adopt an active social media strategy. Social media platforms are an excellent way of expanding the customer base and communicating the brand deliverables to the users. 
7. Establish An Extensive Network Of Professionals
Thriving in the restaurant business requires a great business idea, exceptional culinary skills and a well-established network of the right people. Chef Casper made an effective utilization of his professional network to set up the food truck business. He received the food truck from his wife's ex-husband, the food truck's sous chef was his former colleague, and the food critic took care of the expenses incurred in setting up his brick and mortar restaurant. Creating a strong network of professionals builds an excellent reputation for your restaurant. Like Carl, it can prove to be a great asset for your business. 
'Chef' offers professional, as well as personal life learnings, that has been appreciated by viewers. Supported by great characters, the movie 'Chef' beautifully portrays glimpses from the restaurant industry, which makes it a must-watch movie for entrepreneurs, especially those coming from the restaurant industry. We would recommend that restaurant owners, chefs, and everyone from the restaurant industry watch this inspirational story, implement these simple yet effective lessons from the movie 'Chef' and take the road to success!