Investing in skilled restaurant consulting during the start-up phase of your restaurant or food & beverage enterprise will help you reach the break-even point faster. When putting together a plan for a new restaurant or turning around an existing one, professional guidance can help you avoid costly mistakes. It is common for entrepreneurs to be under considerable stress when they launch a new business. While it may appear that you've been doing everything correctly, turning around a current place is challenging because the best you can do hasn't been enough.
The truth is that the restaurant business can be difficult for both, new and experienced companies. With a thorough awareness of the challenges and standard operating procedures, you'll have a headstart over the competition. Restaurant consultants can put both new and experienced business owners in touch with their network of partners, providing all manner of services for opening and operating a restaurant, resort, or hotel. 
Many challenges that restaurant operators confront during important pivot periods can be solved with restaurant consulting. A consultant should have a thorough understanding of the food sector as well as a genuine desire to see your company prosper. 
5 Things To Consider Before Going For Restaurant Consulting
Learn 5 things to consider before going for restaurant consulting in this article.  
1. Experience 
Unlike other industries, the dynamics of the restaurant industry cannot be taught. Yes, you can enrol in restaurant management classes or attend culinary school. However, nothing beats raw experience when it comes to running a profitable business. Nothing can prepare you for all of the complexities of running a restaurant, all of the choices you'll have to make, and, most importantly, the fast-paced environment. 
Furthermore, due to differences in legislation, demographics, and customs, operating a restaurant might vary substantially between states and localities. As a result, the restaurant consultant you select should not only have expertise in running and/or opening a successful restaurant but should also be familiar with the city in which you intend to operate. This way, they'll be knowledgeable about the licenses and permits your restaurant will require, as well as the specific hospitality regulations and demographics you're targeting. 
The more experience a restaurant consultant has, the better equipped they will be to handle potential issues, and the more probable you will be able to launch your restaurant without difficulty. Don't be afraid to ask for references to ensure that you're hiring the best candidate for your restaurant. It's a significant investment, so make sure you're selecting someone who can deliver.
2. Cost 
If you want to open a profitable restaurant, you'll need a good budget, and unless you have a limitless supply of cash, you'll have to include in it the expense of hiring a restaurant consultant. Find out what services a consultant offers and how much those services cost. If their prices are too high, you may always ask for a reduction or prioritize which services you require, decreasing the cost proportionately. Some restaurant consultants can work with you to set up payment plans or discover methods to customize their services for your needs. Don't be afraid to share your budget with a consultant. More significantly, before you choose a consultant, you should shop about and do your research. You want to ensure that you obtain exactly what you need at a price that won't hurt your business.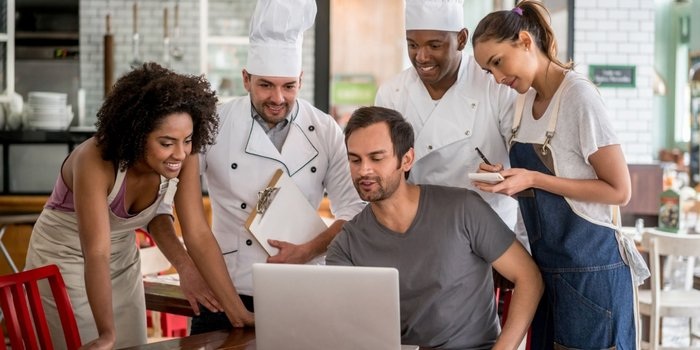 3. Professional Kitchen Design 
Kitchen design is a science in and of itself. Science is a methodical investigation and only a restaurant expert can assist you in completing it. The following are the points to consider: the most efficient use of space, as well as creating sections for handling multiple cuisines. It also includes employing kitchen equipment for multiple purposes, storing materials, installing the correct drainage system, arranging ventilation, and selecting the appropriate chimney based on the estimated cooking time in the kitchen. In addition, decisions like aesthetics versus comfort, induction vs. gas cooking, and so forth are simplified when an expert is by your side. The is a risk of mishaps is also much lower. As a result, hiring a restaurant consultant to help you launch your restaurant or cloud kitchen business is a good idea.
4. SOPs
Every business has standard operating procedures that help them run a more efficient and process-driven operation. A restaurant consultant will assist you in setting realistic standards in the kitchen, administration, and elsewhere. The most important restaurant SOPs concern hygiene and safety, sales and purchase procedures, waste control, the structure of management reporting, cash handling procedures, storage-related procedures, inventory management, guest relations, human resource policies, recipes, food production, and the use of edible ingredients, among other things. You need to have an excellent command of these intricacies. The restaurant consultant can help sharpen your focus on those critical tasks linked to your restaurant's development and save time as well as money.
5. Branding and Marketing 
Marketing was, is, and will continue to be critical for virtually every firm in every business vertical you can think of. To maintain constant growth in the restaurant industry, you must ensure that your digital marketing operations run smoothly. Marketing services such as brand recognition, offline marketing plans, social media marketing, Zomato marketing, Google marketing, and influencer marketing, among others are important for any restaurant. The food consultant's experience can enable you to identify any flaws that may exist in your existing strategy. By hiring a cloud kitchen expert or a hospitality consultant, you can de-risk your business operations. Experienced restaurant consultants can provide you with the most up-to-date brand research and forecasts.
The value provided by a restaurant consultant can be significantly more than what has been described thus far. Getting a fresh perspective on everything from designs to taglines, from ingredients to garnishing, can enable you to make the right choices, and success is a foregone conclusion.
Read a similar article: How A Restaurant Consultant Can Help You Run Your Restaurant Better