Quick Service Restaurant (QSR) is the secondary go are picking up. This is why 2020 will be an essential year for QSR brands to market their restaurant to make more potential revenue.
Tips to put in your restaurant marketing strategy for 2020!
1. User-Generated Content On Social Media
Many successful QSR brands focus on what their customers are sharing about the brand. Sharing customer-generated content on your social media handles helps you build an active community with your customers. Along with that, it helps to attract many more! What you need to ensure here is to take permissions while sharing somebody else's content. Otherwise, it might be problematic for your brand later.
2. Be Present Everywhere- Offer Variable Discounts On Multiple Platforms  
Customers tend to use a lot of platforms where they are likely to get discounts. Whether it is an order-in or takeaway, your brand could become irresistible  to customers if you offer them multiple discounts on various platforms. For instance, if your customers can get a discount while ordering food from your brand on Zomato, they might want to come back. The same goes for DineOut, Paytm, and so on. 
Another tip that you can use is to integrate the most popular modes of payment like card, cash, PayTM, and so on. This way, you can upsell on orders and make customers want to come back!
3. Promoting Restaurant On Online Food Aggregators 
Having a presence on multiple platforms is crucial, but being at the top of the search results where people can see you is another marketing strategy that you need to invest in, in 2020. Have a separate budget to promote your QSR brand on various online food aggregation platforms. 
These platforms have a Sponsored Area in their apps, where they showcase multiple brands on a rotational basis. Featured restaurants are divided on the basis of the area in which they are  situated. These platforms charge you on a per-click basis, which means that you will have to pay a fixed amount for each customer click. The fixed amount lies somewhere between Rs 14-17. You should keep an average budget of INR 10,000-20,000 for marketing your brand on these platforms.
4. Include A Loyalty Program 
Incorporating loyalty programs at your restaurant boosts sales by identifying your loyal customers and nurturing them. One of the leading loyalty software developers, Xeno, states that loyalty programs paired with SMS marketing can boost a restaurant's sales from 30-70%.
5. SMS Marketing 
SMS marketing is a powerful tool for marketing QSR brands. Send out a small 'Miss You' text with a predefined offer to customers that haven't visited lately. Birthdays, anniversaries and other special occasions  are ideal for reaching out to customers who would love the gesture! 
6. Messenger Marketing 
Facebook Messenger works differently when it comes to restaurant marketing. The organic reach for Facebook was 2.27 percent in 2015, whereas Instagram's last organic reach was 30 percent. It means that only a small section of your followers look up your business page on Facebook. 
What you need to focus on are the messages you send out through Messenger. Have offers and discounts rolled out through this service every now and then!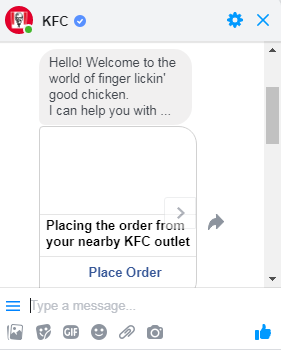 7. Have Time-Bound Offers 
Whenever you think of introducing a discount, cashback, or any other kind of offer on your menu items, ensure that you put a time limit on it. For instance, CCD is running an offer of INR 300 cashback for users who buy a particular coffee, and it is only valid until December 31st. Having such a timeline creates a feeling of urgency among your customers and makes them want to avail of the offer as soon as possible.
8. Bring In Your Own ChatBot 
A brand new mode of marketing that has hit the restaurant industry is marketing through Chatbots. There are various platforms where you can use Chatbots, like Whatsapp, Facebook, and your restaurant's websites. Here's a creative example of how a brand incorporated Chatbot in its business model to engage with its customers!
9. Co- Working Spaces
Another important strategy that your restaurant should pick  is to make the premises work-friendly. The most successful QSR brands, Starbucks, McDonald's, Burger King,  have free Wi-Fi so people can come and work, without being disturbed. Once you have a loyal customer base that likes to go to your place for working, you'll be raking in big profits! 
10. Tiktok Marketing
With little or no money involved, Tik Tok is an easy tool that you can use to make your restaurant brand reach millions! What you need to identify here is your target audience, their interests, what they align with, and then create content accordingly. Here are some examples for you to see! 
11. Video Marketing 
According to reports, videos are the most consumable form of media since they engage  viewers quickly. According to statistics from Instagram, by 2021, mobile video will account for 78 percent of the total mobile data traffic."- Instagram (2018) Many brands use video content to give viewers a 'behind the scenes' look into the running of their restaurants. Customers love the transparency and would definitely want to be a part of the happy place! 
12. Social Media Photo Contest 
One brilliantly engaging and evergreen marketing strategy is the Photobooth! Many restaurants from around the country keep a photobooth at their premises and use it to run challenges like 'Best Selfie Of The Month', 'Customer of the month', and so on.
13. Seasonal Events 
Numerous QSR brands have annual events or special promotions around special occasions. For  example: Olly has a Secret Santa event in the restaurant every year where kids are given added surprises! Customers love such gestures, especially when it comes to families. The restaurants also place little cards on the table that say: New Year Resolution. These  have to be filled by customers, and the best resolutions are posted on their social media. How cool!
14. Create A Fancy Food Item 
Ensure that your customers have something new to look forward to at your restaurant, every holiday season. Starbucks prepares a new type of coffee or cocoa dish every year to attract customers and make them want more. Ensure that you market your fancy meal well! 
15. Organize Fun Events At Your Restaurant 
Hosting games and organizing challenges like "Eat with the Beat" or "Eat For Your Life" where you encourage your customers to take part boosts customer engagement, and thereby your restaurant sales as a whole! Customers who feel engaged at your restaurant stay for an extended period of time. This gives them time to order more and thereby increases their average spending. 
16. Have Seasonal Menu and Seasonal Bestseller
A seasonal menu helps you to increase your restaurant sales without actually increasing your menu prices. You could add menu items specific to the occasion like Chocolate Mocha" around Christmas and Blue Lagoon Mojito in the summer!'
17. Invite Food Bloggers To Your Restaurant 
Influencer Marketing has been on the rise this year. Almost everyone with a smartphone and a decent camera want to be a vlogger. What you need to do is identify the right food blogger or influencer, with a significant following. 
18. Regular Updates 
Another marketing strategy that works  is regularly updating your social media, your website, and all your online platforms. Ensure that you add any food combo or discount offers that you've introduced, to your website, and market it well on your social media handles. Since Google always prefers fresh and new information over old and worn  websites, regular updates will help boost your business!
19. Micro-Moment Restaurant Marketing 
Based on what your customers are searching around your brand, make changes on your websites/business listings/ social media. Understand their micro-moments when they search online for your brand. You need to identify where you're losing your customers from the minute they enter your website to the time they place an order! 
All in all, including a couple of these ideas to your marketing strategy in 2020 can prove to be wondrous for your QSR. Feel free to connect with our experts in case of any further doubts.