The restaurant business nowadays is about a lot more than just food. It is about providing an overall dine-in experience to customers. In a constant effort to add freshness to the restaurant and stand out from the competition, restaurant brands are undergoing complete transformations. While some restaurants are modernizing their front-facing spaces to attract more customers, others are deploying new technology to elevate the overall functionality. Restaurant renovation elevates the overall brand image and creates a lasting impression in the eyes of customers. However, renovating a restaurant can be a tricky and costly affair. This article narrows down the essentials that you must consider while remodelling your restaurant brand. 
How To Plan For A Restaurant Renovation
If you have been in the restaurant business for a long time, renovating your restaurant can breathe new life into your business. Planning renovation for your restaurant is a great opportunity to keep it relevant and abreast with the competition. 
Here's what you should keep in mind while you proceed to plan renovation for your restaurant.
In-depth Market Research
As a restaurateur, it is important to understand what works best for your restaurant and what could be possible areas of improvement. Before your restaurant undergoes renovation, understanding the entire customer and market dynamics is important. Take consistent feedback from your customers to have a better understanding of their tastes and preferences. Is it the food, ambience or the service where your restaurant has to improvise? You can audit your social media accounts, gain insights from surveys or place suggestion boxes to gain an understanding of what improvements your customers want. 
Restaurant business is competitive.  Even if your restaurant serves the best food but is unable to adapt to the changing trends, you will be at potential risk of losing your customers to the competition. That is why it is important to create a competitive analysis of how similar restaurant formats are performing. What is the technology that they are adopting to improve overall efficiency?  What is your USP and competitive advantage over other brands? Is your brand prepared to face the challenges?
Keeping a close check on the strategies of your competition would prepare your restaurant to face the challenges and not lose out on customers.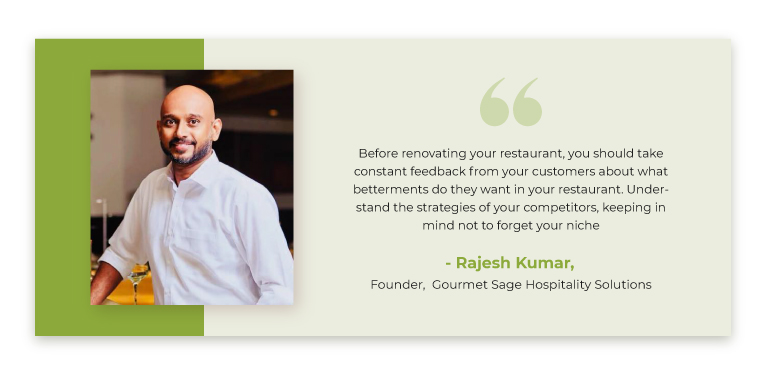 Redefine The Dine-In Experience
According to an interim report by the Competition Commission of India,  restaurants are facing the threat of online party aggregators cannibalising dine-in businesses. With more customers opting to enjoy meals from the comfort of their homes, the number of food deliveries have increased sharply. For attracting more diners in your restaurant, you need to create an experiential dining experience. 
To create an overall brand experience, there are many elements that restaurateurs can consider,
Recreate the restaurant space: By changing the seating arrangements, you can utilize and optimize your restaurant space better. Even if your restaurant is not largely built, you can accommodate more customers during peak hours by maximizing the space. There should be enough space between the tables for your diners and servers to manoeuvre easily. 
Refresh the interiors: While refreshing interiors doesn't mean changing the theme of your restaurant, it simply elevates the look and feel of your restaurant. Depending on your restaurant format, you could opt for thematic decoratives, unique or eco-friendly cutlery, comfortable seating, light fixtures or even basic touch-ups on your walls and entrances.   
Customer Engagement: Attract more customers by sending them customized coupons and offers, cashback and variety of payment options to choose from. Tie-ups with table reservation partners like Dineout, offering in-house complementary dishes or partnerships with food aggregators services like Zomato Gold, can further drive more customers to your restaurant.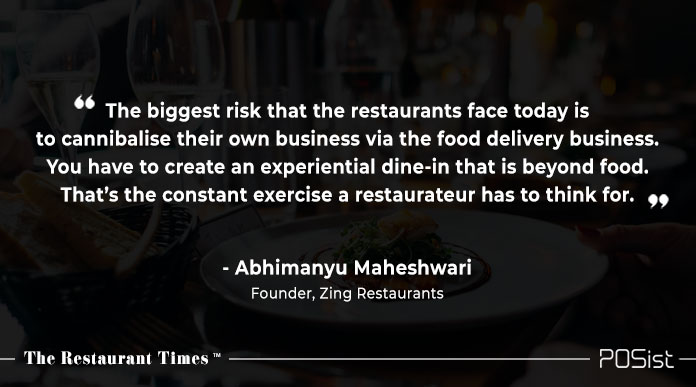 Renovate The Menu
Having the same menu for a longer period of time gets repetitive and loses the interest of customers. Menu modifications should be updated periodically or at least once a year to align the menu items with changing trends. Updates to the menu allow the restaurateurs to make decisions related to the performance of items and modify prices adjusting to the food trends, changing food costs and inflation rates.

As a restaurateur, It is important to learn what modifications might customers want considering the menu. Which dish is most popular among the customers? Does your restaurant provide value pricing? Restaurant POS systems provide detailed individual reports such as item wise sales, outlet wise sales, food costs, total inventory consumption. With this information, you can review which items sold the most and which items were the least profitable. Eliminate items that are not doing well and adjust the menu pricing according to food costs and inflation prices. You can highlight the best selling items, upsell dishes by decreasing the prices or club dishes into a combination. You can also update your menu with seasonal item or occasional offers. After your restaurant's menu undergoes changes, it should be ensured that the changes are reflective on the website and mobile app too. 
Redesign For Better Efficiency 
A foolproof restaurant renovation plan includes designing proper kitchen infrastructure and providing better facilities to staff. 
Is your kitchen infrastructure supported by modern technology? Do you have better equipment and machinery for your kitchen staff? Does your kitchen match the health and cleanliness standards?
The back end of your restaurant should be equipped with modern technology in order to streamline the entire order mechanism. 
You should also ensure that your staff is in sync with your redevelopment plans. Replacing manual order taking/placing mechanism with tablets, KDS, tabletop devices, self-ordering kiosks would help your staff serve customers faster and increase the overall efficiency of your restaurant. 
Be Consistent
Remodelling your restaurant should be in line with your restaurant's aesthetics. For differentiating the restaurant's brand from the competition, it is important to ensure that your core values remain intact.  Even after revamping the brand, your customers should be able to associate with what your brand stands for. Your brand shouldn't lose originality. 
It is vital for restaurants to adapt to changing customer needs while ensuring that the standards of consistency remain the same in the food and services they offer.  
Large Restaurant chains like McDonalds have adapted their menu according to the changing customer tastes. But the famous  McDonald's french fries have a consistent taste across outlets. You may have direct or indirect competition with restaurant brands that would try to imitate your restaurant's style. For differentiating your brand from others and to ensure consistency in terms of food and kitchen, you must deploy standardization techniques in your restaurant's backend. 
Don't Forget To Communicate
Once you decide the changes for your restaurant chain, make sure that your customers are well aware of your restaurant's redevelopment plans. To ensure that the customers know that your brand is undergoing changes, your Marketing and PR campaigns should communicate all the details on a regular basis. An interactive communication flow can be achieved through your social media channels. 
With the right planning, clear communication and these effective tips, it is the right time for your restaurant to undergo renovation!