The restaurant industry is experiencing a rapid transformation. To achieve the customer's trust, a seamless and connected customer experience is the need of the hour. Whether your restaurant is receiving orders via walk-ins, online, over the phone, food ordering apps, or at a kiosk, having a reliable, omnichannel strategy that satisfies their need for a consistent experience is a must. This article provides effective restaurant omnichannel marketing strategies that are a must-have for all restaurant businesses. 
Omnichannel Marketing Strategies for Your Restaurant 
An omnichannel approach to marketing is necessary to reach out to new customers and create additional revenue streams for your business. Mentioned below are some of the most reliable omnichannel marketing strategies for your restaurant.
1. Maintain Consistent Branding
Either via dine-in, online ordering or take away, ensure that your branding is consistent throughout all the channels. Having a consistent brand message on all the marketing channels will ensure top-of-the-mind recall for your customers. Due to the fear of Coronavirus, many of your regular diners may not be able to immerse themselves in the restaurant ambiance. This gives an excellent opportunity to your marketing team to put special emphasis on replicating the same dine-in experience on your social channels. 
2. Establish Connection With Consumers
By having multiple channels, it may get difficult for your restaurant to stay connected with the customers at all stages and build a mutually beneficial relationship. It is advisable to establish a central channel to provide better convenience, make connections, and resolve customer queries.
For instance, if some of your customers are not satisfied with a particular meal, or service, address their feedback or negative reviews quickly. If you are new to the business or haven't got many reviews, make sure to survey your customers on a regular basis. This would offer valuable insights into what works and what doesn't for your business. Take consistent feedback from your customers via different channels and leverage it to fuel your marketing activities.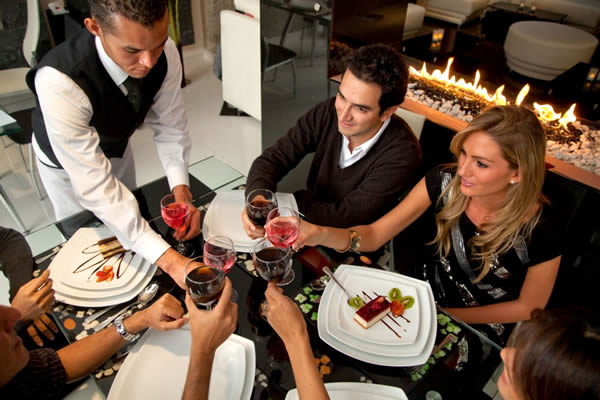 3. Influencer Marketing
Influencer marketing has become a go-to strategy for restaurants that want to drive revenue and build brands. In the restaurant business, there is no better source of generating high-quality, user-generated content than that generated by the influencers. However, getting top influencers may not always seem a favorable option for new restaurants or ones having tight margins. 
Consider partnering with micro-influencers (influencers having an audience reach of around 10,000 followers) or nano-influencers (about 1000 followers). Not only will it be more affordable to recruit these influencers as your brand ambassadors, but it is also likely to drive higher engagement rates as consumers are more likely to trust their opinion and interact with them. 
4. Leverage Customer Data for Business Insights
Data analytics in the restaurant setting aims to find ways to delight customers at every interaction across all channels. Leveraging restaurant data helps your business in improving efficiency, identifying growth opportunities, and making better business decisions. However, in the context of omnichannel restaurant marketing, data-driven insights are even more valuable.
Not only does data analysis facilitate better customer interactions across channels, but it also helps you provide a customized dining or delivery experience to your customers. A customized dining/ordering experience redefines personalization in the restaurant setting. When done correctly, this level of personalization can turn guests into regulars and generate loyalty from them. 
5. Making The Best Out Of CRM data
In the restaurant business, nurturing your customers is the best way to drive repeat business. For restaurants engaged in an omnichannel strategy, email and SMS campaigns are one of the best platforms for strengthening and maintaining customer relationships.
Through the right targeting and segmentation, you can reach the right set of customers. Include personalized messages such as sending greetings on birthdays, exclusive perks for being a valued guest, or offering their favorite dish as an incentive to visit. Use automated workflows to ensure that you deliver these campaigns at precise times. 
In addition to engaging your customers via email and SMS campaigns, you can use CRM data to gather direct feedback from your customers. Similarly, you can respond swiftly to all reviews and build a personal connection with customers. 
Adopting an omnichannel restaurant marketing strategy widens your restaurant's overall visibility and helps establish better relationships with customers. Use these tips and make your restaurant omnipresent!