With the ongoing situation of coronavirus pandemic, doorstep food delivery has become the source of survival for restaurants. Considering both the necessity and convenience factor, online food delivery has become a significant platform for restaurants to cater to the different needs of customers and keep their business up and running. However, it has become more crucial than ever to ensure that doorstep delivery is safe and hygienic. In this article, we will discuss the essential steps to implement contactless food delivery in your restaurant. 
Why Is Contactless Delivery Important In The Current Scenario?
While restaurants are bringing drastic changes in how they run their day-to-day operations, doorstep food delivery is one critical aspect that is likely to get the most attention. Given the current state of affairs, customers are still skeptical about dining in or coming into direct contact with the delivery personnel. Therefore to win the customer's trust, restaurants must adopt contactless food delivery. 
Contactless food delivery has already been adopted by various food aggregator platforms and restaurant chains such as Dominos. It is a safe practice designed to limit contact between restaurant executives and customers. 
In contactless delivery, customers and delivery personnel do not come in direct contact at a given time. Customers place the delivery orders online and complete the payment online as well. Delivery personnel places the food at the spot as instructed by customers over the phone. Soon after placing the delivery parcel at the customer's doorstep, the customer is notified that the order has been delivered.  
With contactless food delivery, contact between the two parties involved is mostly minimized. As there is no risk of infection, customers can rest assured about any health risks at all.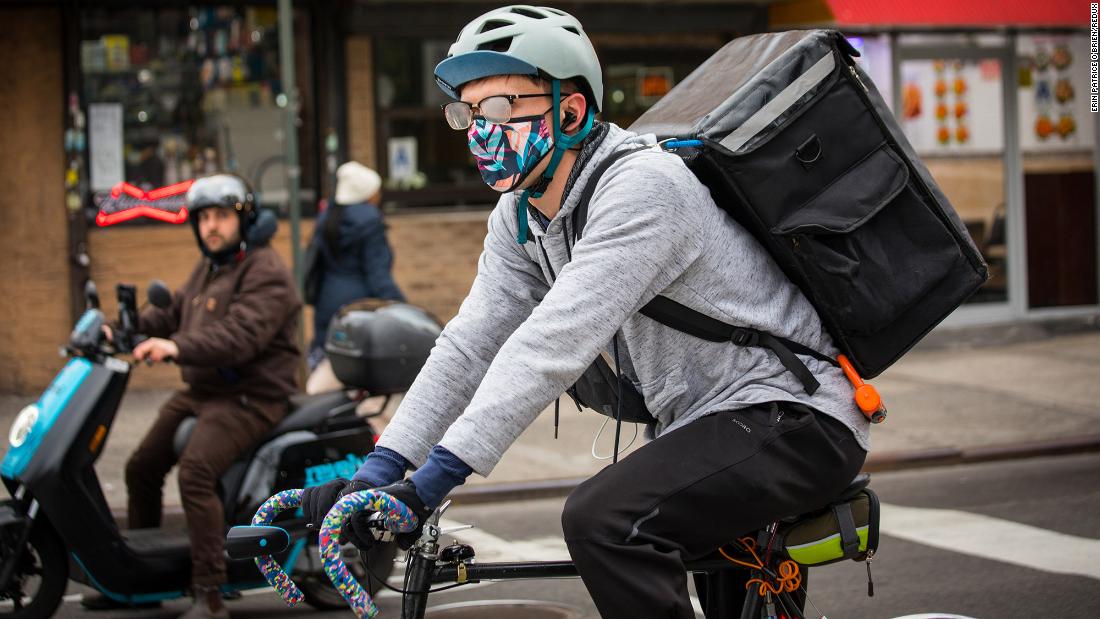 5 Steps On How To Implement Contactless Delivery At Your Restaurant
With a large number of restaurants turning to contactless delivery to protect their customers and employees, food delivery must be hygienic and aligned with improved measures. Here are some useful tips restaurants must implement to pivot to contactless delivery.
1. Optimize Order Taking 
According to an intricated report on the Restaurant Industry & Market Evolution, restaurant operators said that they received 43 percent of online orders via direct channels. Optimizing the restaurant's online ordering system and minimizing the overall delivery time requires an elaborate evaluation of your overall operations. Begin by identifying the possible areas causing delay and understand the loopholes in your delivery system. Make sure that all the orders placed by customers are directly pushed into the kitchen. Track the order status via your POS system and immediately prioritize it based on the time it was received so that the delivery executive can be assigned accordingly for delivery. 
2. Modify Your Online Ordering System With A Contactless Delivery Option
Restaurants having their own mobile app or online ordering website must update their delivery systems with a contactless delivery option. Add different online payment options and make it easier for your customers to follow the instructions and place orders accordingly.
Give proper training to your own delivery personnel to enable them to communicate seamlessly with customers and educate them about the importance of following all the hygienic protocols and guidelines in the best interest of themselves and their customers. 
3. Optimize Your Online Restaurant Menu 
Considering the impact of the global pandemic on the restaurant business, your restaurant might be operating on limited resources and a lean workforce currently. Therefore, it is advisable to concentrate on creating a short, limited menu that is easy to execute. 
As most customers choose restaurants based on their online order availability and pricing, a well-priced menu will cater to different consumer tastes and attract more orders. Updating your online menu will also be ideal for meeting growing customer demands for better self-ordering options while taking care of your bottom line.
While optimizing your online delivery menu, invest good thought in creatively designing your list as well. Utilize the CRM data to analyze your menu item's performance and optimize your menu accordingly. Consider leveraging your restaurant POS to identify the highest-selling menu items and upsell the lower-margin items.
Eliminate the non-performing menu items and adopt strategies such as creating targeted combo meal options, offering limited discounts, etc. on your online menu to attract more customers. 
4. Collaborate With Multiple Online Food Aggregators 
Online food aggregators such as Zomato, Swiggy, etc., are already taking proper care to deliver the food items hygienically while ensuring zero contact between the customers and delivery executives. As most customers prefer placing online orders via these platforms, it creates a dire need for restaurant operators to collaborate with online food aggregators.
Third-party food delivery platforms have had high customer demand even during the current coronavirus crisis, therefore, it is recommended that restaurants partner with them for online delivery services. Partnering with third-party services will also help in promoting your restaurant brand and increasing your online visibility. 
5. Communicate Via Social Media
Given the current scenario, it is vital for restaurants to reach out to their customers and provide them an assurance that they are adopting the best measures to ensure the safety and well-being of their customers. Create engaging posts on how your restaurant is following all the necessary health and safety guidelines.
You can also consider posting images or video content, communicating the process of how contactless delivery works, or how food is prepared in your kitchen. If you have set up temperature screening or washing stations in your kitchen, include them in your posts. Taking these measures and communicating regularly with your customers will create a sense of trust and empathy in your customers' minds.
Best Practices for Contactless Delivery
Adhering to these best practices for implementing a contactless food delivery at your restaurant can help you drive engagement and revenue.
Offer a clear contactless delivery option on your restaurant's online ordering system and provide clear instructions. 

Provide detailed instructions to your restaurant owned delivery fleet personnel on how to communicate efficiently with customers and how to place food in the correct location as directed by them

Encourage the use of cashless payment and offer a plethora of digital payment options to choose from.  

To minimize the risk for your delivery executives, conduct training programs to teach them how to wash their hands before and after each delivery, sanitize their delivery bag, and provide all the necessary utilities such as sanitizers, masks, gloves, etc. 
To make the most of the online food delivery channel, implement contactless delivery in your restaurant with these steps, and win customers' trust!