Running a restaurant business is all about understanding and taking a peek into the psychology of the customers. Once you understand what attracts them, then you can plan your restaurant marketing plan accordingly which will help you to attract that extra crowd. Considering the Indian crowd, you as a restaurant owner must understand that festivals are a vital part of the Indian society. It is during these time of the year, people don't really mind indulging in that extra splurge. Hence, you must try and harness these happy crowd. This is one of the main reasons why you must include festivals in your restaurant marketing plan. Here are some great strategies for attracting customers during festivals!
How to Leverage Festivals In Your Restaurant Marketing Plan
Festivals are many in India and it is extremely lucrative, hence it is essential that you do the needful to attract happy customers who will be willing to splurge a bit more during festivals than usual. The ways in which a restaurant can harness the enthusiastic crowd of the festive season are:
1. Surprise your Customers
People tend to get bored soon, hence one of the ways by which you can keep your customers hitched is by surprising them at regular intervals. What a better way to surprise your customers other than during the festive season? We have seen several restaurants introducing some eye-catching events, especially for the festive season. Domino's came up with "Navaratri combo" which offered consumers special recipes and ingredients widely used during the festivals. Even Behrouz Biryani Gurgaon too increased their variety of biryanis for the month of Ramzan.
2. Organize Events during the Festival Week
When you already know that people will be happy and kind of spendthrift during the festive season, you should try and do something that will tempt them to visit your restaurant, which will, in turn, increase your overall sales. Hence, you can organize different events on different days of the week just for the festive days. For example, during Christmas, you can celebrate the "Twelve Days Of Christmas" theme for 12 long days. During Navratri or Diwali, you can bring in folk dance performers to bring in the authentic charm of the festival right in your restaurant. Strategies for attracting customers during festivals changs from restaurant to restaurant. Offer unique deals and see them work.
3. Make The Menu Festival Specific
Instead of offering the usual menu items of your restaurant, why don't you sit with your chef and prepare a menu that is specific to a particular festival? During Diwali, Navratri, Eid or Christmas you can create a menu that will bring to the table the authentic food items of that particular festival.  For example, offer varieties of 'modak' during Ganesh Chaturthi, 'sadya' during Onam, biriyani during Eid, plum cakes during Christmas and so much more! If you can recreate the authentic flavours of a festival, you can be sure that you will see a long queue in front of your restaurant during the festive season.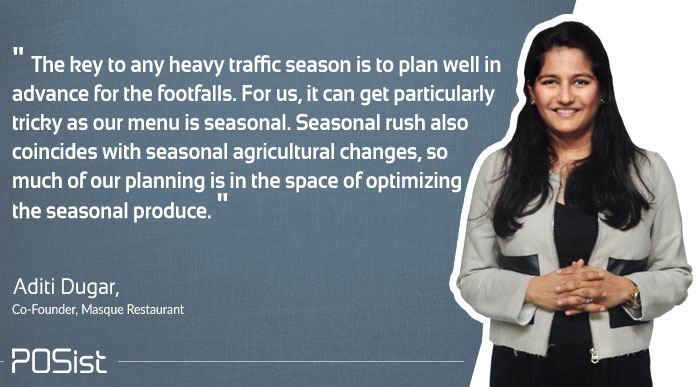 4. Opt for Other Formats During The Festive Season
Your main aim behind including festivals in your restaurant marketing plan is to make your restaurant the center of attraction for the people of your city. It is an obvious fact that you cannot move your restaurant to all the places in the city which sees the amalgamation of people during the festive season. This, however, does not mean that you cannot move your brand. In order to reach out to the larger mass, you can put up stalls, food carts or food trucks, in different parts of the city, just for the festive days. Here, you can sell limited, festival specific menu items. Such a move will ensure that you reach all the potential customers out there. Tips for selling food at festivals include opting for separate formats or menu during this time and serving the festive food at your restaurant. 

5. Market Your Efforts
Venture into both online and offline modes of marketing. You can design festival specific flyers, pamphlets, hoardings and distribute them. You should also change the theme and design of your website as per the festival. Not only this, ask your marketing team to design emailers/SMS and send it to all your loyal customers before the festival informing them about what you have in store for them during the happy phase. Offers, discounts and lucky draws which you will be planning to bring forth during the festivals, must be properly advertised on the social media pages. Once you have your marketing on point you can be relieved to see the influx of people at your restaurant during the festive season.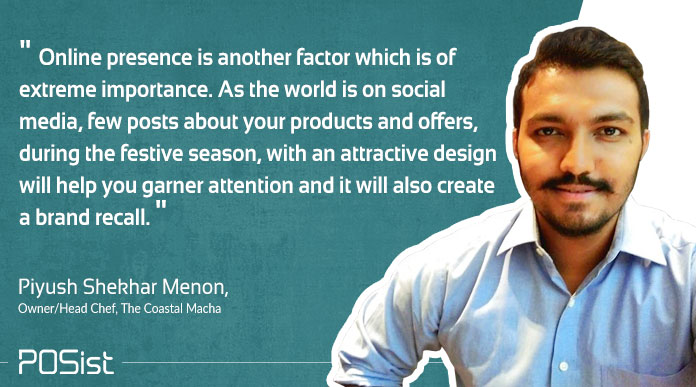 There are multiple restaurants which have already been promoting festivals. The impact of such a move is so supreme that it has even been covered by the media. This shows that if you include festivals in your restaurant marketing plan and do it right, you can have a media coverage which will help you to boost your restaurant's brand credibility in the eyes of the people at large.

India has too many festivals which give you too many options to experiment and attract customers. Don't miss this chance. Include festivals in your restaurant marketing plan, offer authentic festive food and follow the above-mentioned ways by which you can promote the festivals in your restaurant. This will ensure that you get overwhelmingly tired by the end of the festive season with a high-profit margin.