Last year was all about baking. From banana breads and pancake cereals to mini pizza cereal and mug recipes, baking was on top of people's minds whenever they picked up kitchen crockeries, as per the social media trends. Due to this, the bakery business has been in the limelight for quite some time now. According to a report by the IMARC Group, the Indian bakery market was valued at USD 9,626 Million in 2020 and is anticipated to grow at a robust rate of 10.8% in the next five years. 
To cater to the growing demand, more and more bakeries have opened up since the last year in India. The passion for baking has further driven many first-time entrepreneurs to venture into the bakery businesses. If you are someone who is looking forward to opening up a bakery, then you have come to the right place. 
This article will guide you in the right direction on your journey of setting up a bakery business.
How To Successfully Set Up A Bakery Business
While setting up a new bakery business, numerous aspects have to be taken into consideration. For instance, managing finances, maintaining quality and consistency, and carrying out quality marketing. Managing all aspects at the same time might be overwhelming. Therefore, you need an efficient plan before setting up your bakery. It is equally important for you to follow it and look back to it whenever required. 
Here is a planned approach to start up your own bakery business. 
1. Create A Bakery Business Plan
A business plan acts as the backbone of any business. It is a roadmap for you to follow while you are in the middle of setting up your bakery. An efficient business plan is indispensable as it helps to look back and seek solutions when the situations are unfavourable. When you start a business with the proper planning, you know what your next steps would be. Therefore, you need to carve out a business plan for all your bakery operations including managing finances, engineering the menu, incorporating marketing strategies, etc.
A good business plan demands proactive brainstorming. You need to first understand the concept of your business yourself and then evolve it further by doing a proper industry analysis. You can conduct a SWOT analysis to know the areas in which you are strong enough and the areas that need to be strengthened. It is also important to keep an eye on the ongoing trends and opportunities that you can grab to grow your business. 
2. Choose An Attractive Name & Logo
When opening a bakery business you need to pay special attention to what name you want your customers to call your bakery with. The name and logo of your bakery business are like the personality of your business. They represent what your business is all about and what your concept caters to.

The name of your bakery must be appealing enough so that it compels the customers to order from it. Furthermore, the logo must resonate with the name and concept of your bakery business such that it creates a good brand recall for the customers, making them come back frequently.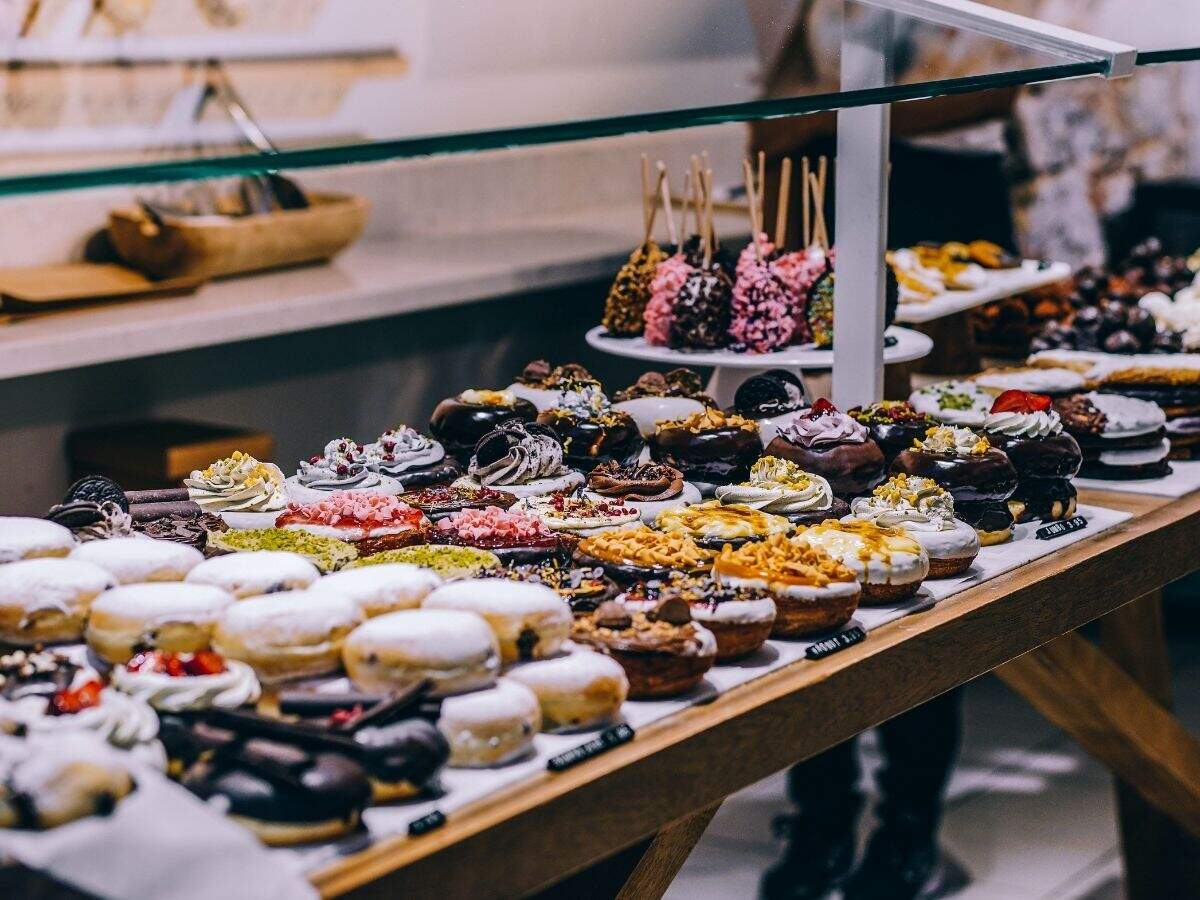 3. Look For An Appropriate Location
After selecting the name and logo of your bakery business, the first thing that you need to do is find the optimal location for it. You need to ensure that the location that you pick has a high footfall and is in an easily accessible area. If you pick a location that is on the outskirts of the city or some place with poor transport options, then the business potential of your bakery business could be limited. This is one of the major reasons why the majority of restaurant businesses fail within a year or two even after having efficient operations and good quality food. 
Furthermore, your bakery must be spacious enough to accommodate a dining space, a serving space, and a kitchen space. You can have a 500-1000 sqft area for your bakery with two floors – first being the reception and the billing area with seating and second having the main dining area with good decor and ambience. You further need to ensure that your bakery location is easily accessible to vendors and delivery staff and that it has a regular supply of water, raw materials, and electricity. 
4. Acquire All The Required Licenses For Your Bakery Business
Before setting up your bakery, think about the various licenses you will need to keep your business running smoothly. You would not want your business to get in trouble in the future for breaking any law. The major licences that you need to have include: FSSAI license, GST Registration, Local Municipal Corporation Health License, Eating House license, and a Fire License.

FSSAI license:

An

FSSAI license is the food license that outlet owners of every restaurant format would need to have beforehand. You can apply for it online through the

government's FSSAI website

or get it done via third-party agencies. It is always better to opt for a five-year license instead of an annual license in order to avoid the annual renewal fees. The FSSAI license is important to certify the quality and safety of the food you serve your customers.
GST Registration:

GST registration is required to avoid any tax-related issues. By registering for GST, you will have to pay a certain percent of consolidated tax as opposed to numerous taxes separately like Value Added Tax, Central Excise Duty, Service Tax, etc. You can reach out to professional Chartered Accountants in order to get yourself registered for GST. Find out all about GST registration

here

.
Health License:

A

Health License validates the health and safety standards of your outlet. It can be obtained from the local municipal corporations through the local municipal health inspector. 

Eating House License:

Eating house licenses are regulated by the Delhi Police Act and are mandatory while setting up any new restaurant format. It certifies that your location is a place where food and drinks are supplied and consumed legally. 

Fire License:

Fire licenses are required to certify you that you are safe and have all the necessary equipment for cases related to fire-related emergencies in your outlet. It can be acquired with a fee of INR 1000-2000, after installing fire extinguishers on your premises.
5. Staff Your Bakery
The next step is to hire staff for your bakery. Besides baking, presentation is also extremely vital for bakeries. Thus, you need to ensure that the staff you hire is competent not just in baking but also in decorating the baked goods. An average employee count in a bakery is around 15 including the head chef, chef de partie, a commis level chef, helpers, a cashier and a delivery staff consisting of 2-3 people, depending on the volumes of delivery orders. As your bakery business grows, you can expand your team. However, always ensure that every member of your team is competent enough and contributes substantially to your operations.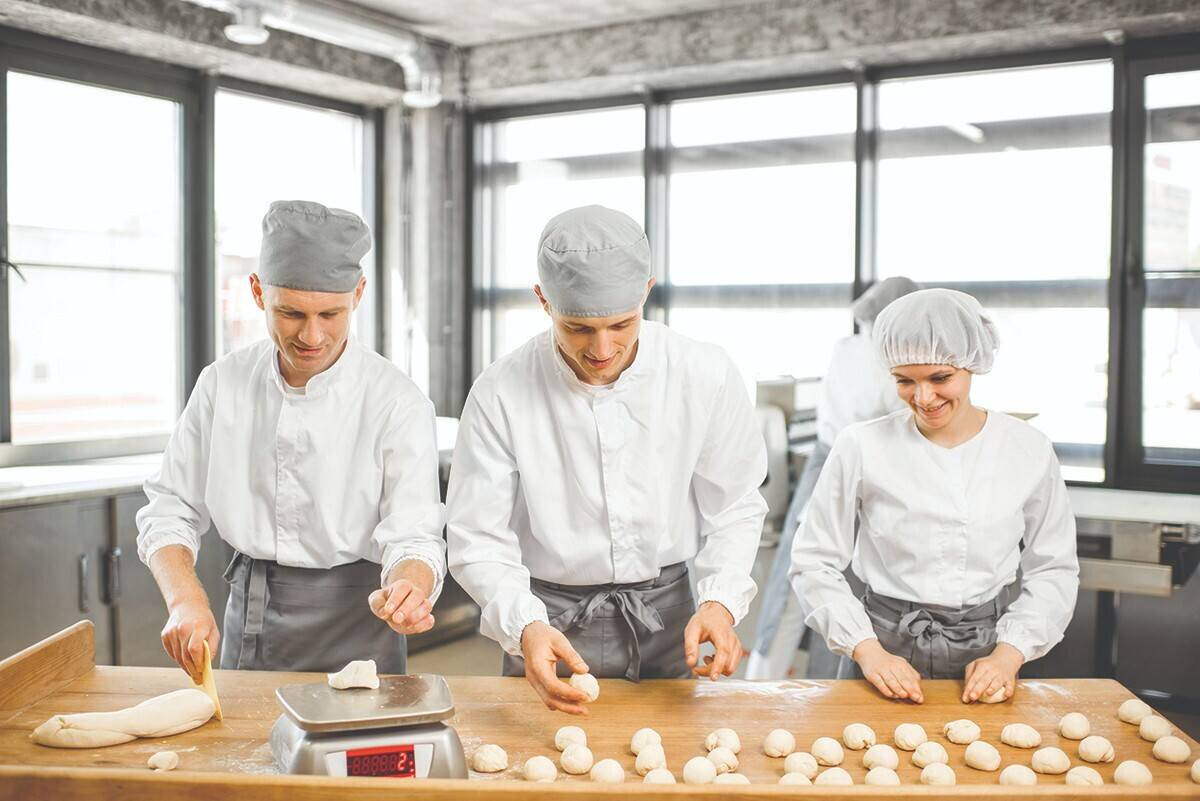 6. Purchase Equipment 
Moving on further, you need to equip your team with the required bakery apparatus. It is recommended that while opening a new bakery, you buy good quality new equipment as used equipment will be incapable of providing you with the efficiency that you desire. The most basic and important equipment that you need in your bakery is a baking oven. Cakes, pastries, cookies, etc. are baked at different temperatures for different durations and in different modes. Therefore, make sure you have a versatile oven that makes baking every product feasible.

Other equipment include planetary mixers, deep fridges, cooling fridges, working tables, gas stoves, cylinders, mixers, electric mixers, storage utensils, etc. 
7. Implement Efficient Marketing And Branding Strategies
Once you are done setting up your bakery, now is the time to create a buzz and let others know about it. The better the marketing, the more the discoverability is likely to be. The more discoverability, the higher the sales. Therefore, it is vital for you to tap the potential of every marketing channel through which you can market your bakery.

In the technologically advanced world, marketing has become a lot easier than before. All you need to do is make some effort and explore your options. Reaching out to food bloggers, leveraging social media, sponsored ads on Facebook and Instagram, distributing pamphlets and personalized marketing are some of the major ways to let more people reach you. 
Besides marketing, you also need to strengthen your brand such that when a customer thinks about desserts and baked products, your bakery is the first option that comes to their minds. You can set your decor and ambience in resonance with your concept and theme. Don't forget to create complimentary uniforms for your staff either. 
8. Integrate With Third-party Food Apps
Integrating with third-party food apps is always a great idea to expand your customer base. Since your bakery is new, you need more people to recognize your brand. Third-party apps can help take your outlet online and increase its visibility. Not just this, you can also promote your bakery on food aggregator apps with sponsored ads or by implementing pay-per-click search engine ads.

The ample marketing benefits provided by third-party apps make it a must for any bakery business to integrate with them. In addition to all of this, they also rid you of the worries pertaining to understaffed delivery valets by providing managed delivery services. 
9. Automate Your Bakery 
With the growing demand, everyone wants their bakery business to deliver the best experience. This is only possible if your operations are streamlined and not chaotic. Ad-hoc processes lead to delays in preparation, serving, or delivery services; and the delay is absolutely not recommended. 
Introducing technology to your bakery business through a POS system keeps every task in line, one after the other. Seamless ordering and payment processes make it easier for both the customers and the staff. A POS system offers a multitude of benefits to a bakery that you can leverage to grow your business. 
Some of them include:
Keeping track of the consumption of raw materials so you never go out of stock.

Accepting advance orders.

Tracking the shelf life of the perishable products as a bakery is all about products that expire within a small period of time.

Sending out consolidated purchase orders.

Marketing your bakery through personalized SMS and emails.

Providing detailed daily, weekly, monthly, and yearly sales reports to analyze growth.

Managing the kitchen centrally to avoid order discrepancies.
A restaurant operator faces numerous challenges while setting up a new business. It can take months or even years to establish a successful bakery business. Follow this plan to lead your new bakery business to success in a short period of time and take a look back to it whenever you deviate from your path.