COVID-19 has hit the restaurant industry badly and transformed the entire philosophy of running a restaurant business. Social distancing and hygiene standards now define the new normal in the F&B space. Restaurants are undergoing permanent changes in the way they operate. While some pivoted their operations to an online model, others have adopted contactless dining measures to provide a safe and hygienic environment to their customers. Regardless of restaurant format, operators are giving paramount importance to train their staff to comply with the health guidelines. From the kitchen to front-of-house operations, restaurant operators need to follow the government's COVID-19 response guidelines and institute safety practices to ensure a safe and hygienic dining environment for their customers. 
How To Train Your Staff To Comply With The Health Guidelines
According to a report by the Economic Times, The Federation of Hotel & Restaurant Associations of India (FHRAI), in collaboration with the Food Safety and Standards Authority of India (FSSAI) has initiated a training program on COVID-19 awareness for hospitality professionals across India. The program aims to gear up the restaurant and hotel industry for the post lockdown scenario, which will ultimately ensure the safety of guests and instill customer confidence.
"The idea behind initiating the training program is to have at least one senior staff thoroughly trained in safety, security, and hygiene of an establishment who will be able to impart knowledge to fellow staff in each section," said Gurbaxish Singh Kohli, vice president, FHRAI.
An important thing that all restaurants must consider is training and educating their staff on how to take all the necessary precautions to maintain hygiene and practice social distancing inside the restaurant. An intricated report by POSist on Restaurant Industry and Market Evolution highlights that more than 80% of restaurant operators feel that food quality and safety will surpass price as a decision-making factor for cost-conscious customers. 
Train Your Restaurant Employees About The Safety Procedures
To maintain a safe working environment, your entire restaurant staff must follow safety procedures. Invest time in training your employees on new operational plans and increased precautions to reduce the virus's spread. Begin by creating a layout and checklist of all the surfaces your staff and diners will most commonly come into contact with. Train your staff on how to follow basic hygiene etiquettes and prepare procedures for proper cleaning and sanitizing of these surfaces.
Customize their training to cover the different processes used in your kitchen. Establish protocols on how to clean and disinfect the surfaces, and adopt protective measures. If your restaurant does not have an employee illness policy, consider creating one now. Explain the symptoms of the virus and immediate steps to be taken if anyone becomes sick during the shift. Similarly, update the employee illness policy and cross-train the personnel to perform essential functions, even when key staff members are absent.
Implement a mandatory health screening protocol for all employees that includes a temperature check before entering the restaurant premises. Implement an enhanced hand washing schedule for both Front-of-House (FOH) and kitchen staff to promote hand hygiene. Explain the importance of social distancing and provide information on different types of Personal Protective Equipment (PPE) and how to use them. 
Implement Strict Social Distancing And Provide Your Employees With Safety Equipment
While training and preparation are of utmost importance for your employee's safety, practicing social distancing, and providing protective equipment to your customers will keep them safe. 
For the Front-of-House staff, ensure that a distance of at least 6-feet is maintained. For smaller restaurants where social distancing is not an option, ask your staff to wear cloth masks and ensure that the masks are laundered after each use. 
The usage of gloves has become critical as part of the protocol to be followed in high-risk activities. Promote the use of gloves for both the kitchen and FOH staff. However, you must ensure a proper supply of gloves in your restaurant as your staff will need to discard gloves every time they clean or disinfect the premises, or come in contact with customers. 
As an alternative, restaurants can adopt enhanced handwashing or hand sanitization schedule for FOH employees. If you have your own delivery fleet, remember to equip them with protective gear as well.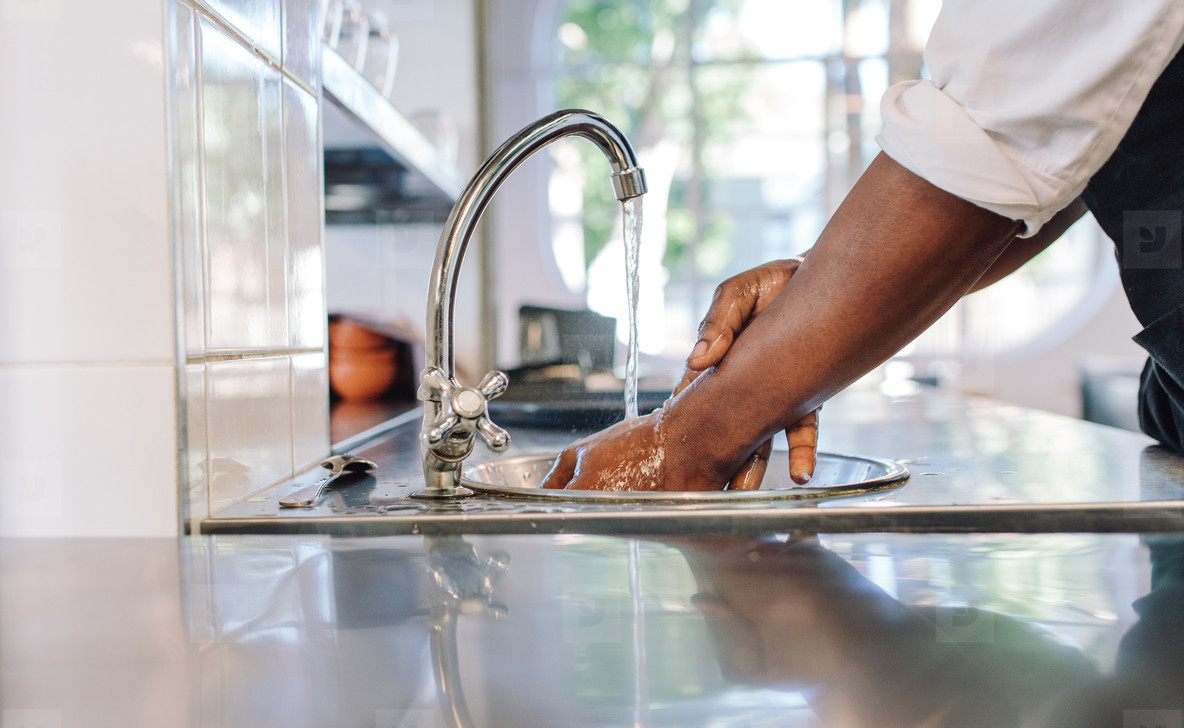 Key Points That Your Restaurant Staff Must Be Aware Of:
Wash your hands thoroughly before beginning the daily chores, handling the food, after every break, while handling raw foods or waste, etc. Discourage the use of sanitizers in the kitchen areas and wash hands with automatic soap dispensers instead. 

Avoid unnecessary contact with the food. Do not allow your kitchen staff to handle it with bare hands. Ask them to wear single-use gloves and throw them away after each use.

Promote good hygiene by minimizing personal contact and disallowing tampering or breathing over food. Do not cough, sneeze, or spit near the food areas and avoid coming to the restaurant, if unwell.

Make it a point to disinfect all the equipment, utensils, and clean the surfaces thoroughly.

Follow all the specific food safety instructions set by the supervisors and health professionals and maintain a daily personal hygiene checklist. 
With these effective tips, you can train your staff to comply with health guidelines and keep your establishment efficient and operational!