Finding the appropriate bar staff members is challenging at each step. If there are people that do not care about your brand image, your brand is undoubtedly doomed! What you need to do is identify the skills and abilities each of your staff members needs to contribute. Along with that, the right number of people is another crucial decision you need to make. 
In this blog article, we cover the following: 
The average number of people you'd need at your bar 

Different Job Profiles at your Bar 

Skills and Qualities Required to Fit Into a Particular bar brand 
Things You Need To Look For While Hiring Your Bar Staff 
While hiring your bar staff, you need to ensure that you hire people who fit into your restaurant culture. Their personality should resonate with the vibe of your place, and they must add to the positive environment of your restaurant. The right kind of person is curious and enthusiastic. Here are the two primary qualities you should be looking for, leadership, and the skill to listen to. 
Leadership: Guests notice your bar staff and get impressed by people who have a sense of understanding of their work. For instance, if a customer wants information/recommendations on the drinks, your bar staff should be able to provide them the required information.   
Listening To The Customers: Another essential quality of an ideal bar staff member is the ability to listen to customers. A bar environment is a bit different from that of other restaurant formats. Since customers visiting a bar are in a mood to party and enjoy, they expect responsive service.
Positions You Need To Hire For At Your Bar
Once you've sorted the qualities you're looking for in your head, you need to understand the different job roles you need to hire for. Here is a list of the significant roles at your bar and the skills you should be looking for when filling them. 
1. Bar Manager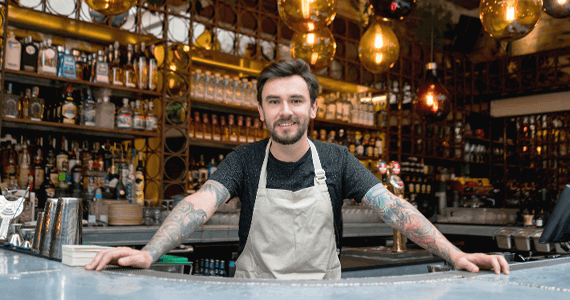 Your bar manager would act as the backbone of your bar. Experience is certainly an asset in this role. He must be familiar with local buying sources, suppliers, and processes. A bar manager must reflect the style and character of your restaurant. With an experience of three years, some of the qualities you need to look at while hiring a bar manager are mentioned below.
a. He must be able to track inventory well. 
b. He should be able to open and close the restaurant. 
c. He should be able to train and manage the staff well. 
2. Beverage Director 
You'd mostly find a beverage director at fine dining restrobars, where there are high-volume beverage programs. The director manages the program and ensures that the menu is suited to the clientele. Responsibilities include handling inventory, making purchase orders, and handling stock.
The only difference between a bar manager and beverage director is that a beverage director doesn't get involved in marketing or Human Resource Development. 
3. Bartender 
One of the most significant people at your bar is your bartender. Since this is a customer-facing role, qualities like excellent communication, positive attitude, ability to execute speedily, and attentiveness towards customers are key requirements.
Most of the time, a bartender needs to multitask and has to be efficient in each of them. The rate of mixing drinks, the quantities to be mixed in drinks, and the ability to experiment with new cocktails- these skills, honed over many years, are vital to the job. 
Questions to ask bartending candidates:
a. How do you handle drunk customers? 
b. How do you deal with an unhappy customer?
c. How do you handle a busy bar?
d. How do you tell if someone has had too much to drink?
e. Are you TIPS certified? 
4. Cocktail Server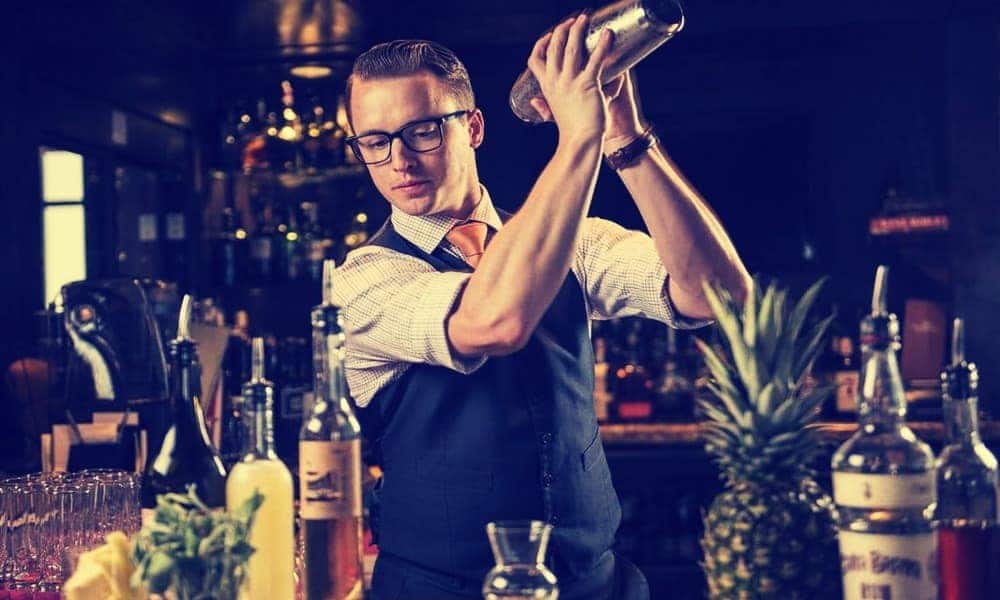 Cocktail servers seat your guests, take their orders, and deliver drinks to them. After the guests leave, they are mostly the ones clearing the tables. You'd need cocktail servers in case there are tables situated far away from the bar that the bartenders can't attend to. Also, it would help if you had more servers at times of high traffic.
When you hire cocktail servers, you must ensure that they have a waiting experience and can take note of the orders correctly. Hiring servers that bring wrong drinks to the guests is a huge turn off/ for the customers. 
5. Barback 
The role of a barback and a bartender go hand in hand. A barback does all the tasks to keep a bar running that a bartender doesn't. The primary job roles of a barback include keeping the bar full at all times, including the liquor stock, the glassware, ice and so on. He also needs to take care of the bartender's needs while he's catering to the clients.  
6. Bouncer 
Bouncers are another part of your bar staff team that you need to pay attention to. Their job role majorly requires taking care of people entering and leaving the bar. They make sure that nothing goes out of hand. In case of any illegal or emergency situations, the bouncers isolate trouble makers and ensure the safety of other patrons. 
All in all, once you've hired the right people for your bar, you need to provide adequate training. Ensure that your staff imbibes your culture and SOP's. Everyone from your bar manager to the cocktail servers must reflect your bar's