Your restaurant food menu design is one of the first things that a customer sees when he enters your restaurant. It is not just a piece of paper with all your food items listed on it; it is an insight into your business. Designing a menu can be a tricky task for any restaurant. From layout, colors, fonts, to item descriptions, everything must be given optimum importance to ensure that your restaurant menu is attractive and also brings in more sales.
Follow these quick tips to design the most exciting restaurant food menu ever that will without a doubt leave a lasting impression on your customers!
What to Include in Your Food Menu Design
Doing your food menu design right is not just an art; there is a science to it. You need to understand the human mind and the things that will catch your customers' eyes. And doing so isn't an easy thing. Make sure you keep in mind the below crucial points that will ensure that your menu design is the most attractive one!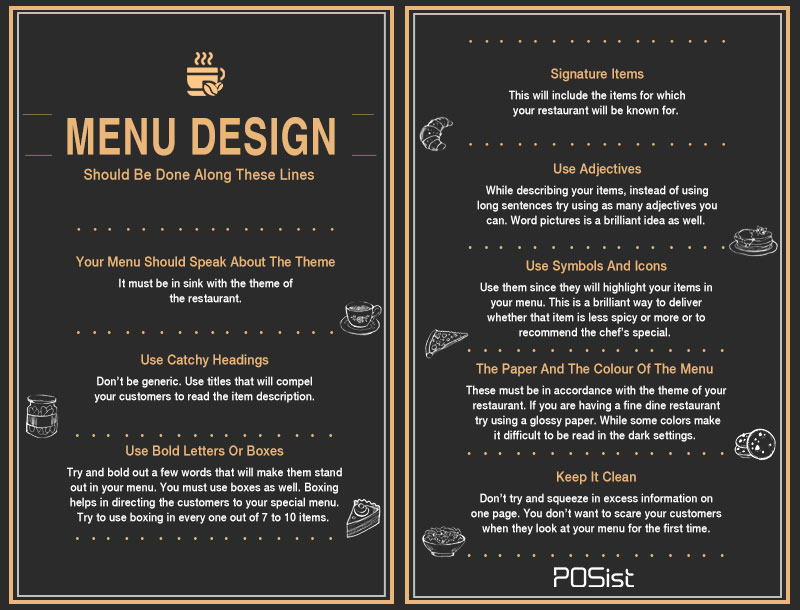 1. Be Chronological
Placing is exceptionally important when you are designing your food menu. All the items on the menu should appear in the order in which the patrons eat the dishes. For example, in a restaurant that serves all the time in a day, the menu should be chronologically placed, starting with breakfast, lunch, appetizers, dinner, dessert, and beverages. If you notice that your menu is becoming way too long, you can break your menu into sections. Use the main parts, like breakfast lunch and dinner and then break them into subsections of beef, poultry, fish, and vegetarian.
2. Place Them Right
Position the items while designing the food menu so that the high-profit items are highlighted and catch the customers' eyes.
For example, most customers usually read the menu from the top right corner. It is a good idea to place your high selling and high-profit-margin items there. 
3. Use A Whole Lot Of  Adjectives
The response to your food menu design depends on the description of the items. Menu descriptions play an essential role in upselling the food items. Your menu descriptions should be precise, clear, short, and be able to instill the desire to explore the item themselves. However, keep in mind, that describing your menu item does not necessarily mean that you need to explain the dish. Your description must be able to evoke mouth-watering reactions. Try using adjectives such as sizzling, flavourful, tangy, etc., that can stimulate the senses and create a craving.
Find out how to write tempting menu descriptions here.
4. Your Menu Items Must Speak About Your Brand
Your restaurant or your brand must have an identity of its own, and this should be portrayed through your food menu design. Just like the theme of your restaurant must be in sink with your brand voice, it must also be in tune with your menu design. For example, if you have a cafe, your brand voice will not be that of an exquisite 5-star hotel. Similarly, a menu item in a 5-star hotel must never be named "Rollercoaster French Fries."
5. Your Food Menu Design Must Be a Visual Treat
Your customers will first have a look at your food through your menu. Hence even before trying to satisfy their taste buds with the tantalizing flavors try and catch their attention through the images of your food. Use high-quality photos that will deliver the right color, the texture of your dishes. Make your customers eat through their eyes first! This is a certain trick that will compel your customers to order probably an item more and in turn, will boost your restaurant's profits.
6. Optimize Your Restaurant Menu for Web
We live in the times when a customer would prefer to view your food menu online even before they decide to visit your restaurant. Hence make sure that the menu is optimized for your website. Put in some beautiful and catchy descriptions that suit your theme, some images, and some innovative videos, and you will be good to go.
Your online menu descriptions must be shorter and more impactful while utilizing target keywords that will increase the chances of users finding you on the internet.

"Your menu is what you do. It's your identity," said chef Pat Weber, owner of Mise en Place hospitality consulting firm in Minneapolis, Minnesota, and speaker at the 2015 National Restaurant Association Hotel-Motel Show.
Hence, make sure that you dive into the tiniest details and do it just right.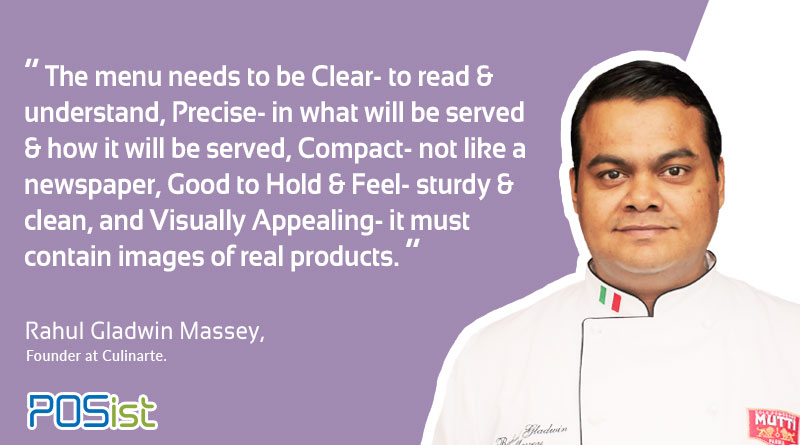 We hope that you have garnered the much-needed knowledge that will help you in your food menu design, Design your menu in the most appealing way possible and wait and watch the influx of hungry and excited customers.