The UK restaurant and foodservice industry have witnessed a period of gradual growth to reach a high of GBP 42 billion before the outbreak of the COVID-19. However, the growth period conveniently masked the competition brimming at its back. Many independent restaurants and several big chain outlets failed to avert closures in the preceding years due to rising costs and declining consumer spending in a market that is already clogged owing to the boom witnessed in the industry in the past few years.
After the collapse due to the pandemic, the market is slowly but surely getting on the path to recovery. The competition will likely intensify as the existing players will strive to grab a bigger pie of this recovering market. For your restaurant to stand out, you need a great restaurant manager with unique qualities to thrive (not just sustain) in this highly competitive UK restaurant industry while overcoming the various operational shortcomings. Unfortunately, not many restaurant managers have these skills and qualities inbuilt in them. This breed of restaurant managers is rare and very difficult to find.
What Does A Restaurant Manager Do?
A typical restaurant manager has to work for long hours constantly interacting with various stakeholders to ensure that the restaurant operations continue smoothly. But that is not the end of it because, finally, a restaurant manager needs to ensure that they can achieve customer delight.
A restaurant manager must promote successful business tactics and oversee all back of house and front of house operations. They are responsible for hiring & training staff, handling restaurant budgets, working with kitchen staff for revamping menu items, monitoring inventory, ensuring that all equipment is up-to-date, negotiating with vendors, and attending to customer grievances.
Top Skills That A Restaurant Manager Must Possess
A restaurant manager has to shoulder many responsibilities and must be skilled enough to handle all these seamlessly. Here is the list of some of the top skills that you should look for in a restaurant manager before hiring them for your restaurant.
A restaurant manager must possess strong leadership skills and the ability to keep the team united. It can help mitigate one of the biggest challenges restaurants face – high turnover. According to a study by Gallup, a high level of engagement within a team results in a significant reduction in attrition rate in high-turnover industries. A champion restaurant manager prefers to lead by example, is very attentive to the team's needs, and gives clear instructions that keep the staff happy and engaged.
Good Communication Skills
A restaurant manager needs to communicate with diverse individuals, such as waiters, front of house staff, kitchen staff, suppliers, the restaurant owner, and customers. A manager needs to have excellent verbal and interpersonal communication skills to manage restaurant operations effectively. It helps maintain healthy relationships with all the stakeholders and ensures that the business thrives.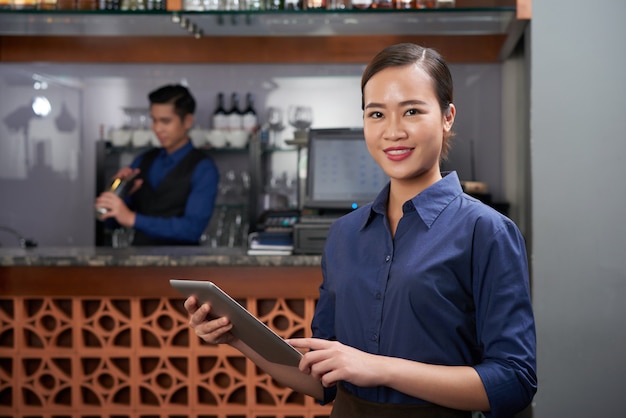 Excellent Customer Management
The ultimate requirement of a restaurant manager is to provide best-in-class service to the customers. A manager may have to check on the customers throughout their dining duration, handle difficult customers, and come up with solutions to various other customer-related issues. All these, along with CRM software, can help a manager build a good relationship with the customers, which eventually boosts the business.
Learn more: How Integrated Restaurant CRM Increases Customer Loyalty
A restaurant manager is required to manage many complex responsibilities given the nature of work and the level of competition in the market. So, a manager must discharge their tasks in an organized manner, demonstrating their control of overall operations and allowing the business to run smoothly. A restaurant analytics software can prove to be an excellent help for a manager in this regard.
Generally, a restaurant manager is responsible for maintaining inventory while negotiating with the suppliers or discussing menu changes with the kitchen staff. It helps them prepare a monthly budget plan. A manager has to tackle many tasks simultaneously, given the overlapping nature of responsibilities. So, to oversee a successful restaurant business, a manager must be able to identify, prioritize, and handle multiple tasks at the same time.
An essential skill that a restaurant manager should possess is a knack for solving the problems at hand. Many restaurants are plagued by workplace conflicts that result in lower productivity, poor decision-making, and higher attrition leading to significant losses. So, the approach taken to manage these workplace glitches and the ability to come up with easy-to-implement solutions can be the difference between a good manager and a great manager.
A restaurant manager should be able to weigh the importance of business decisions by evaluating their viability in the long term. As mentioned above, the UK restaurant industry is in the recovery phase where most restaurant businesses will try to capture more and more market share. Hiring a restaurant manager with a good business bent of mind can play a huge role in driving profits.
Commercial awareness refers to a manager's ability to keep up with the market and fine-tune the business strategies to cater to the industry trends. In the current scenario, a restaurant manager must be well aware of the COVID-19 protocols that restaurants are supposed to follow; otherwise, the restaurant may risk losing some of the customers who are not willing to put down their guards.
There is no doubt that finding a good restaurant manager is a daunting task. However, if you take the time to assess the candidates and look for the aforementioned skills thoroughly, you can definitely find one. A skilled restaurant manager can help your restaurant business thrive in the right direction while paving the way for a great work environment.