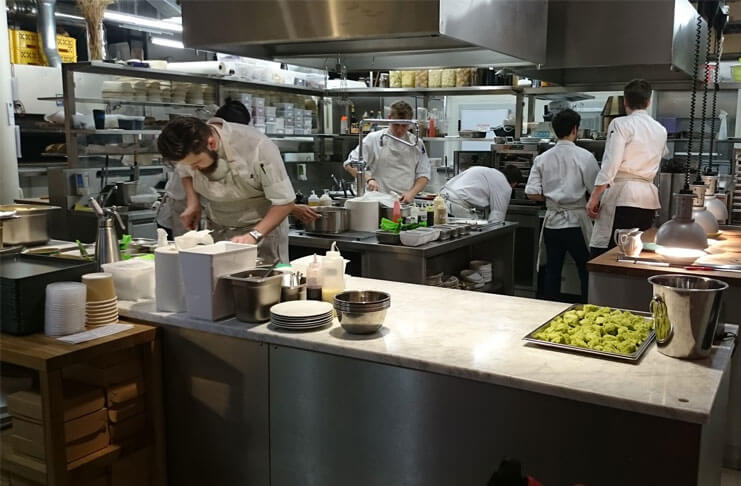 Your restaurant staff represents your brand. In true essence, they are your brand ambassadors. In the hospitality industry, where everything revolves around providing a perfect and exceptional experience to the customers, the level of service quality highly depends on the service quality of the staff and their behavior. Customers want quick and efficient service, and won't settle for anything substandard. That means your employees don't have to serve great meals; they have to go that extra mile to emboss a distinctive brand identity for your restaurant. How can you then improve your restaurant service quality? This is one of the most frequent questions asked in the industry. Our answer to this is restaurant staff training. Thus, we have for you a list of tips that you can employ to improve your restaurant's staff performance.
Tips To Enhance Your Restaurant Staff Training For Increased Efficiency 
A stellar restaurant staff training should be an indispensable part of your business strategy. Let's see how you can employ restaurant staff training to improve the speed of service and efficiency of the staff in your restaurant.
1. Devise A Plan Specific To Restaurant Staff Training
Restaurants should devise a well-defined training program. Comprehensive training will enable your restaurant staff to become more efficient and help them deliver better service. Proper restaurant staff training is the only way to maintain coordination and efficiency in front of the house and back of the house operations. A set training programme, especially in the case of a QSR, is the only thing that can ensure consistency in taste and experience. Here are the steps to create a training plan which will improve the service quality of your restaurant:-
Write out the goals that you want your restaurant staff to achieve.
Ensure that every goal is measurable. This will help you decide what is working and what must be changed.
Make different plans for various roles. For example, the front staff should be trained to tackle critical customer-facing situations while the culinary staff should be trained to work under pressure and still serve quality dishes.
Keep the plan consistent with the respective roles. It will ensure that everybody is on the same page and held to the same set of standards.
Timeline and Schedule
If you plan on hiring new employees soon, remember that it can take some time for them to get used to the way things are done at your restaurant. Therefore, you should develop a training plan that includes a proper time frame and explain to your staff in detail how long it will take to cover and finish each step of your training schedule so that they can adapt accordingly.
Restaurant Mission and Vision
Although you should already include your restaurant's mission and vision in the employee handbook, you should still talk about and outline this in greater detail during your training. Doing this will give your employees the required context about your restaurant's mission, vision, and goals.
Restaurant Layout and Table Setting
Every restaurant has a specific way of setting the table that all servers must follow. Some restaurants have one table arrangement for their lunch menu and an altogether different one for their dinner menu. Thus, trainers must go through their restaurant's table numbers, front and back of house layout, and table setting requirements with their workers.
2. Assign the Staff Roles
According to Heinemann and Greenberger, 2002, a large number of employees feel dissatisfied when they are assigned the responsibilities without having the right skills and knowledge in the area. Thus, assigning staff roles is an essential process of staff training which should be carried out with thought and care.
Apart from that, your staff should be primarily trained to perform their assigned role but should also have a general idea of the responsibilities of various job positions in the restaurant. This will create an understanding of how the restaurant works as a unit, and each employee will be able to grow and perform better in his scope of duties. This will improve your restaurant service quality and the speed of service as a whole.
While training your restaurant staff, lay out the anticipated duties and responsibilities of the position. Assuming that the person should already know what his/her duties are can spell a disaster.
Cover all the who's, what's, why's and how's of your business. Your employees can perform exceptionally well only when there is no ambiguity, and they are clear about what is expected of them and what is expected of others on the team.
This will also ensure all relevant jobs and tasks are executed without stepping on each other's toes.
3. Explore Different Methods Of Restaurant Staff Training
The learning process for each is different. Based on your employee data and their performance in different training sessions, you can try various methods like auditory, visual and kinesthetic to train your staff. You can ask a senior or experienced staff member to demonstrate a particular task. The trainee watches and then replicates the actions later. Or you can provide instruction manuals to your new hires; they can try to finish the job without any supervision and learn from their mistakes. You can even try the role-playing approach where the new employee is taught what might happen in a real-life situation and how to handle it.
If you run a restaurant in more than one location, holding regular training sessions with employees of different outlets as a group is an effective way to train your staff. You can have regular training meets or meetings where your restaurant staff can interact with and learn from each other. Such interactive sessions are sure to improve your restaurant staff performance.
4. Set Specific Procedures of Restaurant Staff Training 
If everyone from your restaurant staff knows the exact process of how their respective team works, then your restaurant becomes a fully-productive and efficient engine. No matter when the employee resumes his shift, he can immediately fit in to complement his team in the best possible manner. Also, setting standard operating procedures can help your new staff to come up to speed within no time.
You should also know how to assign and manage your restaurant staff shifts accordingly so that the work is distributed evenly among the employees. This will ensure that no one is over-worked and productivity is not compromised. To know more about shift management of your restaurant staff, click here.
5. Train Your Restaurant Staff To Use The Latest Technology
Technology has transformed many industries, and the restaurant business is no exception. Many restaurants are now using electronic systems which help the wait staff to submit orders to the kitchen staff, calculate totals and raise invoices for various customers at the same time without putting much effort. However, installing such systems aren't enough to ensure staff efficiency. You need to invest in restaurant staff training for them to be useful. Only then will the speed of operations and the service quality of your restaurant improve.
Train your staff to use the systems you have installed using videos and podcasts. It's more interactive and easier to understand than reading instruction manuals supplied with such systems.
Involve them in role plays where they are made to create mock orders and billing processes before they are prepared to use it in real time. This will help them in understanding critical issues like handling voids, coupons, etc. and enhance efficiency at work.
Front-Of-House Technology
Your front-of-house (FOH) workers might have to practice roundtrip foot drills during basic training that will have them moving plates of food and beverages on huge trays. Still, the most important thing they need to be familiar with is your restaurant technology, such as your Point of Sale (POS) system, pay-at-the-table system, kitchen display system, and guest management software.
Back-Of-House Technology
Even if the front of the house is running perfectly, your customers won't have a good time if the back of the house staff isn't up to level. Even during busy timings, your staff needs to know how to use the back-of-house technology, such as the inventory and menu management system, to always be quick on their feet in times of crisis.
Out-Of-House technology
Technology can help your restaurant staff provide stellar customer service. Outsourced technology, like loyalty management software, enables employees to create, build, launch, administer, and analyse various loyalty programs to boost customer satisfaction. So, your staff must know how to use the technology in your restaurant at all times.
Social Media
Almost 50% of the people discover your restaurant through social media, indicating that you can connect with nearly half of your customers by merely being active on social media. Your staff should encourage customers to stay connected on social media to obtain discounts and event updates.
Restaurant Reviews
Did you know that an increase of one single star in your average reviews on Yelp may result in a 5–9% increase in revenue? So, aim to get higher and more positive reviews from your customers and boost your restaurant's engagement. You could, for example, host monthly educational seminars for your employees focusing on good customer service and great hospitality.
6. Improve Restaurant Staff Efficiency By Fostering A Sense Of Teamwork 
Set a good example to gain the respect of your restaurant staff. A team that respects its management is more likely to deliver a productive and efficient performance. Also, encourage regular team activities so they can gel well together and perform as a team rather than putting each other down for professional success. Your restaurant performance is dependent on your staff performance. Invest time in creating a harmonious group, and it will surely pay off.
7. Improve Your Staff Performance Through Pet Projects
Pet project is an activity which a person deems as his personal favorite. Encourage your staff to list down their pet projects. Enlist all the pet projects of your staff members, and map each employee to his favorite task. By allocating pet projects, you can ensure that the functions are performed quickly and efficiently. Pet projects will also allow your staff to specialize in a skill they like and so their performance will improve, and the productivity of every individual staff member will increase.
8. When Training Your Restaurant Staff Teach Service Every Day
Merely putting across an essential message in a memo or a pre-shift meeting doesn't mean that it will be communicated to the team members in the way you anticipated. Improving a particular area of service requires regular attention. Moreover, the change can be slow and steady to occur. Also, once you achieve the desired excellence, don't forget the effort you invested in improving the service. Even after the service issue is resolved, revisit, focus and nurture it daily to ensure that the problem doesn't return. Remember, it takes about a month to create a habit and probably a week to fall back to the old one.
Holding regular meetings to consistently review their work is a great way to keep a track on work efficiency. During these meetings, you should also:
Propose a solution to a problem without leaving it to be taken care of in the future. You can also ask for your employees' inputs for the same.
Encourage employees to pitch ideas, doing so will make them feel valued and will encourage them to give that extra effort.
Keep the environment light and friendly to add fun to the equation.

9. Exercise Employee Motivation To Improve Staff Efficiency
Motivation plays a major role in developing a successful and more efficient team. Motivated employees always go that extra mile to add to the restaurant's productivity. Starbucks considers that the reason behind its success is not its coffee, but its employees. Hence, it takes initiatives to make the employees happy by giving them equal treatment, listening to them and by enlisting their help in developing plans. And by the way, Starbucks employees are known internally as 'partners'! What an ingenious way to motivate employees! Motivated employees who feel a sense of belongingness to the restaurant will try their best to provide excellent service to the customers. They understand that their actions reflect on the restaurant's brand and continuously strive to deliver excellent service.
Also, try these 10 Golden Tips to Keep The Staff At Your Restaurant Happy and Motivated.
Your restaurant employees are an integral part of streamlining the restaurant operations. Hence, you need to have a comprehensive restaurant staff training plan to train your employees continuously and consistently so that they are efficient and can reflect your restaurant's personality and values and sport the right attitude to match the atmosphere.