In the past few years, there has been a rise in the popularity of online food delivery websites and applications. According to a report, there has been a quarterly growth of fifteen percent in the number of daily online food orders.  Therefore it is safe to say that it is imperative for the restaurant owners to up their food delivery game and the best way of doing so would be by curating a separate delivery only restaurant menu. There are several advantages of a separate delivery only menu. 
This separate menu should consist of all the food items that can be easily delivered and has competitive menu pricing. For example, delivering sizzlers can be a daunting task since they are piping hot and have to be consumed within a particular time frame else they'll go cold and won't taste good. 
Every restaurant owner should consider having an exclusive delivery only restaurant menu, and this article will help you reckon why.
Why Is It Essential To Have A Separate Delivery Only Restaurant Menu
Having a separate delivery-only restaurant menu is very pragmatic, especially for the fine dining restaurants as this helps them appeal a larger customer base who are looking for food on the go and within their budget. Since Fine Dine restaurants charge for the ambiance and the service along with the food, it reflects in their menu prices as well.
Thus, Fine Dine restaurants tend to lose out on the online orders which makes up a for a majority of the business of Casual Dine and Quick Service Restaurants.
For instance, Kylin Premium a fine dining restaurant came up with not only a separate menu but a different delivery only venture altogether, called Go Kylin to cater to the people looking for good quality food with affordable prices. This delivery-only service enables Kylin to cater to a bigger segment of the customer base.
Go Kylin has a two-page menu which consists of everything From fishes to meal boxes. However, unlike Kylin Premium, which has an eleven-page menu, it does not offer Sushi or exotic Japanese dishes like Teppanyaki as they are difficult to pack and deliver. Also, they require exquisite plating without which the dish can end up looking dull and unappealing.
Go Kylin's menu is all about the food that can be easily prepared and delivered without getting spoiled.  Also, the pricing is a lot cheaper as compared to its mother fine dining branch, Kylin Premium.
The reason why Go Kylin can provide food at a lower price is that they are a delivery-only restaurant and do not charge for the overall experience of dining at the restaurant like Kylin Premium does.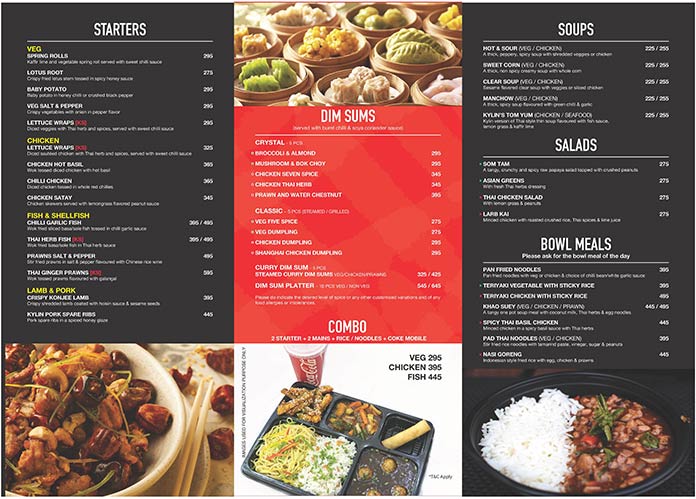 Even the look and feel of the menu is different, Go Kylin has a compact and quirky menu apt for a QSR, whereas Kylin Premium being a fine dining restaurant has an elegant menu with high-end menu items which cost more.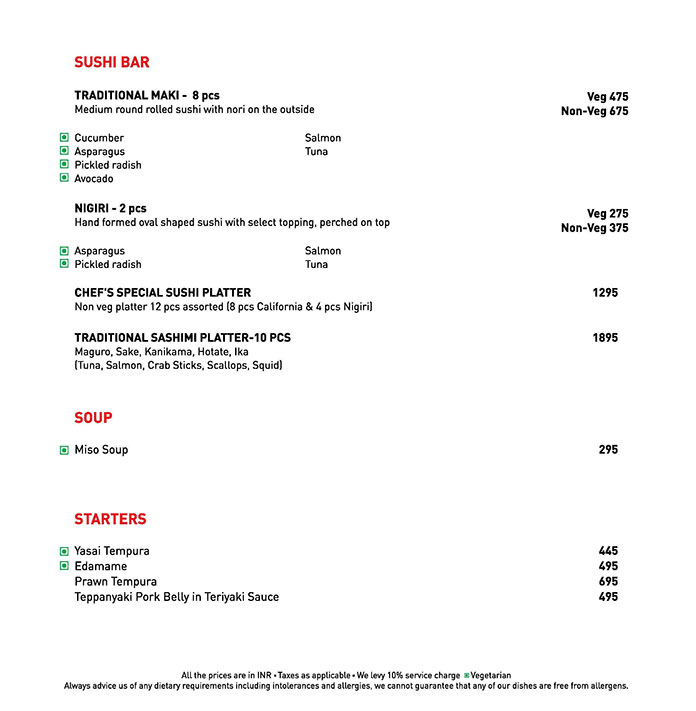 No matter what kind of restaurant you own, if you come up with the delivery-only restaurant menu, this would give you some scope to revise the rates and offer the same food at tad bit lower prices. This is an excellent marketing scheme and will help increase your customer base since everybody enjoys eating good food at low rates. Advantages of a separate delivery only menu are uncountable! 
How To Create A Delivery-Only Restaurant Menu
There are two crucial aspects that you need to consider while creating a delivery-only restaurant menu. First, you need to decide what all menu items you'd be offering and how you are going to price them. We have discussed both of these aspects in detail below.
1. Deciding The Menu Items
This is another very crucial part of designing a delivery-only restaurant menu. You cannot randomly add or eliminate items from your restaurant menu. You need to ensure that you only add items that can be packed and delivered with ease. 
Also, you need to eliminate the dishes that take longer to prepare, as preparing them would be time-consuming and it will increase the delivery time which many people won't appreciate and might not prefer ordering from your restaurant the next time. Therefore, avoid adding such dishes in the first place itself to prevent troubles in the long-run.
2. Accurate Menu Pricing
It is essential to determine the correct menu pricing to prevent any losses. While pricing the delivery menu, you need to take into account the packaging charges, food cost, and other expenses. Offer accurate and competitive prices to your customers along with great food, and your food delivery sales are sure to increase. An accurately priced restaurant menu will not only bring you more profit but will also help you build an band of loyal customers.
Here are certain things you can keep in mind while pricing the delivery menu:
Food cost

: The delivery menu price you decide should consist of the

food cost

which is the cost of procuring the raw materials required for preparing a particular dish.  Therefore how much you pay for the food determines how much you should be charging for it.


Food Cost Percentage = (Beginning Inventory + Purchases – Ending Inventory) / Food Sales

Packing charges

: You require special containers, aluminum foils, packing tapes, etc. while delivering the food to avoid food from spilling.

Do your research and look out for the package supplier who could give you the best deal and fix you with packaging material at a low cost

. You can also get the packing boxes and other essentials online for as cheap as INR 6 – INR 7. Whatever the cost be of purchasing the packaging materials do not forget to take it into account when deciding the delivery menu price.

Other charges: These are the miscellaneous charges like the transportation cost and staff's salary if you are planning to get the food delivered yourself. If you plan to tie up with online food aggregators, you should include their margin as well.
While designing the menu do not forget to mention the delivery charges and the radius within which you extend your services clearly. This will give the customers a clear idea of the prices while placing an order and also if their location is eligible for food delivery option.
Even if people are unable to visit your restaurant your delivery menu should provide them with the real essence of your restaurant and entice them to visit your restaurant. Designing an exclusive delivery-only menu is catching up in the food and beverage industry, and several restaurant owners are becoming a part of this wave.