With the rapid developments and incidents occurring in the F&B industry, restaurant marketing rules have changed. Marketing has evolved over the years and with the coming of 'Internet', restaurant marketing has expanded beyond leaps and bounds. Today restaurant marketing is not just limited to online or offline modes but requires an omnichannel approach. Investing in marketing initiatives without arbitrating their effectiveness in your business can be a costly affair, but that does not mean that effective marketing initiatives cannot be inexpensive. Today, it is possible to market your restaurant even when you are on a low budget. The results will not be as grand as compared to paid marketing, but in the restaurant business, every customer counts, especially if resources that have gone into getting the customer are next to zero.
As a bonus, plan a complete zero-budget restaurant marketing plan with the help of this marketing manual.
Low Budget Restaurant Marketing Ideas That Work
Restaurant marketing is essential to running a successful restaurant. But unique restaurant marketing ideas are hard to come by, especially when you are on a tight budget. If you are struggling with a limited or negligible restaurant marketing budget, here are a few easy yet compelling zero budget (or low budget) marketing ideas to attract new customers and engage with the current ones.
1. Begin With Social Media Marketing
Social media marketing today is not an option, but a necessity. Though you must be aware of this zero budget restaurant marketing idea, check if you have missed any of the below-mentioned components of a successful social media plan:-
A conversational Facebook page: An interactive Facebook page is a must to engage with your clients. Post appealing pictures of the food served at your restaurant, restaurant reopening updates, chef's specials, etc. You can also share tips or stories of famous global chefs, inform them about global culinary events or impressive food channels. It may sound unconventional, but liking or sharing a competitor's post can establish your goodwill in the market and you might get your posts shared as a return to your favor. Engaging through Facebook is one of the most effective zero-budget restaurant marketing ideas because of the reach that Facebook provides, that too for free.
Tap other social media channels as well: Having a Facebook page doesn't complete your digital media marketing plan. Involve other channels like Twitter, Pinterest, Instagram, Youtube, and Vine, if need be. Don't just create these pages and expect a miracle. Engagement is the key, so keep posting, and keep updating! Use hashtags to increase discoverability and encourage your customers to post pictures with a hashtag unique to your restaurant. These strategies will increase your reach organically.
Other useful social media marketing tips for low-budget restaurant marketing campaigns are:-
Click lots of pictures of your food. The most shared posts on social media contain good quality images. Post high-quality images of your dishes on your social media channels.
Click pictures of your customers devouring meals at your restaurant along with the latest safety instructions your restaurant is following
Post exclusive offers for your social media followers, and offer deals to patrons if they like your food.
You can also come up with loyalty programs rewarding the best picture taken at your restaurant by your customers. For example, a loyalty program rewarding the most shared picture of your restaurant. These rewards can even be a free meal for two or 50% discount on the winner's next meal. This way, you will not only interest your existing customers but will also encourage them to talk about you in their circles.
2. Create A User-Friendly Website
An optimized and presentable restaurant website plays an important role in deciding the success of your restaurant. Given the rise of online orders and doorstep food delivery, it makes more business sense to invest in a mobile-friendly website that features your menu, address, contact numbers, hours of operation, and other related information. Failing to provide this information to the customers at their fingertips will lead them to your competition. Add Order Online widget smartly on your website that urges your customers to order food through your website right there.
3. Provide An Exceptional Customer Service
This is less of a low-budget restaurant marketing idea but will definitely work. All successful restaurant owners would agree that the best form of zero-budget restaurant marketing is 'word-of-mouth' marketing! However, word of mouth only catches on if you offer exceptional food and customer service to your guests.  You need to offer a wholesome customer experience for your guests to return and recommend your restaurant to their friends and family. A friendly staff, hygienic environment, and prompt service are some of the things that don't cost anything, yet would never fail to impress customers.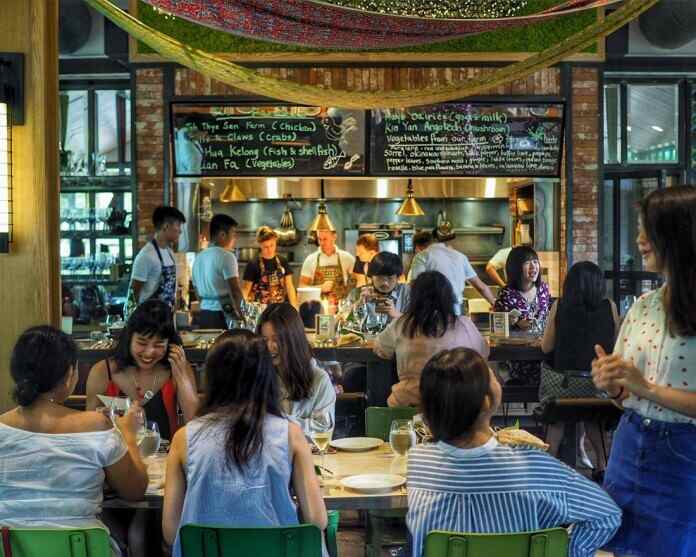 4. Tie Up With Collaborators
Collaborating with the right partner can be a helpful move. You can tie up with corporates and event management companies that can host multiple events at your restaurant. You can even let college students host some events at your restaurant. They usually look for places that would not cost much or do not cost anything at all and bring huge crowds. Doing this on a weekday will also get your meals moving on an otherwise slow day. Let yourself out as a venue for an open mic night or a panel discussion, and trust us, if their attendees are impressed with your services, you gain a few new customers who will not only visit again but will also promote your restaurant through word-of-mouth publicity.
5. Urge For Positive Reviews
Today, there is a plethora of websites such as Burrp, Zomato, GroupTable, etc., which rate and list restaurants as per the customer reviews. Good reviews on these sites work as free advertising. Request your happy customers to write a positive review of these websites. If you come across something negative, make sure that you don't run away from such reviews. Answer them in the most humble way possible and request the reviewers for another chance to serve them better. You can also encourage them to do the same by offering a discount or free goodie on their next visit to your restaurant. Remember, modest words can resolve the greatest woes!
For example, Starbucks in India compensates dissatisfied customers with a Starbucks coupon entitling them to a free drink. It's a good marketing idea with a zero budget. Starbucks gains not only a loyal customer but also a few others when that customer writes a glowing review of the service on social media. Moreover, the chances are that the customer would bring someone along with them when he/she visits, so Starbucks gets an extra customer as well.
6. Seek Help From Email Marketing 
Whether you realize it or not, emails still remain effective, yet a low-budget marketing idea. You just need to unleash its full potential by determining its real governing factors. Create a list of the email addresses of your customers. Send discounts, updates, promotions, and other news, but make sure you don't spam them! Also, gather information about special events like anniversaries and birthdays to send personalized promotions to encourage your customers to celebrate their special days with you. Learn how to do e-mail marketing for your restaurant here.
7. Map your Restaurant With Google
One of the most effective low-budget restaurant marketing ideas, Google My Business can work wonders! While checking out a new restaurant, the first thing that people usually do is look it up on Google. With the help of this Google My Business Listing service, Google users can easily find your business. Remember to include relevant details such as your correct address, phone number, ordering hours, etc. It's quick, easy to do, and requires no investment at all.
A lack of a big budget shouldn't stop you from reaching out to your guests. With these simple and zero-budget restaurant marketing tactics, you will be surprised to know how much business you will be able to generate for your restaurant.