In the current restaurant scenario, Quick Service Restaurant (QSR) or Fast Food Restaurant segments are emerging and expanding like never before, as they provide faster and convenient dining experience at a relatively low cost. As the name suggests, a Quick Service Restaurant is a restaurant that offers food that has been pre-made and requires only the last minute preparation before serving. Competitive price, speed in service, and convenient locations mark the characteristics of a typical QSR.  Low in cost, in terms of investment as well as operations, Quick Service Restaurant is considered to be a low-risk venture.  Read in detail how to open a Quick Service Restaurant in just Rs 5 Lakh here!
However, it is not as easy as it looks. With an increased demand from customers on the quality of food, extreme competition, and the rising prices of ingredients, running a successful QSR can prove to be a demanding job. Therefore, we decided to talk to industry experts and compiled a list of key areas you should focus on for making your Quick Service Restaurant a success. Read on, and thank us later!
Steps to Make Your Quick Service Restaurant a Success
Read on to know how to run a fast food restaurant successfully.
1. Maintaining Consistency In Your Quick Service Restaurant
The most important part of running a Quick Service Restaurant chain is maintaining consistency across all outlets. Quality and consistency go hand in hand with establishing brand loyalty among customers.
Consistency can be achieved across outlets with centralized distribution method called the Hub and Spokes Model. The hub represents the central base kitchen, and the spokes represent the different outlets.  In this model, almost the entire cooking is done in the base kitchen, and only the last level cooking is left for the outlets. Minimum outlet interference and use of standard recipes with pre-decided ingredients and preparation method result in similar tastes across the outlets.

2. Maintaining The Quality Of Your Quick Service Restaurant
With consumers becoming more and more health conscious, quality of food is something that cannot be compromised on at all. Food quality is the most critical thing that can make you a hit among consumers or drive hem away. Quality should be maintained right from the ingredients during preparation, to the end product presented to the customers. Following points must be considered to ensure quality:
Centralized procurement- Purchasing supplies from one trusted vendor helps in ensuring quality as well as consistency throughout the outlets. Not only will it reduce your costs but make it easier for you to check inventory quality before preparing the food.
Proper receiving of supplies– Care must be taken to ensure that the supplies and the pre-cooked ingredients received are of good quality. Quality checks should be done at each stage.
Stocking and inventory management- Once the supplies have been received at the outlet, they must be stored properly to avoid wastage. Use POS software that has an inbuilt stocking and inventory management feature. This will make it easier for you to handle your inventory and even circulate it among different outlets as per the situation.
Quality control checks and audits- A quality control (QC) system identifies flaws weaknesses and helps to overcome them. Regular quality control checks and audits should be done to ensure only good quality ingredients are used for preparing the dish.
Find out how maintaining consistency across restaurant outlets increases customer loyalty and improves sales here.
3. Hiring Employees That Are A Quick Service Restaurant Fit
Recruitment of quality manpower at affordable rates, and retaining them is one of the biggest challenges of running a restaurant and is especially true in the case of a QSR chain.
There is a high attrition rate among employees, especially at the junior level.  People with excellent communication and people skills are needed, and the ones that are, usually find work in BPOs and call centers. To decrease turnover, and to acquire reliable employees, it is advisable to hire through word of mouth and employee referrals. Hiring through agencies is also a good idea as they provide experienced professionals. Find out how to reduce the employee turnover in your restaurant here.
Most importantly, you must train your employees since good hospitality, and customer engagement goes a long way in establishing a loyal customer base. Apart from training your employees make an effort to retain them. Give them cash and generous incentives to perform better, like a salary appraisal, a bonus or a title like the employee of the month. All this will make them feel wanted and respected in your quick service restaurant, and they will feel that even within the frenzy of customers and fast orders you appreciate their efforts. This way they would be more inclined to stay with you.
"Attrition rate is 10-12% per month, which is the highest in any hospitality sector." Says Kaushik Roy, CEO Biryani by Kilo.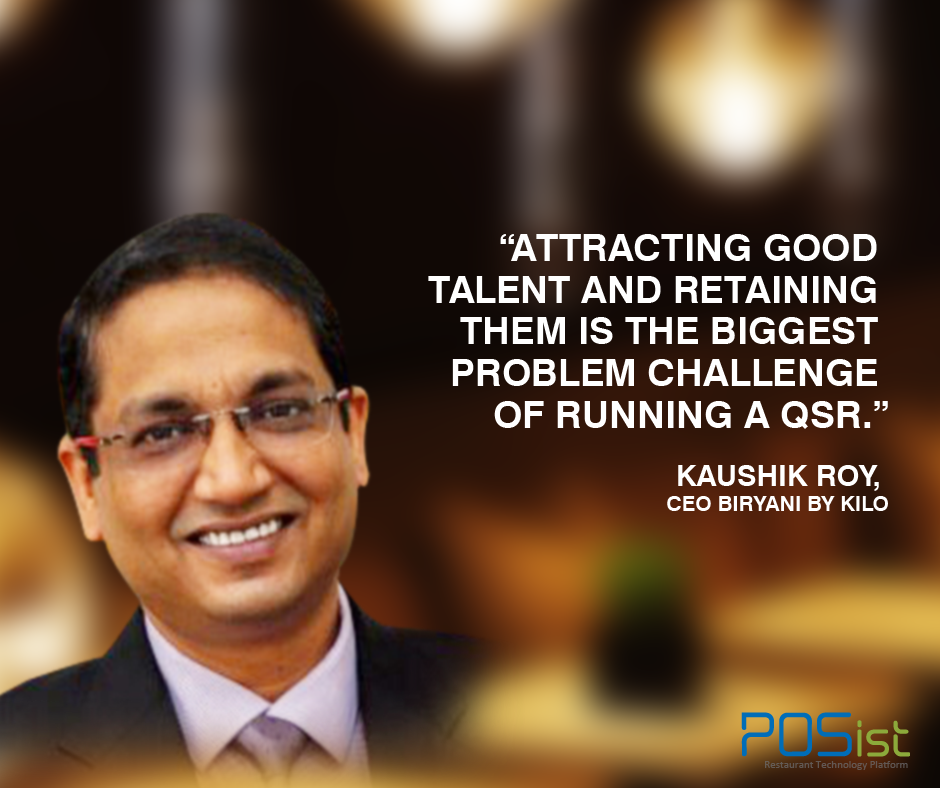 4. Expanding Your Quick Service Restaurant
After the success of the first venture, expansion of business is what comes to mind. More the number of outlets, easier will it be in creating brand awareness and loyalty among customers.
However, expansion of food joints is a delicate issue and must be done with care as what worked in one city, or even an area may not work the same at a different one. Food preferences of the city demographics need to be kept in mind, yet the signature flavors of the QSR have to be retained while setting up the base kitchen.  Therefore, you must conduct careful research to cater to the need of the people of the area where you are thinking of spreading your brand. For example, while a QSR with a limited menu and low budget can be a success in a student-centric area, it may not work in a corporate area where working people are willing to pay more for variety and taste. Remember to monitor consumer behavior and expectations before opening a new outlet. For example, while a QSR with a limited menu and low budget can be a success in a student-centric area, it may not work in a corporate area where working people are willing to pay more for variety and taste. Remember to monitor consumer behavior and expectations before opening a new outlet.
McDonald's is a good example here. The MNC did not merely expand as it is, in India but changed its entire menu. However, that did not mean that they compromised on their brand image and identity.
This article will help you if you're looking to expand your restaurant business.
5. Managing The Costs Of Your Quick Service Restaurant
QSRs are perceived to have low costs, both in terms of investment as well as operations. However, margins are thin, and the QSR needs scalability to be successful. Fluctuating price of raw materials, high rentals, and labor costs bring pressure on margins.  This is especially true in the initial days when the sales are low, and the fixed costs need to be paid. The main areas where cost rises are:
Rentals: Location of the outlet is critical for a QSR to run profitably, and an excellent location leads to high rentals cost. An area that witnesses a high footfall, is on the ground floor, has all the utilities, along with a parking space is considered to be a good location.  However, if you are operating on a tight budget, you can go for a property that does not have these qualifications, and instead leverage the power of marketing and utilize online ordering to drive sales.
Food Costs: Managing food costs, without letting it affect the quality remains one the biggest challenges in the QSR industry. The cost of raw materials rise, but competitive prices mean that the MRP of items cannot be increased every so often. One way to tackle this issue is by joining 'Purchase Groups' where because of the sheer number of buyers the supplier often reduces prices. You could also go for credit purchases as opposed to cash.  Find out how to combat rising food prices and control food costs.
Labour Costs: Extreme attrition in the staff leads to high labor costs for retention. With stiff competition, poaching of employees is also a concern that results in high labor costs. Try out these tips to control the labor costs of your restaurant.
Improving inventory systems helps to reduce the cost of material handling and wastage. You can improve labor efficiency and cut labor costs through better scheduling. Measure the quality of incoming material, work in progress and output.
You can also reduce labor costs by automating your outlet with the help of POS. Automatic billing, online ordering, inventory management, etc. help you optimize your restaurant even with limited resources.
6. Monitoring Multiple Quick Service Restaurant Outlets
Managing one outlet is a plateful in itself. Managing several outlets, while striving to maintain consistency throughout, is a humongous task. Delegating responsibilities and depending on the restaurant manager becomes inevitable in this case. However, you must still keep an eye on all the on-going of your outlets. Standardization and consistency need to be maintained, about which we have already talked above.
Reporting and tracking of business transactions must be done throughout the day. Use centralized POS software that gives you full control over all your branches. Posist's Cockpit app gives you complete information about your outlets such as the net sales across all outlets, sales summary, total bill generated, discounts offered, etc. These data can be viewed for each outlet separately, and also a cumulative data report for the entire chain is available in the app. This article will tell you how to make your QSR chain a success. 
7. Improving Sales Of Your Quick Service Restaurants
In recent years, India has seen tremendous growth in the hospitality sector. New QSR chains open up like mushrooms, and many go out of business within the first year of opening.
Apart from providing good food, competitive prices, and excellent service, designing the menu well helps in boosting sales. Careful placement of items that can be bought together or relative pricing tricks the customers into buying more from your food outlet.
Marketing techniques such as social media engagement with customers, SMS and email campaigns, discounts and limited time offers, help in catching the customers' fancy. It is also important to monitor customer behavior and stay updated as trends keep changing every few months.
With the new busy urban lifestyle, consumers are increasingly looking at options that provide good quality, cheap food that is prepared and delivered quickly, thus resulting in the growing popularity of Quick Service Restaurants in India. Try out the tips mentioned above to run your own QSR successfully!
Think we missed something or would you like us to cover some more ground? Reach out to us at social@Posistmail.com. We'd love to hear you out!