Planning to venture into the F&B industry? Well then, you must have done your research on how you should try and make your grand entrance in the volatile domain of restaurant space. Most first time restaurateurs face this dilemma of buying an existing restaurant or starting a new one. In this article, we will discuss the pros and cons of both.
Which Is A Better Option – Buying An Existing Restaurant Or Starting a New Restaurant
Both, buying an existing restaurant and starting a new one comes with their own set of opportunities and challenges. Read on for a detailed comparison of both.
1. Starting a New Restaurant from the Scratch
When you are planning to launch a restaurant of your own, then it is the sky that can be your limit. You can plan a budget as per your ability. However, considering the competition, you can tentatively decide on what can be your approximate budget should be. For example, if you are planning to start a casual dining restaurant, you can research all the restaurants of the similar format to understand what your rough budget should be, this will help you plan well.
Even after considering your competitors budget, you might be interested in including others amenities in your restaurant.
 Other Additional Costs To Keep in Mind
Because many of your customers can come in their vehicle, do you think that you must have a parking space that will keep your restaurant at the top of your potential customers' preference list? If you intend on having a parking plot attached to your restaurant, then that might involve more cost.

Are you providing any particular service for which you would require some special permit? For example, if you have a  rooftop are within your restaurant premises, or are you serving alcohol at your restaurant? If yes, then you must apply for special permits to make your restaurant cent percent legal.

You should also plan to scale your restaurant, that might cause a considerable amount of difficulty on the part of the restaurant owner.

Know about the step by step guide that will help you in starting a franchise restaurant in expanding your business

.
Find out how to start a new restaurant here.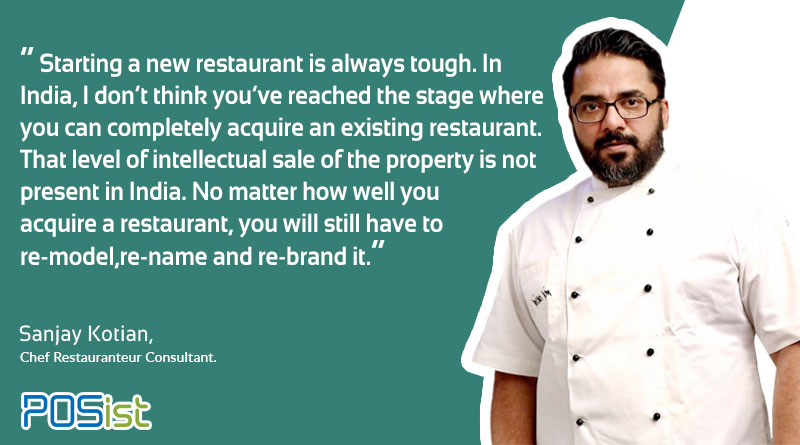 2. Buying An Existing Restaurant
Buying an already established restaurant that is already functional has its advantages. Since everything is already set up, you don't have to make a lot of changes to the backend. It is a good idea to rebrand the restaurant and launch it as a new venture
Since the structure of the restaurant is already prepared, it would not take a lot of your time to start the business.

You can acquire an existing restaurant with a significantly less cost compared to what you would have incurred if you were to start it from scratch.

The financial risk involved is negligible, especially if you are acquiring an already profitable restaurant.

You can capitalize on the existing customer base of the restaurant purchased.

Acquiring licenses like liquor permit can be made much easier for a restaurant where there was already a restaurant which had the liquor license. This is mainly because that before providing a liquor license the surrounding area is surveyed correctly since liquor licenses cannot be served in a location which has a temple or school in proximity. So if liquor license was served to the restaurant you are acquiring, it means that the initial local surveys are not necessary.
Challenges That Come Up While Buying An Existing Restaurant
Once you decided to buy an existing restaurant, you automatically limit your scope of innovations and creativity.
You can hardly do anything about the layout of the restaurant. Even if you do not like it, you ideally cannot change it.

There is a greater chance of repair and maintenance cost due to the age of the physical assets.

An entirely new restaurant projects a fresh new image to the customers and tends to attract more curiosity; however, this is not always the case.

There is uncertainty regarding the condition of the equipment in the kitchen. A few of them may be in a situation that you will have to replace them. Hence, this will involve additional cost.
 If you are a newcomer in the industry, buying an existing restaurant versus developing a new restaurant from scratch seems to be the viable option. The advantages far outweigh the disadvantages, and most importantly the risk factor is greatly diminished. Do your research well, and taking into consideration the facilities available to you, you should take the call. Plan it right and you can hardly go wrong!