The true index of your restaurants' success is the experience that you deliver to your guests the moment they step through the door. The performance of restaurant managers is crucial to the experience your customers will have in your restaurant. This is so because your restaurant manager is the screw holding the machinery of your restaurant together. He/she is responsible for the smooth functioning of every department so that the restaurant performs smoothly and customers face no problems during their dining experience. Restaurant managers must ensure that the restaurant functions properly. But restaurant managers are also humans and may end up making mistakes. However, there are 5 critical mistakes that you must train your managers to avoid at all costs. In this article, we will discuss the same.
As a bonus, this checklist of Restaurant Manager duties will result in seamless operations in your restaurant while still delivering excellent customer service. 
Mistakes Restaurant Managers Must Avoid While Running A Restaurant
61% of adults prefer spending more money on a restaurant experience, compared to shopping or any other activity. To ensure positive experiences for your restaurant guests, you need to pursue exquisiteness in terms of food, and refinement in terms of service. Fortunately, to create magic with food, you can always trust your grandma's secret recipe. And for fine-tuning your restaurant service, you need to avoid these trivial mistakes from ballooning into a critical issue while running a restaurant.
1. Trying to Do It All
Even before the corona crisis hit the restaurant industry, many restaurant businesses have failed to report sustained growth. What were the loopholes which caused even good restaurants to go down?
A lot can be attributed to small but significant mistakes in task management jobs that mushroomed into major issues and led to the closing of restaurant doors. Sometimes, while trying to lead by example, restaurant managers end up being involved in all restaurant tasks on their own.
While doing so, restaurant managers often forget that they can't execute everything from the to-do list alone. Even if they want to, the restaurant's nitty-gritty often prevents them from taking on every single task. However, with task delegation, managers can share responsibilities and have better control over restaurant activities. By promoting the active engagement of their staff, managers can ensure higher overall productivity and efficiency of their restaurants.
2. Communicating Ineffectively
Incidences of inaccurate or incomplete dishes being served to guests in restaurants are quite common. The reason for this loophole in offering outstanding service to guests can be accredited to a communication gap between staff in a restaurant.
Take for instance the case of a guest who is allergic to peanuts. He conveys this information clearly to the staff who is taking the order. But, the serving staff fails to pass this information to the kitchen staff with clarity. Due to the inadequate information, the kitchen staff ends up preparing a dish for the customer with peanut butter topping. In this case, the customer has every right to get irked and walk out of the restaurant door with disappointment.
As a restaurant manager, you can avoid such situations in your restaurant by promoting effective communication among your staff members. By holding regular meetings, you can ensure that every employee is on the same page. Further, the feeling of camaraderie can be developed between them by promoting the practice of staff meals. During staff meal sessions, everyone can come together in an informal setting and communicate in a stress-free manner.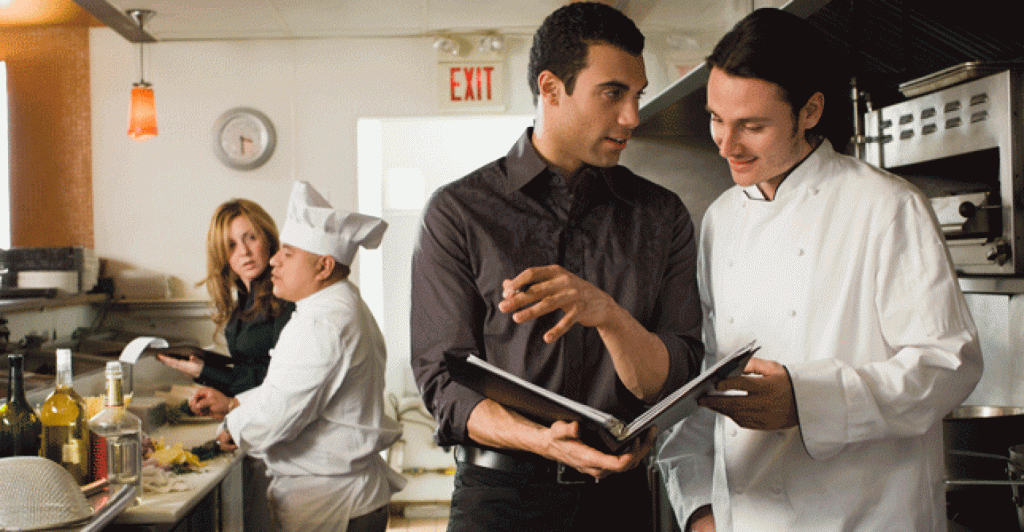 3. Ignoring Staff Training
Staff is the face of any restaurant business and restaurant managers are responsible for this face. If they fail to train the staff right, it will reflect in their performance and leave the customer dissatisfied. Restaurant staff has to interact with guests for table bookings, orders, and feedback. If the staff fails to treat customers right, they are most likely to post negative reviews about your restaurant on social media and cause severe damage to the brand reputation.
Restaurant managers need to ensure that the staff is thoroughly trained in the rules of conduct while dealing with customers. Your staff can gauge customer expectations and ensure the personalization of services only by being polite, and patient. Also, when you keep your staff abreast of your signature dishes, new cuisines, and special offerings, they can put their point across convincingly.
4. Lack of Online Marketing
"Victorian mirrors, white tables, floral cups, ACs, refrigerators, microwaves, at Vintage 31, New Delhi — to be disposed of. If you know of anyone who would like to buy these, please let me know." Restaurateur Vimi Singh to Economic Times.
Vimi Singh had to shut down her restaurant business in Mehar Chand Market, New Delhi within one and a half years. She started this restaurant project with her husband but failed in garnering enough followers. The couple was spending about one lakh in the restaurant business every month but never made enough profit to sustain for long. She also went ahead to say, "We wouldn't advise anyone to enter the restaurant business in India."
On the other hand, Riyaaz Amlani, CEO of the Mumbai-headquartered Impresario Foods is unfailingly setting new trends of success in the food and beverages industry. He is revolutionizing the concept of casual dining with his latest venture 'Social.' The Social's concept of casual dining cum shared working space is unique, and is garnering much attention on social media platforms from its target audience – Millennials.
The major difference between these two restauranteurs is that Riyaaz dared to think outside the box, and revamped the traditional concept of casual dining with shared working. He is also making the optimized use of social media platforms to publicize the unique concept of Social. From event promotions to sharing of guest pictures on Facebook, Social is socializing with the tech-savvy youth who have a big appetite for eating out.
Similarly, many other players in the food and beverage industry are registering their presence on social media. Around 75 percent of restaurants are presently active on social media to attract their prospective guests with the promise of outstanding experiences.
Now you may wonder, "How do restaurant managers fit in here?" The restaurant manager has to market the restaurant. They may not be the ones strategizing, but they are the ones executing these strategies. Since they are in direct contact with customers and restaurant operations simultaneously, they are in the best position to market the restaurant right. Hence you must train your restaurant managers in marketing and upselling to keep the restaurant running. 
5. Lack Of Tools Of The Trade
79 percent of diners believe that restaurant technology helps in enhancing their experience. Popular restaurant technology features that guests prefer are online reservations, online ordering, and free Wi-Fi. Servers with hand-held tablets can be more quick and precise in taking orders, leaving a lasting impression on guests.
Given the impact of technology on improving the guest experience, restauranteurs are now looking for POS (Point of Sale) upgrades quite seriously. Best POS software can help restaurant managers in making the billing process quick through online transactions at a guest table itself, and provide many other technological advantages. Restaurant managers can keep track of current stocks at their outlets and get the variance report for the ideal stock to be consumed and the actual physical stock. Thus, managers can have a clear idea about stock consumptions and make data-driven decisions about purchases.
Technology is extremely important in the present time for capturing the entire database of guests across multiple outlets of a restaurant brand. A robust restaurant franchise management software can greatly help you in managing multiple outlets easily.  Restaurant managers can use this database to run targeted marketing campaigns and ensure repeat visits at their outlets.