Your restaurant staff is the most valuable asset for your restaurant business. They are the ones who are executing the tasks that generate the revenue for your business. Your staff are the also ones who are also dealing with your customers, thus, it is essential to have a strong team that can achieve your business goals.
Thus, comes the need for proper restaurant staff management, that would help you create, assign, and optimize the operations required for the smooth functioning of your restaurant.
The entire process of restaurant staff management can be broadly classified into three aspects –
In this article, we will discuss each of these aspects in detail that will help you manage your restaurant staff with ease.
Effective Restaurant Staff Management Strategies For Building A Great Team
Great staff is hard to find, and it is even harder to retain them in today's competitive restaurant labor market. Here is all that you need to know about creating the right team that would aid your restaurant's growth.
1. Restaurant Staff Hiring
Hiring the right staff is crucial for your restaurant business as the amount of resources that you spend on hiring, and then training your staff is pretty huge. Therefore you need to ensure that staff hiring process is done correctly the first time itself.
Here are the tips that you should follow for restaurant staff hiring.
(i) Creating A Human Resource Structure
The first thing that you need to do is creating a human resource structure that will help you determine the various positions you need to fill for the smooth running of your restaurant.
Typically, you would be needing five types of restaurant staff, depending on your restaurant concept and format –
Managerial Staff
Kitchen Staff
Floor Staff
Bartenders
Delivery Staff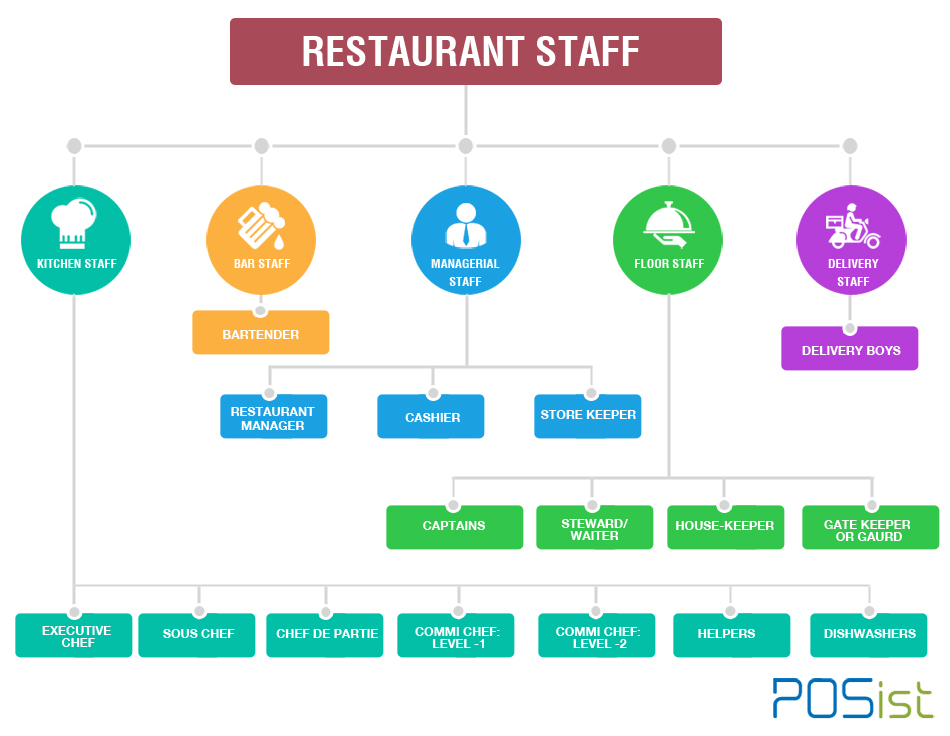 Your restaurant's human resource structure would majorly depend on your restaurant concept. For example, if you are a takeaway restaurant, you will require more delivery staff and kitchen staff. If you run a fine dining restaurant, the number of servers will increase.
Also, the size of your restaurant is another major factor that determines the manpower required.
Read in detail how to create a Human Resource Structure for your restaurant here.
(ii) Determining The Requirements
Before you start posting vacancy ads, you need to determine the exact staff requirement. While over-hiring would lead to escalating restaurant labor costs, under-hiring would negatively impact your operations.
You need to analyze the exact need of the human resources and talk to various department heads like the manager and the head chef, etc and ask them if any extra help is needed. Check your budget and requirements and then go ahead and determine the number of people you can hire and how much you'll pay them.
Next, you need to create a clear Job Description for each of the roles and list out the exact duties and responsibilities for each of them. This would give the candidates an idea about what they would be expected to do, and help you weed out irrelevant applications.
(iii) Sourcing The Right Candidates
Once you have determined the staff requirements, you need to start advertising to fill out the vacancies at your restaurant. There are several sources you can use when hiring the right candidate –
Word of Mouth
Newspaper Ads
Social Media
Referrals
Job Portals
Restaurant Consultants and Recruitment Agencies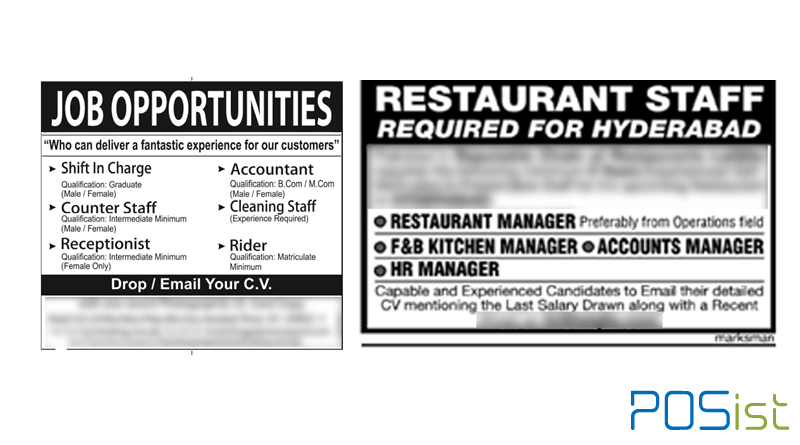 The most important roles in a restaurant are that of a restaurant manager and the Chef. If you hire the right manager, they would automatically help you in hiring for the rest of the roles. Secondly, the Head Chef of your restaurant is probably the most valuable asset for you. Not only would he or she help you with the food and the menu, but they also typically lead the entire kitchen operations. Therefore, you need to hire a well-experienced and smart Chef in your kitchen.
Once you have a restaurant manager and Chef on board, you can ask them to help with the hiring. Experienced people in the restaurant space typically have a strong network of the people they have previously worked with. Your manager and chef can refer good people to your restaurant.
Read in detail how you can source the best staff for your restaurant here.
(iv) Conducting Job Interviews
Once you have an ample amount of candidates at your doorstep, you can start conducting interviews. When interviewing a person, you need to see if his/her thoughts are compatible with the goals of the restaurant and if they would be the right fit.
Since the restaurant business is based on hospitality and customer service, you also need to look for soft-skills, especially for the front-of-house job roles. While a pleasing personality, patience, and good communication are essential for the servers and waiters, you need people with teamwork and leadership skills in the kitchen. Make a list all of the parameters you would be judging the candidates on the basis of.
It is a good idea to ask for recommendations and references from the previous place of employment. Also, check through the previous responsibilities of the candidates. This would help you determine how dedicated the person is towards their work.
(v) Hiring Part-time Staff
Hiring staff on a part-time basis or seasonally is a great idea to keep your restaurant labor costs in check. They will help your permanent staff during the rush hours, especially during public holidays and weekends when the footfall is generally high. For hiring the best seasonal staff you can consider looking at the previous year's list or ask your employees for referrals.
Read in detail how you can hire seasonal staff for your restaurant here.
2. Restaurant Staff Training
It is impossible for any restaurant to function successfully without a well-trained staff, who know exactly what to do and how to do it. A well-planned restaurant staff training program will make your staff more efficient, skilled, and also aid the restaurant operations.
It also helps in making the team familiar with the top management and acts as a communication channel between the two.
Here is a list of things you can keep in mind while training your staff –
(i) Preparing A Staff Training Manual
Even before you start the training process it is crucial to prepare a staff training manual that will act as a guide for your restaurant staff.
A staff training manual is a handbook that is given to your staff members in the form of a small handbook when they join the restaurant. It should contain rules that they need to comply with, various processes that they will be trained in, how to's of their duties and responsibilities and other such technicalities.
It is a great resource which the restaurant staff can refer back when stuck somewhere. Thus, a restaurant staff training manual is not just an introductory guidebook for your employees, but a reference material to seek help from in future as well.
Learn how to create a stellar restaurant staff training manual here.
(ii) Conducting The Orientation
Holding an orientation before you start with the training program is a must. This would make the employees familiar with the restaurant and tell them what is expected out of them.
You can include the following things in your Orientation Programme:
Any formalities that the restaurant staff needs to carry out before they start with the training.

Share the restaurant's history and information about the customers base

Introduction to the higher management

An overview of the menu

A brief introduction to the training program.
(ii) Educating and Empowering Your Staff
Educating, rather than instructing your restaurant staff is essential for your restaurant as well as the employees. No matter how experienced the newly hired person is, they would require proper instructions on how your restaurant operates.
The training should be specific to the exact duties of each employee, however, everyone on your team should be aware of the standard daily procedures of your restaurant.
There are two aspects you need to train your restaurant staff in order to increase their efficiency:
Restaurant facts

: These are the general everyday instructions that you need to educate your restaurant staff in.

This includes things like your restaurant menu, cuisine type, what kind of customers the team can ideally expect, busy hours or days, etc

.

Technological facts

: This makes it essential to train your staff in the technology that you are using at your restaurant to ensure swift performance.

You might have all the right technology to support the daily operations. But if your staff is not trained in how to use it, it'll all goes to waste

. Familiarize your team with the

POS system

, mobile ordering app, feedback app, and all other technologies that you might be using.
Conduct proper training sessions for each job role to ensure that everyone on the team is trained right. For new and junior level employees, you can assign senior members on the team for training them so that they learn on-the-go.
Here is how you should train your staff to ensure their maximum efficiency.
(iii) Cross-train Your Staff
You might think that training the new team about all the new positions would make them the jack of all trades and master of none! But this is not the case in the restaurant industry. You can give basic knowledge about various departments to the new staff to make them more efficient and flexible enough to fill in a person's position if he/she is unavailable.
This also gives the restaurant staff an insight into other's responsibilities which would promote teamwork as well.
Cross training would also enable you to run your business smoothly even when you are short on staff.
(iv) Conduct Regular Training Sessions
The training should never end even if the trainee joins the regular staff members. Hold refresher meetings regularly and help the employees recall the training they were given. Continuously supervise the staff and ensure that they are practicing what has been taught to them. Supervision ensures that the less experienced team has someone to reach out to.
Regular training sessions are critical as they would ensure that your entire team is updated about any changes that you bring about in your business, such as, introducing a new menu item, and is also well-equipped to handle the changes.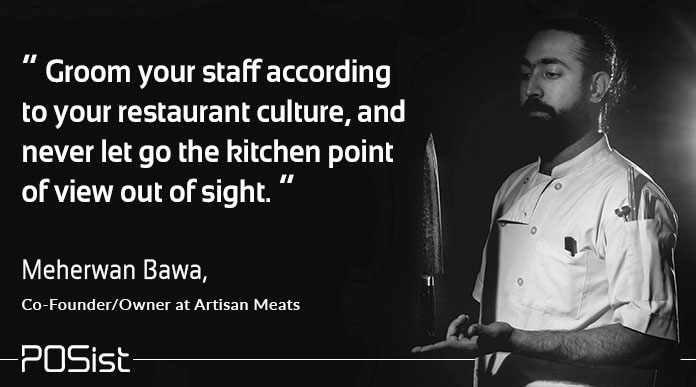 3. Staff Management
Once you have a well-oiled team, it is important that you manage them properly so that their efficiency is Peak-optimized, and that would contribute to the success of your restaurant. Considering the high attrition rate in the restaurant industry, which contributes to high labor costs, it is essential that you manage your staff well and also ensure their retention.
(i) Managing the Staff Shifts Efficiently
If your restaurant business is operational both during the daytime and night, you need to have separate shifts and also separate staff to work for the same. Having an irregular staff schedule would result in the under-utilization of your employees' potential, or lead to overexertion, both of which would detrimental for your business.
While deciding the staff schedule, ensure that you abide by the labor laws. Also, clearly state the working hours and days for each staff member while assigning the shift.
Learn more about managing staff shifts here.
(ii) Monitor Staff Performance
Often restaurateurs are so consumed with hiring and training the staff that they overlook measuring their performance. Monitoring the performance is essential as helps you analyze your labor costs and gives you identify the strengths and weaknesses of your staff. This, in turn, would enable you to further train them and also pave a better career growth. Analyzing your staff performance will also help you in rewarding them appropriately.
Certain Key Performance Indicators that you can use to assess your staff are –
Number of tables covered
Number of items sold and upsold
Attendance
You can also seek the help of a restaurant management software that would help you analyze your staff's performance.
Read in detail how to measure the performance of your staff here.
(iii) Ensure Staff Happiness
A happy workforce is an efficient workforce, goes the saying, and couldn't be more applicable to the restaurant business as well. Restaurants are a high-pressure work zone, with long and odd hours, where employees, especially the front-of-the-house staff have to execute their duties with hospitality.
If your restaurant staff is unhappy, it is bound to reflect in their work as well and damage your customer service. Plus, dissatisfaction with work also results in a high attrition rate, adding to your overall restaurant costs.
Here are a few things you can do to ensure that your staff is contented –
Be a good paymaster
Acknowledge the employees through incentives and rewards
Ensure proper work conditions and a good environment
Empower your staff with proper tools and skills to perform better
Consider offering ESOPs (Employee Stock Options)
Ensure communication within the team by taking employee feedback
Providing a clear hierarchy structure for career growth
Here are some effective tips that would help you keep your staff happy and motivated.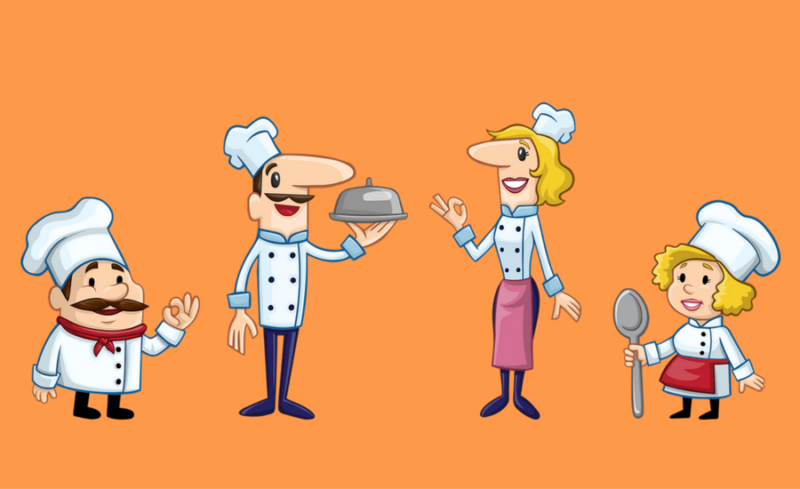 Your restaurant staff is like the backbone of your restaurant – unless you have a strong team of individuals who are dedicatedly working towards the success of your business, you can hardly expect to flourish. Thus, it is essential that you focus on the staff management and do everything you can to build a great team!