One of the common traits of a successful restaurant is a reliable restaurant staff that works tirelessly to deliver top-notch service to the customers. Customers visiting a restaurant are not doing so merely for the food but the experience. However, with severe competition in the restaurant industry, high rentals, and rising costs, hiring the right team and creating the correct human resource structure for restaurants remains as one of the biggest challenges for restaurant owners. The restaurant industry is notorious for high employee attrition rates and so requires an efficient management system. Thus, you must know the human resource plan of a restaurant, the different levels of staff requirements and their job descriptions, qualifications, and experience needed for each profile and the designated salary to offer while staffing. Read how to hire better for your restaurant here. 
Importance of Human Resource Structure in Restaurant Businesses
In the restaurant world, a well-defined human resource structure is perceived as an additional cost of business; but it is a myth. When a restaurant has a human resource department, you don't need to bother about the following aspects: 
Recruitment and Selection

: An HR team can look after an array of tasks such as filling vacant jobs, creating job descriptions, conducting interviews, completing paperwork, and ensuring the successful onboarding of new hires.
Training

: Visitors prefer revisiting only those restaurants where they have a fine dining experience. An HR team can ensure that by organizing regular staff training and helping them hone their knowledge and skills. It can make them perform to the best of their abilities.
Advocating Employee Needs

: Managing employee relations in any business is a full-time job. A dedicated human resource team improves the work culture of a restaurant business by handling day-to-day (change in schedule time and taking a day off) tasks to managing long-term grievances (such as sexual harassment at the workplace, healthcare plans, etc.).
Compensation and Benefits

: You must determine the appropriate levels of compensation and benefits for different staff members working at different levels in a restaurant. How much wages need to pay to a kitchen or floor staff, a list of expenses that needs to be reimbursed, and announcing bonuses at the right time – these are some of the important areas that only a professional HR team can manage in medium and large-sized restaurants.  
The moot point is when you hire a professional human resource team for your restaurant business, making the restaurant a happier place for other staff members. In addition, it can help them grow professionally by helping them improve productivity and increase profits.  
Understanding And Creating A Human Resource Structure for Restaurants
In this article, we will have a look at the necessary human resource structure for restaurants, various departments in a restaurant, and job descriptions of each employee in the HR Plan.
There are generally five departments in any restaurant business – Kitchen Staff, Managerial Staff, Floor Staff, Bar Tenders, and Delivery Staff. However, depending upon the restaurant format, the number of departments can vary. Thus the human resource for the restaurant/food industry will be unique to your restaurant and its various departments. The employee count will depend upon the size of your establishment. Also, the role and responsibilities of HR in your restaurant will vary according to the number of employees.
For example, in QSR format, there would be only three departments- Kitchen Staff, Managerial Staff and Delivery Staff. However, for a fine dining restaurant, all five would be required. Further, each department has different requirements for employees, which are briefly explained below.
Having the right restaurant management software could help you keep track of your human resources better, and thereby run several incentive programs for them.
1. Kitchen Staff
The kitchen is the heart of a restaurant. For smooth operations, a proper human resource is required, especially in the food industry. In this particular department, there are various levels, such as Gourmet Chef(Head Chef), Sous Chef, Chef De Partie, Commis, and helpers. However, in formats like QSRs, takeaways, and casual dining, the post of Head Chef and Sous Chef may not be required. Below is a chart that discusses and explains the different levels of the department, job profiles of different levels, qualifications, and experience required for each profile, and the average salary of each post.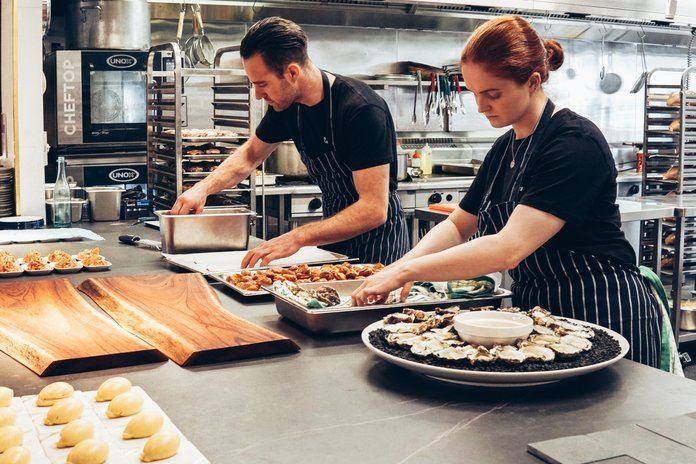 2. Managerial Staff
The second most important part of the human resource structure for restaurants is the Managerial Staff. Human resources for your restaurants ensure that the restaurant is in one piece and thriving towards a single goal. These people are the intuitive soul of the restaurant, as the decisions of the Managerial Staff can make or break the customer experience and expectations. Managing and allocating the right resources at the right time can help the restaurant to achieve efficiency, which can further help create a better experience for customers and better profit for owners. Managerial staff is broadly divided into three levels – Restaurant Manager, Cashier, and Storekeeper. Below is a chart explaining different job profiles, salary, qualifications, and minimum experience required according to the HR Plan of a restaurant.
3. Floor Staff
Employees working in this department of your restaurant are the brand ambassadors of your restaurant, as they are the ones who are in direct contact with the customers. Customers' best and worst experience is often due to the floor staff. Therefore, it is essential to have them well trained and on their toes.
The Floor Staff has a different set of employees, such as Captains, Stewards, House Keeper, and Guard. This department is primarily required in Fine Dining, Restaurant cum Bar, and Casual dining formats.
4. Bar Staff
The Bar Staff handles the most precious and vital part of your menu: the drinks! People in this department should be fully aware of the type of drinks they serve, be it a cocktail or mocktail. Your bartenders can create a different kind of experience for your customers and add a fun element to the whole environment of your restaurant. It is thus essential to have a separate department set for the Bar staff in your human resource plan for your restaurant. The number of employees in this department is entirely dependent upon the size of the restaurant. Human resources thereby, become an integral part of the food industry.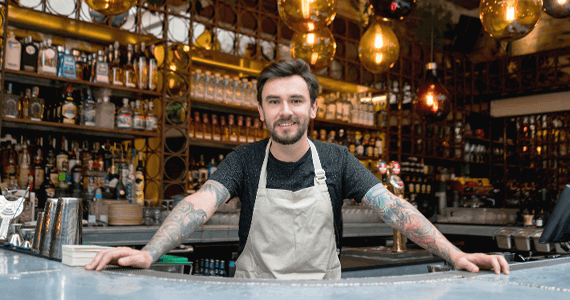 5. Delivery Staff
Your Delivery Staff is as vital as floor staff, as these employees take your restaurant brand out on the roads and to the homes of the customers. They are the representatives of your brand and must be adequately trained. Also, for delivery staff, restaurant owners should be extra cautious about their driving licenses and background verification.
Every person working for your restaurant is an integral part of the organization and is an essential part of the human resource for the food industry. It is necessary to take care while hiring someone, train them right, and keep them happy to retain them. Learn how to keep your restaurant staff happy and motivated here.