Having a bar setup at a restaurant is in vogue. Alcohol is no longer restricted to being served in just pubs or bars. In the Pre-Covid days, the concept of serving drinks along with the food at restaurants observed a steep rise. This is primarily one of the main reasons why premium casual dining restaurants where the ambiance is casual, and liquor is served, proliferated so much during this time. With a high demand in alcohol being served in the restaurants, you might be planning to set up a restro-bar but considering the processes and licenses involved in setting up a bar might look intimidating to you. After all, it may seem like an economically rewarding business with high returns, but truth be told, it is also one of the toughest businesses with high risks involved. But worry not! We have broken down the process to set up a bar at your restaurant into 7 major points. From procuring the liquor license to buying the right equipment for the bar we have covered it all for you!
Top Bar Setup Ideas For A Restaurant
With more people consuming liquor these days when out at a social event it only makes sense to have a bar area at your restaurant.
If things are done systematically, this would prevent any chaos in the future and help run your bar area successfully. Here are some hacks for setting up a bar area at your restaurant
1. Acquiring The Liquor License
The most critical step before you even figure out where you want to put up the bar is, to get the correct license required to sell alcohol at your restaurant.
Every state government in India has a different set of rules when it comes to obtaining a liquor license.
You can procure the license from the local excise commissioner; this step has been simplified by the government because the application forms are now available online on the respective state government website
The checklist of the documents required to obtain the liquor license (precisely in New Delhi) are:

Application in the prescribed form duly signed by M.D./Authorized Director/ Authorized Working Partner/President or Secretary of the Society.

Processing Fee of Rs.5000/-

An affidavit stating the details of the company/firm with sale figures all over India and Ex-distillery price(EDP)

Product declaration of the brands applied

ENA Certificate – neutral alcohol (double distilled) / Extra neutral alcohol

An Affidavit regarding the genuineness of foreign TMC

Copies of Excise Verification Certificate for sale verification

Sale Verification Report

Certificate of sale figure & EDP from Excise Authority

License copy of Distillery/Brewery/Bottling Plant from where the brand is being manufactured/bottled

Power of Attorney duly signed by authorized Director/MD/Appointment of Attorney by the applicant

Copy of Latest IT Return/ Copy of PAN Card/Copy of latest IT Assessment order/Copy of Income Tax Clearance Certificate

No Dues Certificate from Delhi Excise Department

No Dues Certificate from the VAT Department

CA Certificate regarding Sale & EDP of the brands

Chemical Analysis Report of the brand applied from the Govt. Authorized Lab./other reputed Pvt. institution

Personal Bond with Surety of Rs 5 Lacs
Some basic documents required by all the state government for producing a liquor license are :
Identity proof and Address Proof of applicant

Premises Address Proof

NOC from the fire department

NOC from the municipal corporation

Application with business details

List of Directors in case of a company

Photograph of an authorized person

Copy of Latest IT return
The cost of obtaining a liquor license can be a little expensive. You need to deposit an initial security deposit of Rs 10 lakh and Rs 5 lakh for the license, Rs 5 lakh for the L2 license, and Rs 2.5 lakh as qualifying fees, other than that The registered company, liquor companies, and partner firms should have a bank deposit of Rs 25 lakh.
Applying for a liquor license might seem like a difficult task but, it is essential since without the proper licensing you wouldn't be allowed to sell alcohol at your restaurant. Also, if found selling alcohol without a license, you would have to pay a penalty fee.
Along with this you also need to check if the serving staff has to undergo any particular kind of training that is made mandatory by the government.
2. Utilising the Space Wisely
You can have a full-service bar setup where people can sit at the bar and enjoy their drink or, you can set up a partial-service bar where your bartenders can prepare a drink, and the servers can deliver it to the tables.
To set up a bar you do not necessarily require a vast area; rather, some proper planning and the right interior designs help. There are a lot of bar setup ideas available on the internet, on websites like Pinterest where you could find some inspiration. 
Plan where you would want to place the bar area, if you have a huge space available you can set the bar up right at the front where people can actually sit and have a drink at the bar itself or, place the bar area at the back. If you have a small area for your bar you can tactfully place it in the center, this will help your servers pick up the drinks and deliver them to the table faster.
According to Woodweb, an ideal bar in a commercial situation is no less than 16" and no more than 18". You can plan the placement and the structure of the bar in accordance with the dimensions mentioned.
3. Getting The Right Equipment
Once you have your liquor licensing process sorted, you can start arranging the equipment to be used at the bar to help smoothen the task. Having the right equipments in place not only helps the bartender but makes the area look tied together.
Bars should have a refrigerator, ice bins, coolers, wine racks, etc. Along with this make sure that the flooring at the bar area is not slippery, opt for rubber mat flooring for the safety of the staff/bartender. You can ask for free glasses from your beverage sales rep as this would help promote their brand and help you manage your budget if you are just getting started. For coolers and refrigerators look through several brands available in the market and buy the one with the energy star efficiency seal, this would help control the electricity cost to some extent.
If you feel your budget is a little tight you can always purchase used-equipment. Check the quality of the material you wish to buy, and you should be good to go! Also, make sure you have a separate underbar sink for your bartender to wash their hands along with other small items. The average cost of purchasing the equipment can be anything around 15-20 lakhs (for new) and 10-15 lakhs (for used equipment)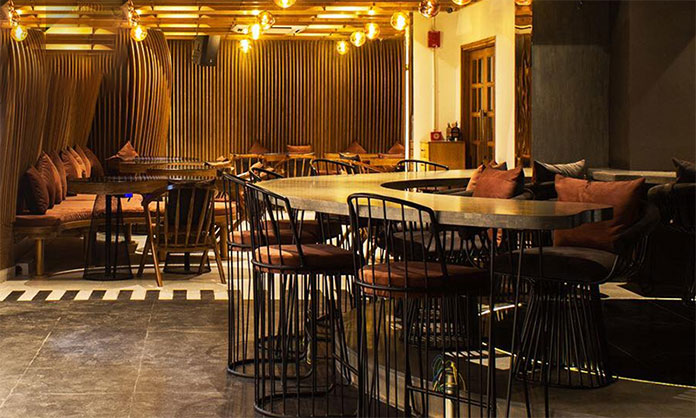 4. Setting the Ambiance
The bar area should have adequate lighting for your customers to read the menu but, it should not be very bright. Also, the bar area shouldn't be very dark instead, opt for dim ambient lighting to set the mood. Subtle lighting is the key to setting the right ambiance. You can use recessed lighting or track lighting which has a switch to help you adjust the intensity of the lights.
5. Hiring The Best Bartender
Once you are done with the bar setup and have the right equipment in place, that's when you need the right person who can use the resources rightfully and generate business for you. While answering the question of how to organize a restaurant bar, you must always find your staff as the answer. The bartender and restaurant manager are your best bet. Hiring the right staff is one of the better bar setup ideas that there are. 
Keep in mind not everyone is cut to be a bartender hence, hiring a professional is a must. Check the references and hire the best person within your budget. You can host special events and invite famous bartenders to your restaurant for a night; this could be a perfect way of promoting your bar, to attract more customers.
A bartender is the face of the bar and someone with whom people interact directly hence; it is vital to look for someone who is amiable and has a lot to offer. According to payscale, the average salary a bartender seeks is ₹236,933 (annually) plus bonus.
6. Using the Right Technology
Having an efficient POS system in your bar area is essential. Invest in a great POS system that would help manage the bar operations seamlessly. Having the best technology at the bar would ensure quick service as the chances of a sound system lagging are quite low.
On a busy day, you cannot afford any delays; people usually pay at the bar itself when ordering a drink; hence, the system should be fast and very efficient. One of the major challenges of running a bar is accepting payments at the bar itself. This can be resolved through a billing system that is compatible with Bluetooth printing. This allows the bartenders to accept drink orders at the bar, and receive the payment right there.
Installing a good cloud-based POS system would not only help your business grow but would also help you organize your restaurant bar and inventory better. 
7. Liquor Stock Management
Initially, do not go overboard, stock less liquor in the beginning rather than over-stocking, and ultimately hitting the expiry date. Let your area run for a while, analyze the behavior of your clients and see how much liquor is being consumed.
The star of your bar would always be the liquor that you are selling, If the alcohol is not up to the mark, the looks and all the hard work of setting a bar up will go to waste.
Managing your stock is very important for any restaurant owner because it helps curb any possible losses. Avoid any mismanagement and always stay updated. A good stock and inventory management POS system can help you do this very efficiently. Invest in your liquor wisely, no matter how tempting it might look to stock up the bar, do stock up until it is required.
For example, there is a possibility of selling more liquor on the weekend rather than on a weekday hence, manage your stock accordingly.
While it may seem tedious to have a bar setup at your restaurant, this is where you can make a lot of profit. The profit margin of alcohol is pretty high, and if you take the right steps to increase your bar sales, your overall restaurant business would be immensely profitable.