Technology has nowadays become an essential prerequisite that ensures that the operations are performed seamlessly, and to be true restaurant industry is no different. Hence the restaurant sector has witnessed the impact of the technological innovations that have taken restaurant operations to a new height altogether. We are to witness the ever-increasing influence of new restaurant technology trends that will sweep the restaurant industry off its feet in 2018.
Top Restaurant Technology Trends To Look Out For In 2018
New technology in the restaurant industry has drastically reduced the manual labor involved and helped in cutting down costs through automation. Operations of most of the restaurants these days are entirely automated with an advanced restaurant automation system, and new technological innovations are weaved out regularly to make the restaurant system more comprehensive that will bolster the restaurant sales. Here we have mentioned the major restaurant technology trends which will have a mark in 2018.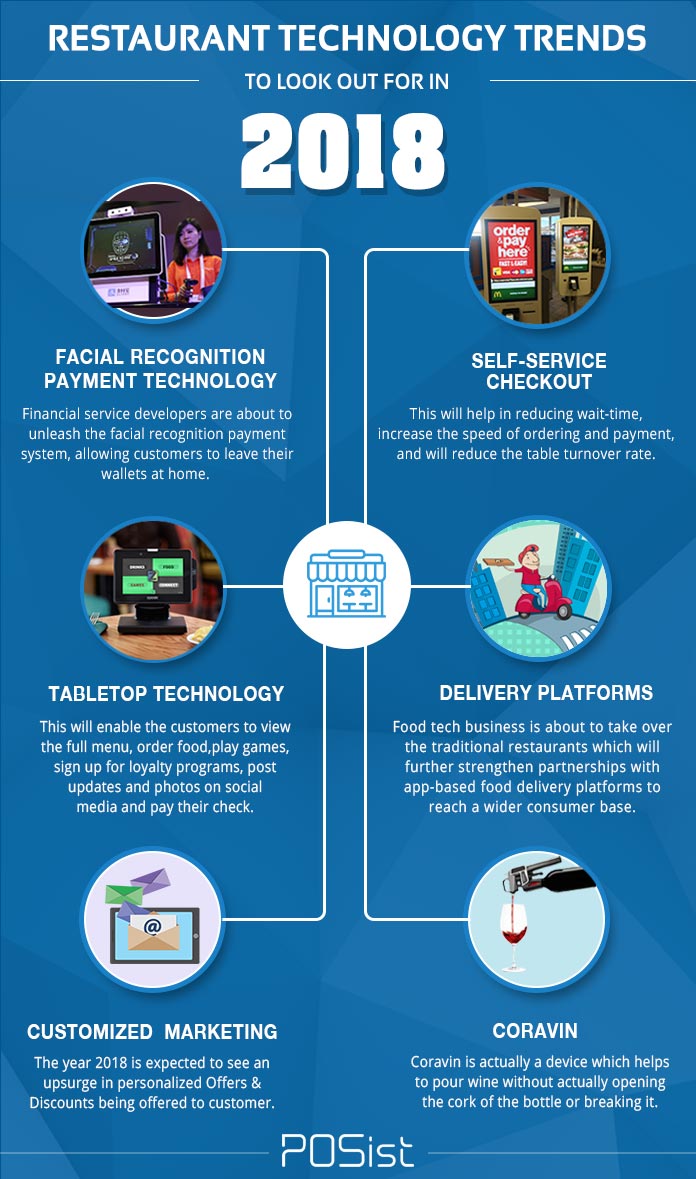 1. Facial Recognition Payment Technology
We have already witnessed the growth in the payment sector with transactions becoming cashless and the digitization of the entire payment method. Now, the restaurant technology is going a step forward and planning to allow you to make a payment by facial recognition. That indeed seems to be great news!  
Financial service developers are about to unleash the facial recognition payment system, allowing customers to leave their wallets at home. In San Francisco, there is a store where Amazon Go has introduced this facial recognition mode. In this store, there are cameras all over, and once you walk inside the store the camera captures you, and what you need to do is go ahead and get your product and walk out of the store. The system will automatically deduct the amount of the goods purchased from your Amazon Wallet. Hence, this would be an utterly staffless store. We predict such innovative restaurant technology trends coming up in the restaurant sector as well in 2018, where we can walk into any restaurant, order any food and walk out, without any hassles involved.
2. Self-Service Checkout
While various chains around the world have already implemented this system, it is expected to make its presence felt in India as a viable restaurant technology trend in 2018. We are to witness self-service order and checkouts. This will help in reducing wait-time, increase the speed of ordering and payment and will lessen the table turnover rate. NFC and the wallet payments are coming up a big way. NFC chip stocked inside credit cards for contactless payments are nothing new. But a slightly more recent- and admittedly more enticing use of NFC is with your smartphones, or even your smartwatch, as a way to digitize your entire wallet. We are hoping to see the use of these in the restaurant sector as well, which will automate the whole payment operation in your restaurant.
3. Tabletop Technology
Tabletop Technology, such as IPads and tablets can be easily mounted to the table. This will benefit both the customers and the operators. Such technology in restaurants will enable the customers to view the full menu, order food, play games, sign up for loyalty programs, post updates and photos on social media and pay their check. You can integrate these tabletop technologies with the existing POS systems and can provide data on customer behavior.
In addition to this, there is a growing hope that the restaurant sector will slowly move from the screens and go all screenless. Voice ordering and voice interface is going to come up in a big way, where the voice recorders will capture your order and will generate the KOT which will reach the kitchen. This will reduce the time involved in the entire process and will increase your table turnover time.
4. Coravin
The official launch of Coravin by Brindco sales Pvt Ltd has created a hype unlike any other in the wine world. This is something very new and has created a buzz in the F&B sector. Coravin, this new restaurant technology trend is the most transformational and exciting invention for wine lovers all around the world. This new technology in the restaurant industry is a device which helps pour wine without actually opening the cork of the bottle or damaging it. This enables preservation of wine for a long time even after you have opened it. Use this technology and pour wine from the bottle without removing the cork from the bottle.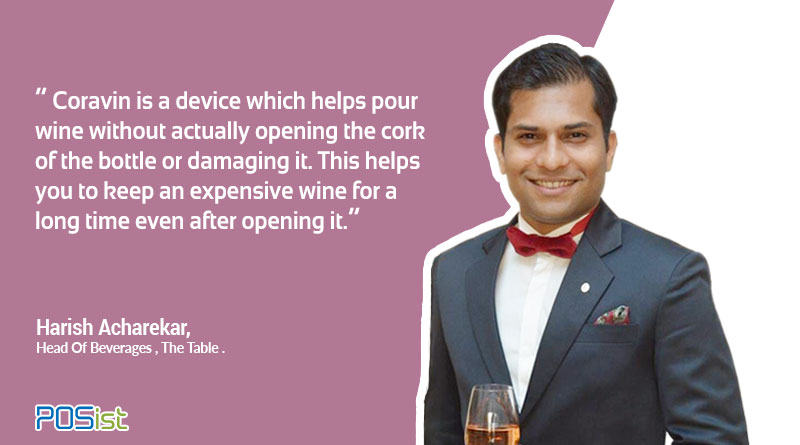 5. Delivery Platforms
Delivery platforms have already gained massive popularity and are one of the most out-there restaurant technology trends in 2018.  The year has witnessed a great demand for various delivery platforms. The revenue in online food delivery segment amounted to US$7,120m in 2018. 
Food tech business is about to take over the traditional restaurants which will further strengthen partnerships with technologically app-based food delivery platforms to reach a broader consumer base. This will enable online food delivery to offer more value to consumers and build a loyal base that comes to their platform to fulfill their everyday food needs.
6. Customized Marketing
The next restaurant technology trend to be significant in 2018 is personalized marketing. The year 2018 is expected to see an upsurge in specially tailored and customized Offers & Discounts offered to the customers. Offers has always worked well. But now, running specific offers according to the area and demography has always been a challenge for large restaurant chains. With the help of Enterprise Marketing Module, restaurants are now able to run special Marketing Campaigns at the outlet level. Restaurants can run specific Offers at different restaurants, depending on what works in that particular region. This high level of customization allows restaurants to optimize the Marketing Campaigns and generate better results.
Everyday innovations are happening in the restaurant technology that would further improve operations and help the restaurants significantly. The year 2018 is also expected to bring out some interesting innovations and restaurant technology trends in the food and beverage sector.