The basic need for any Quick Service Restaurant is to deliver its orders faster, mostly between 10-15 minutes. Customers expect consistency with speed. The most successful QSR chains use technology to deliver experience with speed. To serve the growing millennial customer base, owners have realised that they need smarter QSR POS systems that go beyond just billing.
Success in the QSR business is about scaling up fast. This implies opening more outlets to capture the growing customer base.
The first thumb-rule for a fast growing QSR chain is a cloud based POS solution. People handling multiple QSR outlets without a cloud-based system are generally handling everything manually. Manual operations take more time and are prone to human errors, increasing the probability of losing precious customers.
What this blog contains : 
Essentials of an ideal QSR POS 

Addressing The Concerns Of QSR owners 

Providing solutions to their problems 

Insights from QSR owners on how technology helped them scale their business
i) Essentials For An Ideal QSR POS 
For a fast growing QSR, an ideal POS solution must click the below checkboxes:
The ideal QSR POS must be a cloud based solution
The POS must be integrated with valuable third party modules that solve important growth problems for the QSR
The POS must provide important data/ analytics to help the QSR owner track growth
The POS must help the QSR owner increase operational efficiency
Apart from these, here are some features that you should definitely look for in your ideal QSR POS!
a) Quick Order Taking 
The first impression that a customer gets of a QSR is not by its ambience but by the ease and speed with which their order is taken. Imagine a situation where you're the customer, and you're late for work. On the way, you decide to pick breakfast without getting late. This is a common situation across the growing urban spaces. This is why you must adopt a QSR POS that enables quick order taking.
Your typical restaurant POS should be able to facilitate the pace, and not hinder it. A cloud-based POS helps QSR's achieve speed and scale without the hassle of managing IT infrastructure. 
b) Online Order Integration
Online orders contribute to a significant share of revenue generated in Quick Service Restaurants. An ideal POS software should be able to provide with integrations that enable the QSR to process online orders. The sources of these orders could be multiple food aggregators, the website or the app. Your ideal QSR POS should be able to segregate these orders on the basis of their origins and identify which source is doing the best for you.
c) Order Preparation
The working of a QSR depends on how well the kitchen is equipped and how well the processes are defined to go from an order to the finished product. Along with that, the quality of food has to be uniform across multiple outlets. Incorporating technology within your brand lets each of your outlet kitchen know what orders are coming, and optimizes the time for order preparation. This way, it's easier for each outlet to deliver faster while minimizing the probability of any human errors. 
The minute your order is placed centrally, it is pushed to the outlet that is closer to the location of delivery. Once that is done, it starts showing in the kitchen of that outlet, with the optimized time that should be taken to complete that order. Along with that, the minute an order is received in that outlet, a delivery executive is assigned to it so that the order is delivered in time. 
Apart from delivery of orders, a Kitchen Display System or KDS also helps in ensuring that an outlet serves to more customers at a given time.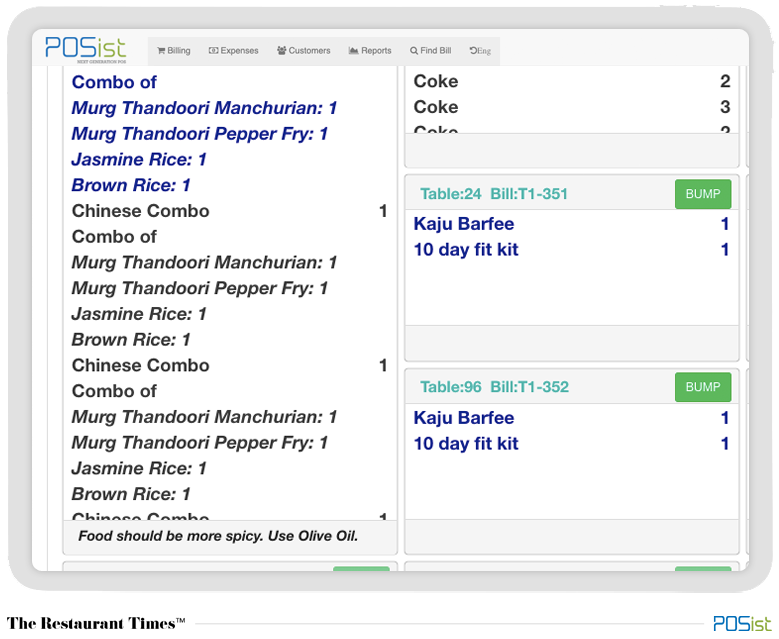 d) Ease Of Use (Easy UI)
A crucial feature that you must look for in your QSR POS is its User Interface. A software with the best possible features might fail if the user or your restaurant staff fails to use it optimally. Taking too much time placing the order, or fidgeting while billing is a great way to lose customers. 
e) Stock Management  
Keeping a regular check on the yield produced each day as well as the variance would lead to an overall better working of your brand. Restaurateurs believe that it is one of the most challenging tasks for them to maintain their inventory and to manage their stock. This is why they often tend to look for a POS that not only lets them know the status of stock at present, but also estimates the stock required for the future. 
An ideal QSR POS should be able to handle the following with ease:
Assess the stock requirements across multiple outlets and gen

Generate alerts when the variance is out of order.

Put out yield percentage at all outlets 

Estimate the stock required for the next day, calculated based on consumption pattern. 
f) Managing Your Central Kitchen 
One of the biggest worries of any restaurant owner with multiple outlets is keeping the central kitchen operations as streamlined as possible. Since the working of the brand is directly dependent on how well the kitchen is managed, any disruption in the functioning of the central kitchen disrupts the brand on a whole.
Your typical restaurant POS should be able to give you solutions like managing your recipe, access stock requirements across multiple outlets and generate purchase orders without any manual input. Achieving a streamlined workflow in your central kitchen would directly help you to make better sales at various outlets. 
ii) How A Smart POS Solves QSR Management Challenges 
For a QSR owner it is important to find a POS system that clearly addresses the major growth concerns. Below are the top growth challenges shared by QSR owners and our take on how technology solves them.
a) Getting Detailed Analytics 
One of the first concerns of a QSR owner with multiple outlets is to always keep up with the competition around. Since the average ticket size in a QSR is not high, one needs to maintain increasing footfall to create solid reputation and loyalty for the outlet in that market. 
Any win or any success takes in a lot of in-depth research, a clear strategy and even more dedicated execution. Getting in touch with Manil Sachdeva, the owner of Sachdeva Confectionaries, we found out how his day got a whole lot better after bringing in his ideal QSR POS. "I have been using Posist at my outlet, and it has been very constructive in my day-to-day operations. It helps us streamline our bulk data and also enables us to view the full display of the menu items and analyze their performance,' says Sachdeva.
A cloud-based POS involves numerical analysis of your competition and your sales at regular intervals. Such a study would help the owner to know what to expect and how to take his/her business forward. 
b) Obtaining Brand-Oriented Data 
Focusing on only one outlet at a time, and ensuring that its day to day operations are in place would eventually disrupt the bigger picture. 
You must ensure to invest in a restaurant POS that helps you attain data that focuses on the entire brand, and not just one outlet. As a multiple brand owner, you can always go and check which outlet needs most of your attention, through the data achieved. 
Managing multiple outlets uniformly is the only way to take a brand forward. The working of only one or two outlets wouldn't suffice the desired outcome. This is why most restaurateurs prefer to standardize their operations through their POS system, everything from order taking to preparation and to their recipe. You must ensure that you choose a software that has all these features readily available for you. 
c) Increasing Sales Of The Low- Performing Items 
Modifying your menu to create effective combos and offers around low-performing menu items is a crucial step to enhance your QSR business. Groupings of combos can be done based on the following:
Low-cost food and high-cost food 

Low performing menu items and high performing food items.
Both of the criteria requires analysis run from the already existing customer data. The frequency of different menu items being ordered is a clear indication of popularity. You can either put them together with your star items or put offers around the low-performing ones.
d) Outlet Level  Marketing 
It has been established how different outlets respond to the same menu and offers differently. Obtaining data centrally and using it for various outlets seems to be an excellent approach to sort this issue. In an ideal situation, your POS should be able to run marketing strategies for each of your outlets.
For instance, a menu item could be more popular at one outlet and might perform low in the other. Generating uniform combo offers across multiple outlets would not be as fruitful. This is why these offers and discounts should only target the low-performing menu items at that particular outlet. 
e) Managing Franchise
As a QSR owner with multiple outlets or even a franchise owner with a couple of outlets scattered across different locations, it is understandable how various outlets react differently to the same menu or the same marketing campaigns. Understanding data coming in from multiple outlets to identify what works for a particular outlet and what doesn't seem to be an excellent approach to scale up your business.  
Apart from giving you detailed analytics and reports from multiple outlets, managing these outlets is also another burden on the owner's shoulders. An ideal POS should provide you with features like automatic royalty invoicing (generated every month) as well as an Expense Debit management through which manages the expense requests across multiple outlets.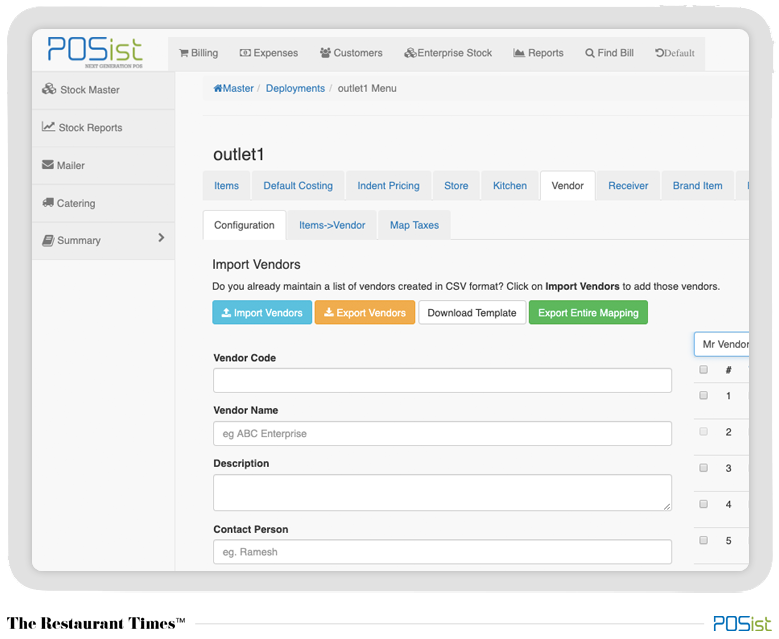 Getting in touch with Puja Bhatia, the owner of The Conical Twist, a QSR in Mumbai, we found out how the enterprise module has helped to scale up their business.
"The enterprise module has helped us manage inventory and vendors to a marginal level. We are also able to use real-time reports for keeping a better track of our staff and other operations. While using Posist, we can positively say it is one of the most extensive software that I have come across and definitely increased our sales," says Bhatia.
What features should you expect in your POS while managing franchise? 
1. Royalty Collection: 
Regular Royalty invoices for each franchise outlet 

Incorporation of taxation or fixed charges as per your brand
2. Debit Management And Franchise Requirement:
Reduces the hassles of reimbursements 

Raises expense requests for reimbursements. 

Allows the franchise outlet to raise several requests, including staff training, branded packaging, etc. 
Choosing the right POS for your QSR is a make-or-break decision for your business. We hope that this post helps the QSR owners make the right choice while investing in a POS solution for their QSR business. In case you have any further query related to the product, feel free to contact us!