NYC.PIE was founded by Mr. Raj Rao, an F&B veteran in August of 2014. Raj worked in the US for 30 odd years and on returning to India, he could not find a stand-alone Pizza place apart from the 5-star hotel brands and felt that he needs to do something about it. NYC.PIE has already gained popularity in Gurugram & New Delhi and is in talks with franchise partners for strategic expansion besides opening some more company-owned outlets.  
In Conversation with Sukriti Singh Rao, Co-founder & Director of NYC.PIE
In an exclusive conversation with The Restaurant Times, Sukriti Singh shares her thoughts on the impact of Covid-19 on the pizza business and how she plans on creating a niche brand in the pizzeria market with NYC.PIE. 
The Impact of COVID 19 on NYC.PIE
According to a Zomato report, almost 30% of dine-in shut during the lockdown and 10% permanently. Sukriti mentions that even though the sales were affected during the lockdown, the business was not adversely affected as NYC.PIE operates on a cloud kitchen model that focuses only on deliveries. Soon after the lockdown restrictions were lifted, the brand also picked up on sales. 
Sukriti emphasizes that NYC.PIE has been maintaining the strictest of hygiene standards and conducts temperature checks every day on the staff. She personally visits the outlets four to five times a week for surprise checks and monitoring.
Upon discussing the factors that helped NYC.PIE build trust among the customers, Sukriti emphasized that along with maintaining a consistent taste it is equally important to nurture your relationship with customers and take adequate steps to ensure that all the negative feedbacks are thoroughly addressed.  
According to Sukriti, for any cloud kitchen brand, the packaging measures must be well taken care of. 
"As NYC.PIE is a thin crust pizza brand, the delivery radius is not more than 5-6km. Even though this may limit the delivery sales but quality cannot be compromised over profits"- Sukriti Singh, Co-founder & Director, NYC.PIE
Along with acquiring new customers, Sukriti says that customer retention is very important for a restaurant brand. NYC.PIE follows strict SOP guidelines and ensures that the entire staff follows these protocols on a day-to-day basis.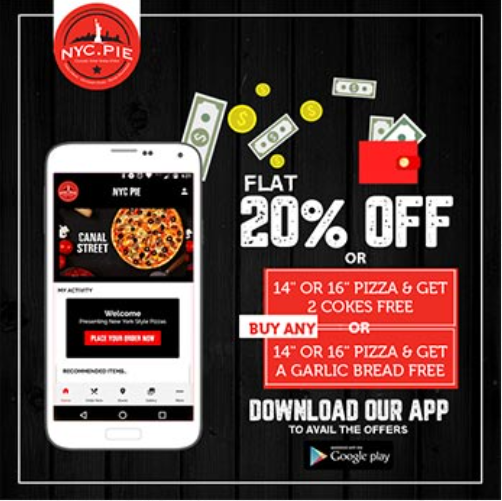 Online Ordering And Cloud Kitchens: The Future of Restuarant Industry
Online ordering seems to be a word that is catching up in the industry as it allows brands to create their own digital presence. Sukriti highlights that NYC.PIE has a great online ordering presence. The brand has its own online ordering app, website, and is readily found on all the major food aggregator platforms. NYC.PIE also has its own fleet of riders to ensure timely and hassle-free delivery to the customers. 
During the lockdown, a lot of brands in order to expand and survive shifted their business to a cloud kitchen model. NYC.PIE too was launched as a brick-and-mortar brand but with the high real estate prices and overhead costs, the pizza brand adopted a cloud kitchen model.
Sukriti mentions that even though a dine-in facility is more lucrative for brand recognition and customer interaction, the delivery-only model comes with its own set of benefits. With less maintenance costs and overheads, cloud kitchen brands can heavily emphasize on marketing and improving the overall quality of their products. 
Sukriti concludes by sharing a strong message to the food entrepreneurs and existing restauranteurs to hold a firm belief in their brand and find a holistic approach towards solving even a minor issue. 
Watch Sukriti Singh in an exclusive F&B Talks session with The Restaurant Times.