When it comes to creating a successful restaurant chain, chef Sunil Chauhan believes he has got just the right recipe in the form of his partnership with Fab India, a brand that has come to be known for his focus on local yet quality products that withstand the test of time.
Chauhan is not a new name in the restaurant industry, he has been around since 1994 as he donned various hats as a chef, partner at restaurants and a consultant for many others. This time around, he is the heart and soul of Fab Cafe which is the product of the partnership between Fab India and him. While the name says it's a cafe, Chauhan envisages the restaurant as a "modern Indian bistro" which is also the tagline of the cafes which are soon going to crop up across the metropolitan cities. The first one was opened eight months ago in Delhi's posh Vasant Kunj area with many more planned in Delhi, Mumbai, and Bangalore in the coming months.  
How Sunil Chauhan is Carrying Forward the Fab India Legacy in Food
The idea behind Fab Cafe is to push forward the Fab India legacy in food as well, he said. This implies that all the attributes that have been associated with Fab India products have to be integrated with the offerings at the restaurants as well – a challenge that he thinks he will effectively be able to overcome because of his long career in the industry.
"Fab Cafe came into being by Fab India wanting to do it and me bringing in the expertise to do it. Out of this, I had to carry the Fab India ideology forward in food as well. When you talk Fab India, you talk local, you talk organic, etc," says Chauhan.
So how do you prepare a food menu that reflects these characteristics? By innovating and tapping into niches that appeal to a certain class of consumers.
"We use very very healthy ingredients which are also organic whenever it's possible. When it came to menu planning, we wanted to be Indian because Fab India is completely Indian. Because of our association with Fab India, the food also has to be prepared with any organic ingredients that we can use," says Chauhan.
Fab Cafe's menu is a wholesome spread of healthy food that has very basic dishes on the face of it but a deeper look suggests that a lot of thinking must have gone into selecting the recipes and the ingredients for everything that's on the menu. This, according to Chauhan, is one of the big differentiators for Fab Cafe. And what are these ingredients?
"We are using grains like ragi, kuttu, bajra, and millets. The food is healthy food. We don't use refined oil. We are cooking with ghee, cold-pressed mustard oil and things like that. We don't use white rice, we use brown rice and red rice. We don't use refined sugar, rather we use coconut sugar, palm sugar, jaggery, and honey, etc," says Chauhan.
The only thing that perhaps brings close to Fab Cafe being a cafe is the coffee on their menu, otherwise, it's an out and out restaurant with offerings for healthy food, for vegans, for people looking for non-dairy options and even for those who are looking to have non-grain meals. This kind of variety in the food, however, comes at a price. The cost of a meal at Fab Cafe could range from Rs 600 per head to Rs 900 per head, a price which isn't certainly pocket-friendly for most.
Chauhan, meanwhile, argued otherwise and said that this price reflects the efforts and the cost of ingredients that go into making healthy meals. He added that the cost of a meal at Fab Cafe isn't too different from any other cafe in Delhi which often doesn't even have healthier options.
So, is healthy food the only reason you should walk into a Fab Cafe?
Yes and no. While there is certainly a push towards healthier menus from other restaurants as well, Fab Cafe thrives on being an interesting complementary experience due to its close proximity to Fab India which means shopping, as well as food, can intermingle. At most places, it is supposed to be inside Fab India or next to it while at others, it can be a little far off from Fab India where the place is not available but that Chauhan said could be useful in establishing it as a standalone brand.
Another thing that differentiates Fab Cafe from other restaurants is its opening and closing timings which are earlier than Fab India's opening as well as later than its closing so that the experience of shopping can be merged with food.
"We are operating from 8.30 AM to 10.30 PM. Whereas restaurants open at 11 in the morning and close at 3 in the afternoon and then open at 7 in the evening and close at 11 at night. We are an all-day breakfast and menu thing. Our food is on from 10 AM to 11 in the night. If you are a late or early lunch eater then you don't have to rely on Baristas or Starbucks to have a meal, basically," Chauhan said.
Quick Expansion
Apart from the Vasant Kunj store, Fab Cafes are headed for a quick expansion across cities. This means more visibility for the brand in the coming days and interesting experiences for those who walk in because of different styles at each outlet.
"We already have one in Kemp's corner in Bombay, the next one we will be opening up in Kala Ghoda in Bombay. We will be opening in Greater Kailash and Green Park. We have almost finalized the space in Connaught Place and Gurgaon also. And we will be doing four in Bangalore before August 2018," says Chauhan.
The larger plan is to open 40 outlets in the next five years, he said. But this kind of growth can be dangerous too if outlets don't drive in enough customers. Chauhan said that this possibility has been taken care of with meticulous research on markets and locations.
We will be able to do it because of my expertise and research and development that has gone into it in the past seven years which ensures consistency in the food that we do.
"If you get Chicken Chettinad here, it will taste exactly the same in Bombay and Bangalore. We are doing it at such a fast pace because we are looking to multiply the format and maintain the consistency," says Chauhan.
While the first priority is to be inside or adjacent to Fab Cafe, the chain can't always find those locations and then Chauhan believes that it has to do the same mathematics like any other restaurant while choosing the location.
"We do our mathematics and P&L before choosing a location. It depends on the rentals, footfalls and other factors, etc. Then we are like any other restaurant which is choosing a place. We would like to be in a place where we see that upper middle class and the educated lot will be able to appreciate more," says Chauhan.
Maintaining the Experience
While it's next to impossible to replicate the same ambiance and experience in each outlet spread across cities, Fab Cafes are doing their best to keep things as close to each other as possible in terms of ambiance. Chauhan said that the idea is to keep a few characteristic elements the same across cities while other things can differ due to constraints such as space or natural light coming in.
"We are planning to keep the ambiance similar, not the same. Each place has its own vibe and its own light coming in. We want as much natural light as possible. The idea and the concept are the same. We are into wooden chairs, for example. We wouldn't change it anywhere," says Chauhan.
For other restaurants, meanwhile, he said that ambiance is not as important a factor as it is made out to be. He said that food takes priority not the place where you serve it and most restaurants have gotten the ambiance more or less right.
"If you were to open a Chowki-Dhani for example, their ambiance would matter a lot because it's a part of the complete experience.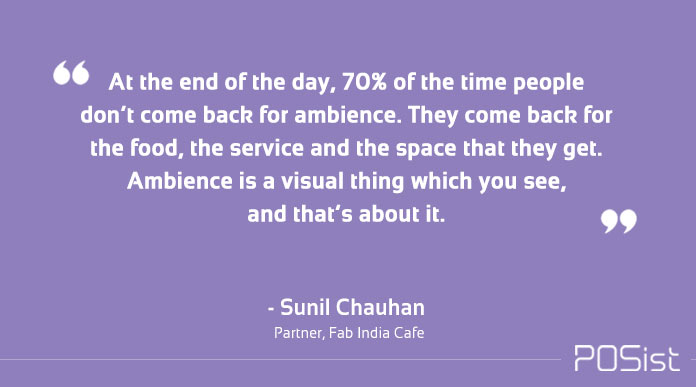 Challenges Abound
While Chauhan believes in his ability to maintain consistency of food across outlets, he said that it was the biggest challenge starting the first outlet and continues to be as the chain expands in different cities. He said that if people do their homework right, then consistency is not the problem.
Moreover, a continuous challenge for the chain remains expanding into different cities and opening the first outlet there.
"The challenge for us currently is expanding into different cities. When you open a new outlet in a city, then you have to mobilize your forces there and you have to study the market there. But if you have your team in place and you know how you are growing, then it's not a big problem. If you are in the catering industry, you know everything about logistics and planning," he said.
Changing the Paradigm
With its differentiating factors and the backing of the Fab India board, Chauhan is looking to move past competitors in the health foods space and offer quality experiences. But his biggest learning in the past few years of being in the restaurant industry has also taught him to not discount the fact that it's only the food which is the biggest driver of repeat customers.
Additionally, he added that service at a restaurant should be top-notch and customers should be treated as if there are guests at your home.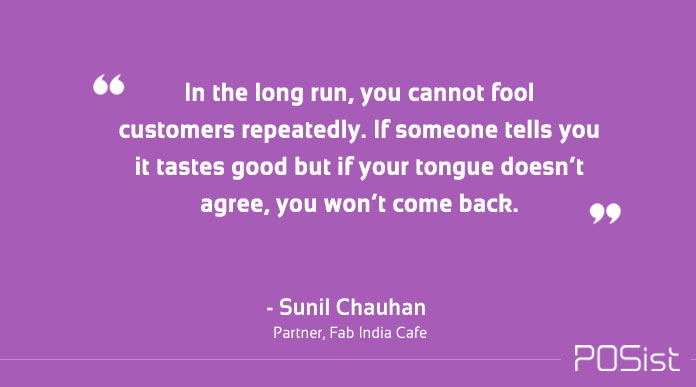 Did Government Regulations Hurt the Restaurant Business?  
Sunil Chauhan is not entirely pleased with the government's moves towards the restaurant industry and his advice to those entering the business is to wait and watch rather than jump in the pool in a rush.
"The industry is in a bad shape with 5% tax and no inputs. The industry has taken a big hit. Otherwise, smaller modules should work with 1000 sq feet or below in terms of space. There is so much competition in terms of options for people to choose from so there's no reason to do a large module unless there's some easing from the government's end. The government has taken some foolish moves so it's not easy to predict if they will course correct soon," says Chauhan.
Another advice to restaurants from his own experience running Fab Cafe and other places is that word of mouth is the best marketing tool for a restaurant.
"We are using Facebook and Instagram etc to drive customers. It works but it works long term. Any marketing works long term. Even if your brand is getting recognized, it's good enough. Social media marketing, you can do it locally, you can target people in Vasant Kunj if your restaurant is there. Social media is something where everyone is involved in some manner," he concluded.