Gujarat holds an immense potential for its already sprawling food industry to go beyond leaps and bounds. In the quest to unveil the underlying current that makes successful restaurants despite Gujarat being a dry state, and with a significantly lower demand of non-vegetarian food, we ventured into having a productive conversation with Rohan Bhatt of SQuare Consulting. He guided and drove us through the various layers, which has cast its both positive and negative impact on the Restaurant and Food Industries in Gujarat.
Rohan Bhatt Gives His Insights On What It Takes to Run a Successful Restaurant
The conversation began where we gained a comprehensive knowledge about what SQuare Consulting does and how it helps the restaurants. Rohan started by saying that SQuare consulting deals with the complete hospitality domain. Their involvement starts right from the development of the restaurants and the hotels, making of the menu, branding the restaurant, setting up the right ambience, deciding the location, handling the operations, to planning on how to generate more customers and increase the footfall in the restaurant. Their main motive is to help the restaurant entrepreneurs in all way possible that would make their operations seamless and help them run a successful restaurant.
Deciding the Location and the Concept of the Restaurant
Deciding a proper location for your restaurant is one of the major factors that decide the future of your restaurant. Rohan stated that when they are deciding the location for a restaurant they make sure that the restaurant location is in close proximity to the main road if not located on the main road itself and it must have a parking area. With these, the locations become a major stocking factor. In addition to this, the restaurant must be customer friendly so it needs to have proper exhaust, proper plumbing, proper electricity and water supply. These are the basic prerequisites that must be taken into consideration while selecting a location. Different formats of restaurant work in different locations. For example, a cafe or a QSR would definitely work better in a high footfall area, like shopping street, college or university area where people are looking for pocket-friendly menu items. On the contrary, a fine dining would work better in a posh area where customers who can afford higher prices are located.
Targeting the Right Audience for Restaurant Success
Rohan went on to say that in Gujarat almost all formats work. However, he delved deeper and stated that Gujarat is a state where a lot of emphases is given to the families, hence multi-cuisine platforms works the best. Since a multi-cuisine restaurant adheres to the needs and expectation of all generation within a family. But slowly and steadily the change and transformation are unfolding itself. But even then families are the main target of most of the restaurants in Gujarat. "If you want good business, you want families to come," he stated.  Couples and friends are of course given due importance, but at the end of the day, the revenue is generated when the entire family comes.
Bringing Innovation to the Menu to Cater to the Demand
One of the major challenges faced by restaurants in Gujarat is to be successful even without selling liquor. Thus, restaurants here try and compensate this by focusing on the variety of food products and try and bring in variations in mocktails, shakes and smoothies. Not only does liquor sale brings in profit, selling non-veg items does it too. Here too, Gujarat lags big time. Although non-vegetarian items are sold, the demand is not very high. Most of the days in a week are designated as vegetarian days, this makes the scope to sell non-vegetarian items very limited.
Rohan stated that restaurant owners do not increase the price of their food product with the cynical intention of compensating the ban of liquor with this. Instead, the restaurants try to bring in new innovations that will glue the customers to the restaurants. Greater focus is given on Starters. Paneer is one of the major raw ingredients in Gujarat. Chinese Starters with Indian spices are also receiving a lot of attention nowadays. Hence, restaurants in Gujarat needs to find out innovative ways to keep the customers hitched. Profit margins are very good if your restaurants are already established, which is approximately 30-35% of the proceeds. So the ideal break-even point is roughly around 24-36 months.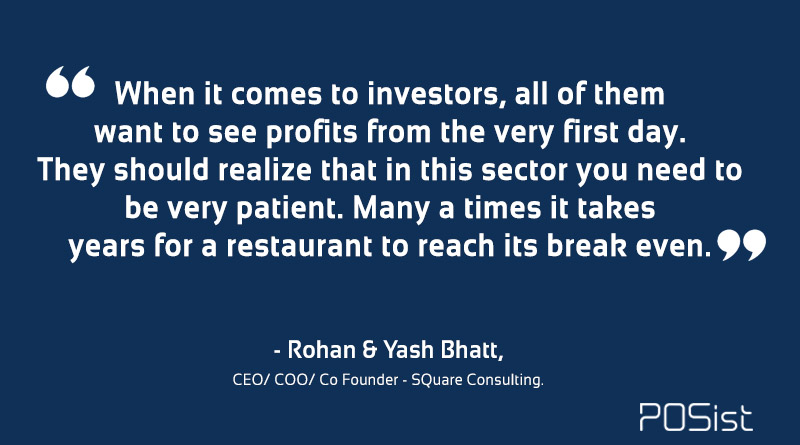 Managing the Restaurant Operations
Talking about the restaurant operations, Rohan did agree to the fact that the rate of theft and pilferage in the restaurant sector is rather huge. He stated that the restaurant owners can arm themselves against these by using proper POS systems.  However, he went on to say that most of the restaurant owners do not understand the positive impact these systems have in the restaurants.  "The owners simply don't care even if they lose a lakh or so in the operations." He said. He did agree though, that in a restaurant business, of course, there will be a little bit of inventory loss, a bit of wastage; after all, it is not a perfect science. However, if people take care of their operations and have proper Costing Sheet and Recipe Sheets, use a well-equipped restaurant POS then theft and pilferage can be controlled.
Importance of Menu Pricing to Achieve Break-even in Restaurants
Another major area where most restaurants make a blunder is menu pricing. The menu prices should be decided based on the Food Cost. Rohan shared an incident about a restaurant project near Bardoli. Square Consultants was hired to analyze why the restaurant was not able to garner profits despite having sales of 6-7 lakhs. After evaluating, they realised that they were selling the items at cheap rates. They were selling their daal for Rs 90, their Hyderabadi Biryani for Rs 130. The cost involved in preparing these food items are a lot more than their menu prices. Hence the restaurant was running into a loss. Ideally, the Food Cost should be 20-30% of the Selling Price.
This clearly shows that in the quest of offering cheaper food prices and to be in competition you simply cannot have menu prices less than their production cost.
Food Trends to Look Out For In 2018
Rohan stated that we will witness a lot of Innovations in the existing product line. Indian, Italian Mexican, Mediterranean flavours are on the rise, maybe a little bit of far east will be incorporated. Oriental will also be focused. Japanese cuisine is going to work very well here since it has not been experimented with all that well here yet. We are hopeful to see a few things vegetarian innovations in Japanese cuisine, for example, plant-made sushi. SQuare Consultants are also working on an Iranian project and it is expected that Iranian cuisine will come up in a big way in the upcoming year.
We signed off with a hope that the Restaurant Industry of Gujarat becomes a tad bit flexible, open to new formats like thematic restaurants, increase their horizon and start relying on the restaurant management systems to run a successful restaurant.