Have you ever wondered how a city with the highest vegetarian population and a city where liquor is banned could possibly have a steady or rather flourishing food industry? Don't worry, we ventured into unveiling this eternal confusion and decoding the ultimate mix that highlights the food industries in Gujarat. On having a candid conversation with Chef Ravi Dua of Makewell Consultants we garnered some valuable insights about the sprawling food industries in Gujarat and the potential it holds for future restaurant businesses.
Ravi Dua Talks About the Future of the Food Industries in Gujarat, the Upcoming Trends, and More!
The conversation began with a look into what Makewell Consultants is, and how they help the restaurants. Ravi stated that Makewell Consultants help in completely setting up of the restaurant. It starts with getting into contracts with young entrepreneurs who are looking to enter in the food industry and then the consultant's scope of work starts with the concept development. After comprehending what the client wants, and considering their budget and their targeted clientele, Makewell Consultants create the concept and develops the quotation. Once this initial process is done, finalizing the locations becomes the major task. While finalizing the location, various things must be taken into consideration, a budget that the client is willing to chip into the project, who are the targeted clientele and which kind of a format they are willing to start. Depending on these the location is decided. For example, if it is a QSR Makewell Consultant will try and finalise a high footfall area whereas if it is a fine dining, a rather posh locality will be selected which has a proper parking space.

The Restaurant Format That Works Best in Gujarat
On asking that which kind of format works the best in Gujarat, Ravi stated, that the people of Gujarat are on the lookout for having long drives that will take them away from the common din. Hence, restaurants on the highway, approximately 20-30 kilometres from the heart of the city, are getting escalated in a massive way.

Popular Cuisines in Gujarat
Ravi went on to say that nothing beats taste in Gujarat. If the restaurant is serving good food, everything else can be compromised. As the conversation flowed, we were compelled on asking as to which cuisines work the best in Gujarat. The answer was quite interesting. He went on to say that the people of Gujarat are food lovers and they are open to experiments. Hence, all cuisines work here and the most successful ones are Mexican, Italian and Thai. People are also keen on trying Moroccan and Lebanese cuisines. Recently, there has been a growing demand for Indi Cuisine in the state as well.

How the Food Industries in Gujarat Flourish Despite the Liquor Ban
When asked about the liquor ban rule in the state and the impact it has on the food industries in Gujarat, Ravi went on to say that the blow is no doubt huge. Since liquor almost gives around 60-70% of the net profit, which cannot be incurred just with the sale of food items. Hence, "After we have finalized the DNA of the restaurant, when we venture into planning the menu we maintain a higher cost if we are targeting a cream clientele, if we are targeting in volume then we consider lower cost so that we can sell in volume. Burger King, for example, has a higher price and  a limited menu, McDonald's on the other hand targets a volume and hence they have to keep pocket-friendly prices."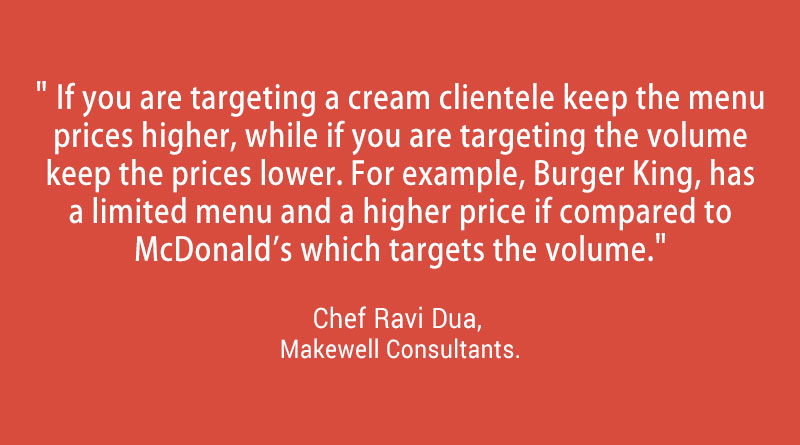 Time Taken to Reach the Breakeven Point in Restaurants
Since we understood that garnering net sales is a major task for the restaurants in Gujrat, our next obvious question was how long does it take for an average restaurant in the state to reach its breakeven point. The restaurant reaches its first monthly breakeven ideally by 150 to 180 days which is around 6 months. And they tend to achieve the investment in 24-38 months which is 2 to 3 years.

Restaurant Franchising in Gujarat
When asked about the restaurant franchising which is a popular restaurant model, Ravi with a rather non-hesitant voice replied that franchising is working tremendously well in Gujrat, even the local brands have started giving franchisee and people are opting for it. However, there is a major problem associated with franchising, that is maintaining the consistency of the brand and the food, and it is here that most franchises falter within 4-5 years of starting. Ravi unapologetically stated, that running an outlet requires one skill and talent which is in no way similar to the skill and talent required to run a franchise. He even went on to say that since most of the restaurant owners have the ulterior aim of creating a brand and then expanding it to a chain or a franchise, the said consultant advises the owner to spend more on branding and standardization. They keep the expenditure on interiors to the minimum so that the model can be replicated anywhere without much problems involved.

Seeking Investment for the Restaurant Business
During the conversation, we also got to know that getting investors for your restaurant is relatively easier in Gujarat. This is because the people in this state have a heavy inclination towards business and they find food industry to have a great profit margin. They also realise that this is one such sector where there can never be inflation. These are the basic thoughts that go behind prompting people to invest in restaurants in Gujarat.

Restaurants and Technology
When asked whether the food industries in Gujarat are progressive when it comes to technology, he said that most of the restaurants in Gujarat, from canteens to big fine dine all opt for restaurant technological systems to make their operations easier. The food outlets select their technologies depending on their usage. For example, the ones which have basic usage they can opt for basic POS while the bigger restaurants can opt for customized POS systems. Hence, almost 80-90% of the Gujarati restaurant sector uses POS systems.

Future Food & Beverage Trends
As we are stepping onto 2018, we enquired asked about the new trends that are expected to make a major mark in the upcoming year. Ravi stated that 2018 will see people diverting to natural food now and a lot of healthy things will come up on the menu. For example, the new trend will witness preparing ice creams and kulfis out of the natural fruit extract. Shakes, smoothies and fresh juices are in great demand and it will grow further since people nowadays are not opting for bottled drinks. Sizzlers and Fondues are coming to the forefront yet again. In beverages also, usage of nitrogen, usage of dry ice will see new heights. Here people have open micro molecular cuisines, but it was not so much of a success since they are expensive and there is no support for liquor revenue. Hence, macromolecular cuisines were not very much welcomed in Gujarat.

After having this rather candid conversation with Mr Ravi Dua, we garnered the knowledge about how the food industries in Gujarat work. Since people here are open to experiments and since there is no shortage when it comes to the investment and we understand the immense potential in Gujarat that awaits to be unveiled in the land of Khakras and Dhoklas!