Like out of a novel, four friends meet again and decide to open a business together. Hunting for a name and identity they land in nostalgia and give their tea-based startup the name of the 'tapri' where they went as college kids. Ramji Chaiwale, a tea chain in Bangalore found it's beginnings in the friendship of Sumit Joshi, Ritesh Agarwal, Shakti Baid, and Vikash Gupta, and the name in the nostalgia that they carried with them.
Currently, Ramji Chaiwale is a household name in Bangalore and is rising at an exponential pace. To get the real grip of this fairytale-ish story, we connected with Sumit Joshi, the co-owner of Ramji Chaiwale regarding the journey of the brand.
The Curious Case of Ramji Chaiwale
Think of India and you think of tea. But this thought is grounded in tea stalls at roadside markets and 'tapris' outside colleges and offices. Then, in a country where there is perhaps more number of tea vendors than all the other drink vendors combined, how did Ramji Chaiwale reach where they are now. To know their complete journey from a single food truck to a market leader in Bangalore read ahead. 
Why Chai? Tea is perhaps the most easily available drink in India, then why have that as your main product?
True, tea is the most easily available drink in India but that is also what makes it such a great market to tap. Currently, in India, the value of the tea market when quantified is approximately 10 Million but most of this is in the unorganized sector. Almost all QSRs that enter this industry are tea-based but they are experimenting with different innovations in tea. What Ramji Chaiwale offers is a route back to your roots with desi Kullad Chai which is always freshly brewed with the surety of quality and hygiene. Apart from that our outlets are not just about tea but about the spirit of it combined with different snacks that you can have with tea only if you grew up in India. Chai-Pakoda, Chai-Maggie, Chai-Samosa, all these are predominantly combinations that everyone in India has an affinity to and a memory of. Our USP is not simply tea but the experience of it but with a newfound freshness and under hygienic conditions. Our menu, thus, is not limited to tea, but to these snacks as well. 
With the rising number of QSRs entering the tea market, how do you plan to survive the culling? What is your strategy to differentiate Ramji Chaiwale from the rest?
Our freshness is the answer! Everything that we serve to our customers is freshly made on order. This is not just our strategy to rise up but also what differentiates us from all the other QSRs. Usually, QSR kitchens are less of kitchens and more of assembling units. Our case is the opposite. We actually prepare every item fresh in our kitchen and that is what gives us a unique and preferred place in the hearts of our customers. Apart from that, we have been continuously innovating with our products and menu. In the last one and a half years we have been adding products to our menu and improving our existing products base on customer feedback. We began with 3 types of teas; at this point, we have at least 9-10 varieties. The same is the story for our food menu. I believe what actually differentiates Ramji Chaiwale is that we actually give our customers what they want.
What were the initial challenges that you faced in the industry and what lessons did they teach
The initial challenges for us were not those of a QSR store but that of a food cart because that is the model we started with. We were a food truck for one and a half year and that is the model on which we developed our product. The challenge we faced was adding items in the food truck model which is what made us shift to the store based model and the journey of Ramji Chaiwala as a QSR started.  The challenge that came with this move was ensuring consistency in quality. It took a lot of hard work and even some hits and trials to maintain the quality and consistency of that quality as we scaled from store to store. The lesson we learnt with Ramji Chaiwale was realizing our own flawed perception of the food industry. The unique thing about this industry is that there are barely any barriers to entry, anyone can enter and start a venture. Because of this, we assume that there are no challenges anywhere in the industry. The challenges come when you are scaling up and the most difficult part is retaining what you came with. That is something Ramji Chaiwale has always strived to achieve.
From beginning to now, what evolutions have your business, marketing, and financial strategies undergone?
For the business strategy, evolution has been initiating delivery. From a complete store model, our business model has cultivated a store and delivery attitude with a 40% target focus on the delivery fund and 60% on the storefront.
Financially speaking we have always had the same strategy for every store starting from the food truck in fact and that is self-funding. The four of us (four childhood friends and partners) completely self-funded the food truck. From the profits from that truck, we went to open our first store. For every store, we have done the same thing. We make completely sure that we reach breakeven at a single store level before actually going ahead with the next one. Each store then gets its initial investment from the previous one and then works towards the stage of self-funding. That is how Ramji Chaiwale has reached the place where it is at right now. Yes, the responsibility and financial obligations have increased but the financial strategy is still what it used to be.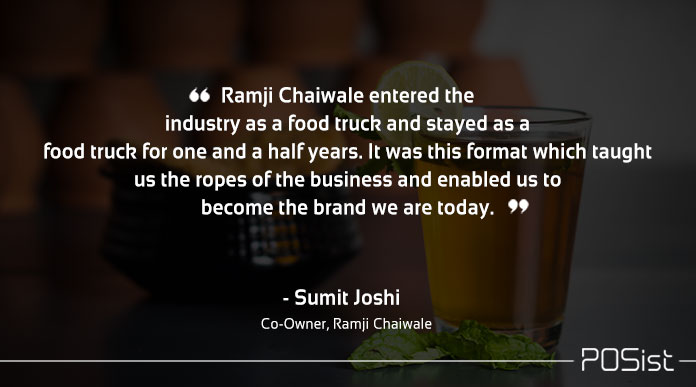 When we had just started, our marketing strategy was totally 'Word Of Mouth'. We were looking at a more customer-centric marketing strategy which did pay off in more than one way. That is also how we developed our products- through customer interactions and feedback, but most importantly that is how we got more and repeat customers. As we expanded, we felt the need for a more comprehensive marketing and branding strategy.
From just word of mouth we moved to social media marketing and created a digital identity for Ramji Chaiwale. Now we take online feedback, respond to customers, manage the Ramji Brand and yes are moving up with marketing as we expand.
What is Ramji's approach to its growth and what is its expansion strategy now?
Ramji Chaiwale has been developing at a very fast pace. Within a year of opening our first store, we already have six different outlets in Bangalore. The plan by the end of this year is to expand to 20 outlets in not just Bangalore but also Delhi, Mumbai, and Calcutta. As far as our growth rate is concerned with Ramji Chaiwale, the growth has been exponential and our average growth rate right now is somewhere around 70-80%
Given that expansions are underway, what innovations should the customers be expecting?
As the brand is evolving we are looking towards standardizing our place and products. The first five outlets that we had were based on a QSR model but the sixth one is more premium. We are moving from a small QSR segment to a premium segment as we go on expanding to improve our customer experience. Now Ramji Chaiwale will not just be a takeaway joint with some sitting but primarily give the customers a seating option and enough seating space along with having the takeaway option but for the same price.
With an expansion of this level, management is always an issue. What is Ramji's strategy to handle the operations in these expansions?
For our brand, we have been adding people as we go. As we kept expanding we kept adding people and those people became a part of the Ramji family and are the key focus of our management strategy. We have created our management strategies based on the division of work among these people. As we are four partners, we have each taken the responsibility of a part of the country. There we will oversee management which will extend to the current team and then go down in this manner in the HR hierarchy. The whole team is responsible for the smooth management and this team is growing.