With the highest smartphone penetration rankings, Asia is fast growing as the digital center of the world. Singapore has earned the top spot among the APAC countries with the highest mobile penetration. More Singaporeans are now turning to their smartphones to discover, explore, and buy, giving brands an excellent opportunity to tap these micro-moments that are relevant touchpoints across the customer's journey. With more consumers searching for restaurants on smartphones, restaurant marketers in Singapore need to identify the micro-moments to deliver a seamless experience to customers. 
How Singapore Restaurants Can Build Seamless Experience For Customers By Tapping The Micro-Moments 
'Coffee shops near me', 'Restaurants serving wanton noodles', 'Thai Cafe's Location', are intent rich, I want-to-know, I want-to-do, I want-to-go, and I want-to-buy moments, that Google refers to as Micro-Moments. Leveraging Micro-Moments in Restaurant Marketing strategy helps restaurant operators to identify customer needs and form meaningful connections with them. This article on Micro-Moments marketing for Singapore restaurants will help marketers and restaurant operators to recognize the buying motives of their customers. It also provides elementary tips that will help in building remarkable customer connections and delivering a consumer-friendly experience.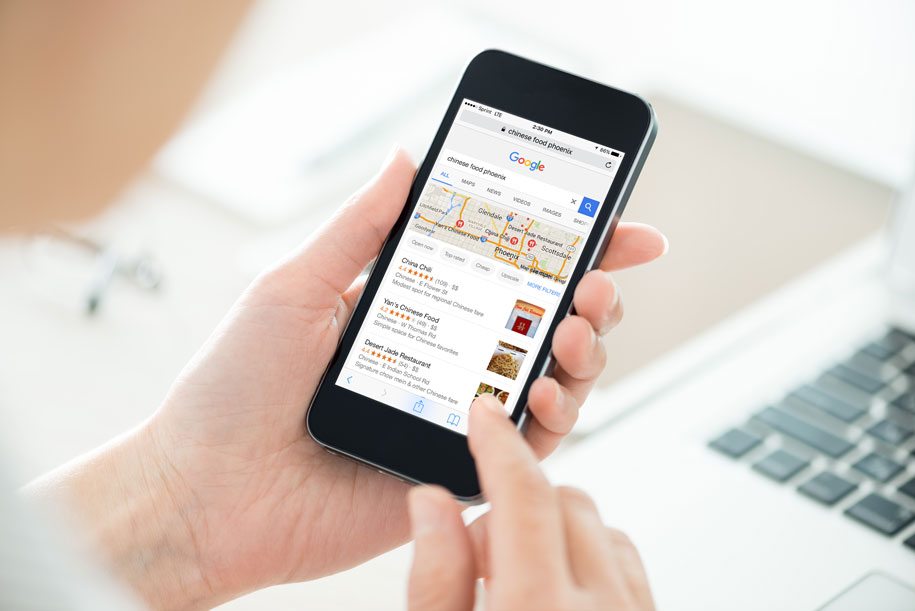 Optimize Mobile Search
According to Google statistics, 96 percent of Singaporeans have used their smartphones to gather information before buying a product or service. Given the high mobile penetration in the country, these statistics readily indicate that restaurateurs in Singapore need to build a robust mobile presence for their restaurants. Creating mobile-friendly content widens the audience reach and increases customer engagement with your restaurant brand. 
Begin with finding the search terms customers are using to find your restaurant brand with the help of keyword research tools such as Google Console. Ensure that your restaurant's website is optimized for mobile devices. Update your brands' mobile app by adding relevant keyword searches, optimize the user interface for different mobile operating systems and tweak its user interface for better engagement. 
Integrate Social Media With Geo-targeting
Geo-Targeting, or local PPC, is the practice of advertising or delivering content to local prospects. For restaurant businesses in Singapore, using geolocation techniques can be a smart move to reach out to the customers who are in the vicinity of the restaurant's location. 
In Singapore, Social media users account for a total of 4.6 million. Along with running geolocation ads via the search engine and mobile-friendly sites, integrating Social Media in your geo-targeting strategy would help in reaching a broader audience. 
Social media apps like Facebook and Instagram are enabled with location services. It is easier for restaurant marketers to track the real-time location of the users and deliver different content or advertisements specific to their site. Wise utilization of social media and geo-targeting helps restaurateurs to reach out to potential customers at the right time. 
Upgrade The Marketing Campaigns With Voice Activations
Voice technology is gaining popularity among the users and businesses are now utilizing its potential and benefiting from it. A survey suggests that 'best' is one of the most common keywords in voice search phrases. Optimizing the search results by adding voice inputs makes it more personalized. By implementing voice technology, you can streamline different functions of order management and provide easy navigation to customers. Voice-enabled features in the restaurant owned app or website can help your customers place orders with better accuracy. Determine the questions your customers might ask in these micro-moments and provide a seamless experience to them. 
Identify The Micro-Moments 
Restaurant Brands can leverage micro-moments by firstly identifying the needs of customers at various search levels. Is it the I want-to-know moment where customers are discovering your brand and want to know more about it? Or is it the I-want-to-go moment where customers are looking for different ways to reach out?
Understand the definite needs of your customers and make it easier for them to communicate with your brand. Elevate their experience by delivering information that supports their needs at the right moment. Also, define your content across different channels and devices to create a seamless experience for your customers. 
Tips For A stellar Micro-Moment Strategy
Update online restaurant business listings with the right information.  

Optimize the keyword strategy for both desktop and mobile devices

Deliver relevant content for various micro-moments needs such as :
Make it easier for your customers to find you by setting up location extensions

Add contact information to allow your diners to reach out to you in case of any inquiry

Keep the table booking process straightforward by pre-populating the reservation form

Provide a visual tour of your restaurant with high-quality images of restaurant dishes and interiors. 

Establish credibility with the customers by featuring online reviews of your restaurant below webpage search results.
The future of restaurant marketing dramatically depends on capturing micro-moments. Establish high brand equity by adopting micro-moments targeting in your restaurant's marketing strategy and win more customers!