To do justice to a legacy that started half a century ago is indeed a daunting task for anyone and that's exactly what Aamir Siddiqui set out to do a year ago when he opened the first-ever fine-dining Karim's restaurant in the posh South Delhi area.
In Conversation with Amir Siddiqui of Karim's
While Karim's is known for the humble yet massively popular outlet in Old Delhi near Jama Masjid where people throng all day to savour their favourite delicacies ranging from niharis to mutton burra, the outlet in South Delhi offers all that and even more in its menu while still retaining the look and quality of its parent entity in the old city.
Speaking to The Restaurant Times, Aamir Siddiqui explained that since he was always interested in the industry given his father's restaurant business abroad, he decided that he would bring introduce the charm of Old Delhi to rest of the city as it's not generally easy to negotiate crowded lanes in that part of the city.
"We tried to focus on bringing the real Karim's food to South Delhi. We wanted to create a good ambience where we needed to filter a few things. We wanted to create an experience for people where they could comfortably sit, eat and enjoy the Mughlai taste of Karim's offerings," he said.
He further added that he thinks of his outlet not as a franchise but as a joint venture.  
"It's not a Karim's branch, it's a joint venture with the owner of the original Karim's in Old Delhi," he said.
According to him, what sets it apart from being a franchise is the fact that it's a fine-dine version of the original restaurant. At the same time, it offers much more variety on its menu for the customers and all the food is cooked in-house at the restaurant without having any base kitchen or relationship with the original Jama Masjid establishment.
"We have added a few items to the menu as well like seafood, salmon, fish tikka. We have also expanded a little on the vegetarian side and increased starters there. A few non-vegetarian items which aren't available at any other Karim's are served here like chicken malai tikka," he explained.
Going Beyond the Usual
Those visiting this outlet conveniently situated in Sultanpur on MG road will notice that it has a very lavish mocktails menu as well which range from a paan flavoured drink to a chatkara mocktail that is created out of tamarind, jaggery and roasted cumin without any premade syrups or ingredients.
All of this, however, comes at a price. The prices at this outlet are a tad higher than those at the Jama Masjid one but Aamir Siddiqui insisted that it's not a fair comparison because a lot goes into pricing the dishes and that means that each restaurant could have different prices based on their location, services and offerings.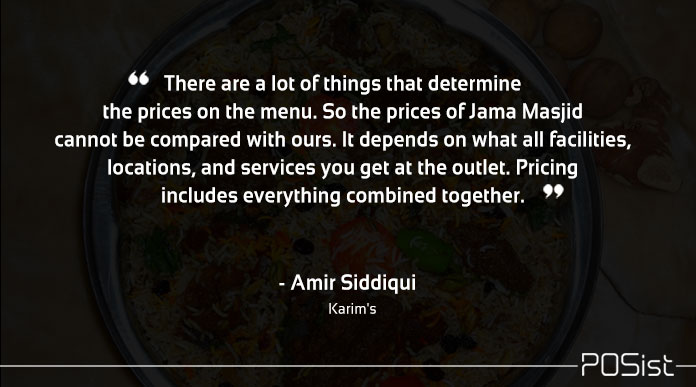 For example, if you eat in Khan Market, you would be paying according to what Khan Market provides you. If you eat in some other place not as expensive, of course, the bill would be different and lesser," he said.
While he agreed that Delhi is a price sensitive city and a few customers compared their rates with the Jama Masjid outlet, most of the customers don't mind the increment because they understood the value of the experience. Aamir Siddiqui also insisted that their outlet is much cheaper than competitors like Moti Mahal or Punjab Grill.
Even then, the differentiating factor of the outlet remains the brand name as well as the variety of authentic Mughlai dishes on the menu which one is unlikely to find at a lot of other places in Delhi.
"What we have on the menu is something you won't find anywhere. This is the typical Mughlai dishes that we are talking about. We have Nihari, Korma, Chicken Changezi which aren't available in most restaurants. We are totally different from the competition. Everyone knows the brand and it has a very good value to it," he said.
Customer Remains the King 
Even then, the restaurant doesn't take a lot of things for granted and Aamir Siddiqui said that they place a lot of importance on customer feedback. From selecting dishes to be added to the menu to getting insight into the service quality, the outlet uses tablets on each table to provide customers with a feedback form which allows them to adapt accordingly.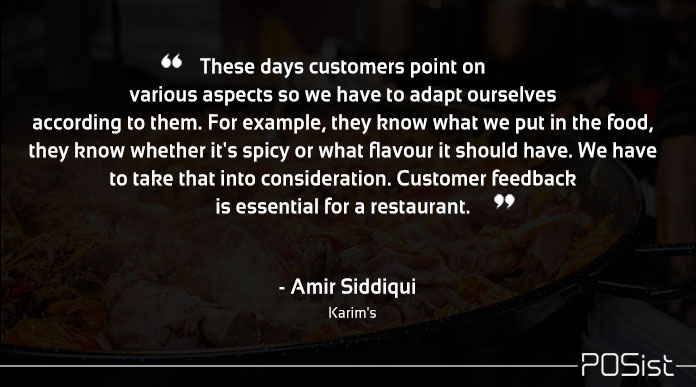 Apart from tablets, he stressed upon using technology inside the establishment and said that its importance can't be overstated.
At the same time, it's important to keep the customers coming in, no matter how good the location or food is which makes marketing incredibly important for every restaurant – even the ones with a big brand name.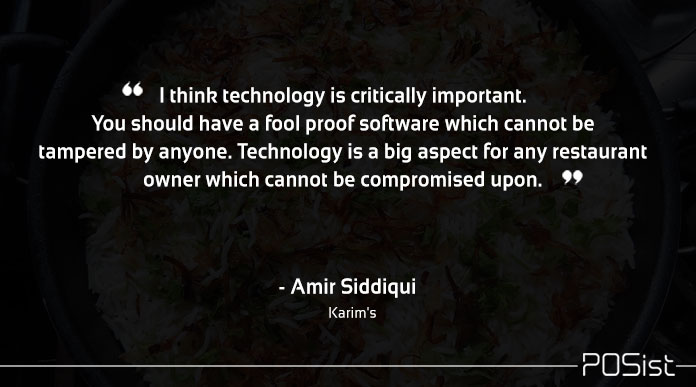 "We use a variety of marketing channels including print newspapers, pamphlets, Zomato marketing and social media, of course. For us, pamphlets are the most effective as they are comparatively cheaper and drive a lot of people in the outlet," he said.
However, fast growth and good feedback from his customers haven't gone to Aamir Siddiqui's head as he seems intent on making sure that he gets the current venture right before taking on a new project.
"We want to ace the current project and then we will think about expansion," he said when asked about their growth plans.