Professionally a sports person, Yudhveer Singh achieved great recognition in karate in his early life. After retiring from sports, he worked as a manager in a few restaurants in Ghaziabad that gave him perspective about what consumers want and expect from restaurants. This made him realize that there were limited places in Ghaziabad that gave youngsters the opportunity to sit back and relax. His determination, skills and past experience enabled him to establish his own food business, The Beer House Cafe.
Yudhveer Singh who owns the cafe believes the new place is going to be a trendsetter. "The lack of cafes and bars in Indirapuram motivated me to introduce such a place to the Trans Yamuna people. The Beer House Cafe is not a typical bar; it's a place where you can chill, relax and have fun. It not only caters to the elders but also to the youngsters. Creating a space for people of all age groups was the biggest inspiration behind The Beer House Cafe.'
In Conversation With Yudhveer Singh Of The Beer House Cafe
The Beer House cafe is a bold and varied venture where one can choose to either unfurl, party, or indulge in social gatherings. The ambiance of the cafe emphasizes the classic modern decor, suitable for corporate meetings as well as social groups and late night musical sessions.
In an exclusive conversation with The Restaurant Times, Yudhveer Singh talks all about his venture and his expansion plans.
The Story Behind The Beer House Cafe
According to Singh, The Beer House Cafe is a lounge bar, a pub that every great neighborhood deserves. The flavors are soaked up from around the world with several trails, tastings, and a whole lot of innovation.
'We project some of the world-renowned 30+ beer brands in our little space that we fondly call as a "Beer Paradise". We've spent our entire life in learning everything there is to know about a beer that's bold in flavor and light on compromise. You'll get some of our exclusive beer on tap wholly raw and unpasteurized for maximum freshness and flavors. Our menu consists of the best of local and international beers, wines, and spirits with unique cocktail choices for a late night bash over pints with friends and taps that continue to flow' says Singh.
Not An Easy Ride
According to Singh, there's a lot that can go wrong between the design phase of building a microbrewery and the first sip to hit a customer's lips. Brewing an array of beer requires many steps that include accurate portions, actual timing, and a whole lot of science. It is important to have an idea of the beer production to get an accurate estimate for the cost of the equipment that will be required to hit those target production goals.
'Keep in mind that there are going to be many other things to factor into your overall brewery cost calculations, such as the building, employees, brewing supplies, marketing, and much more,' says Singh.
It is well known that location is the key factor that decides the success of a restaurant brand. Even a floor difference can affect the success of a brand, and this was a major challenge the Beer House Cafe faced. 'We have our outlet located on the first floor, and restaurants on the first floor do not generally have a good footfall. We added '@ 1st floor with our brand name', to make people aware that whenever any new outlet will be opened for the beer house cafe, it will be on the first floor.
Singh turned a seemingly poor location into a brand strategy, and The Beer House Cafe is now known as a bar that is located on the first floor and has also been well received by the customers.
Managing The Bar Inventory
According to Singh, maintaining the bar inventory management should be handled to a particular team who will solely take care of the bar, as there are a lot of problems like theft associated with bar inventory. 'It is essential to make sure that the bartender should never have access to the inventory management software and process. If an employee is stealing, he can certainly use this as an opportunity of taking the inventory to revise and record false data so that it offsets prior thefts,' says Singh.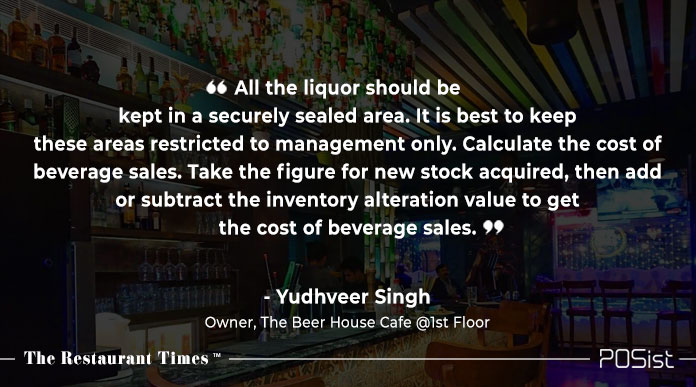 Ensuring Staff Happiness
According to Singh, in the world of business, keeping customers satisfied and retaining them is vital for continued success. The employees who deal directly with the customers are the ones responsible for your guest experience. Keeping your staff content with the company and preventing them from looking elsewhere is essential for reducing employee turnover and for ensuring customer happiness.
From the restaurant manager to the bar manager, everyone should be given equal opportunities. Providing them ownership for the work they are doing is important as this will instill a sense of independence in them, and will make them work more diligently. According to Singh, to craft these relationships, workers must do more than just the bare minimum and create connections with the individuals they serve. While staff management cannot enforce the building of relationships, you can select employees who appear open and willing to build relationships for certain job roles.
Menu Engineering
According to Singh, menu engineering sounds too complicated for many aspiring restaurateurs. Marketing signs, alluring photos of foods and fascinating characterization and descriptions have always been a part of the menu engineering. In today's digital culture where people have shorter attention spans, paying attention to the design elements and advertising approaches of the menu is critical for augmenting revenue and profit.
Menu engineering takes things a bit further by summarizing techniques and comprehending consumer research to motivate customers to buy higher priced items or move items that don't sell as well but are essential to keep on the menu because they attract customers. Analyzing the market, understanding the likes and dislikes of people as the most critical bit leads to a good menu. 
Including Healthy Food In The Restaurant Menu
According to Singh, not every restaurant is going to abandon its current menu to offer sprouted bread with organic butter. However, this doesn't mean that they can't start offering healthier options along with the existing menu. To promote healthy items on the menu, there are many steps that restaurants can actually take to build a better menu, including using terms like luscious, delicious, and fresh in place of healthy.
'We are launching a drink called Kombucha, it was launched in January, and it is a healthy drink. Kombucha is a food beer cum health drink. It is rarely found in India, and we got to know this through effective market research,' says Singh.
The staff can also help move healthy menu items, just as they would if they were upselling drinks and desserts. When asked what their favorite dish is or for a recommendation, they could promote a (secretly) healthy item rather than the steak or burger.

'We are coming up with a new project and we are hiring a nutritionist who will prepare a separate menu that will comprise of food which is healthy and tasty as well. He will be responsible for creating a complete balanced diet menu. Also, this menu will have a column where every dish will be assigned a particular beer that will go with the food and hence create a balanced diet for the customers', says Singh.
Singh concludes by saying that he is planning to open one outlet of The Beer House Cafe every year around Delhi, Lucknow, and Pune.