As a restaurateur, generating more profits out of your business is your primary concern, any given day. The hard way to do that is to work more hours, cover more shifts and include more into your menu! On the other hand, the smart way to achieve the same is analyzing your restaurant data in real-time and making better decisions related to operations or finances. A real-time inventory tracking system helps you to achieve more along the same lines. 
Analyzing your restaurant performance, sales and wastage that leads to a rise in your food costs help you take better data-driven decisions to increase your revenue. Especially when there is a considerable amount of money involved in setting up a fine dining restaurant, you can't afford to take any more risks. 
Instead of placing your purchase orders based on your estimated calculation or plain guesswork, you can now order exactly how much you need. Tracking numbers of wastage has a direct impact on your food costs.
Apart from these, there are so many ways in which real-time inventory management aids your fine dining's planning and decisions. Dig in to find more! 
How Real-Time Inventory Management Helps To Better Manage Your Chain Of Fine Dine Restaurants 
As mentioned, the real-time inventory management system can be a real game-changer for your restaurant. What you need to take note of is that it is only technology after all! You need to support the technology and understand it well enough to make full use of it. It would be best if you stuck to the processes of your real-time inventory, like updating it regularly or adding the details of your stock and wastage correctly. Without your input, your real-time management system can not function to its maximum potential.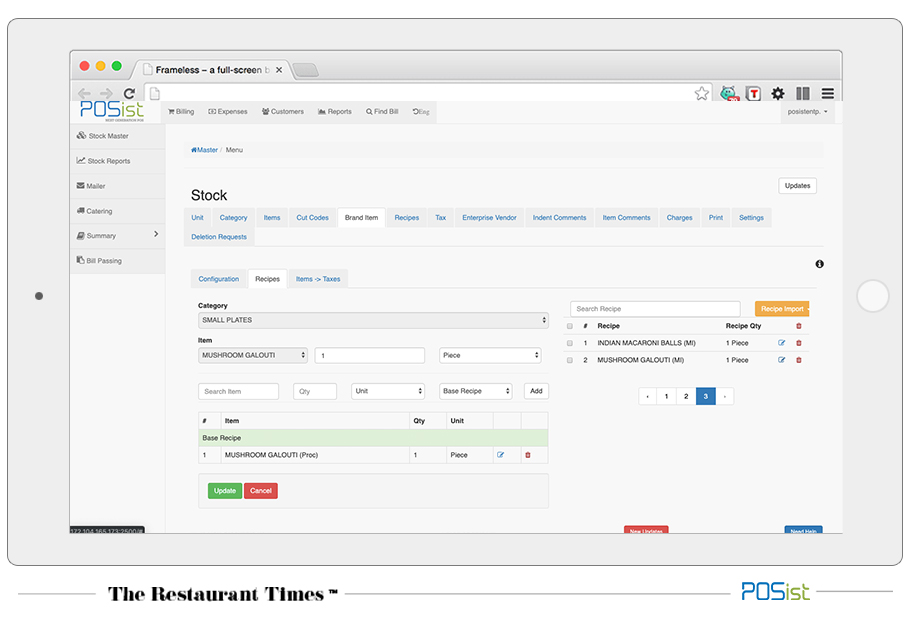 If you consistently adhere to the processes, incorporating a real-time inventory system is a sure bet for your restaurant. However, here are six ways in which you can make more money, just by analyzing the fine dining restaurant's data in real-time! 
1. Manage Your Drinks Better!
Fine dining restaurant differs from other restaurant formats on various things. One of the most crucial differences is the inventory. Since fine dining restaurants tend to serve alcoholic drinks along with premium meals, lack of management of their stock costs them more bucks than any other restaurant format. 
Especially when we talk about microbreweries or fine dine restro-bars serving top branded alcohol to the customers, we must understand how real-time inventory tracking can be a lifesaver for them. 
As a restaurateur, you must be familiar with cases of liquor theft, or unavailability of a particular brand of alcohol at peak hours. Such situations not only embarrass you in front of your customer but also might cost you a loyal customer!  
Keeping an eye on your drinks inventory in real-time, therefore becomes a necessity. Real-time inventory tracking helps you with setting the right frequency of reordering your stock when required. You can set a threshold limit with the help of your restaurant inventory management software, below which it automatically places a purchase order of the same brand of alcohol until changed otherwise. 
2. Real-Time Inventory Helps In Menu Engineering 
Customers of fine dining restaurants tend to come back for the kind of service and overall experience that they had at your restaurant on their first visit. While trying to give them the best possible service, you must also offer them something unique, keeping them hooked onto your brand. You could try introducing a new drink for every season. Make them so innovative that your customers wait for your surprise drink every season. But how do you figure out what the customers might want every season?
Well, ask your inventory tracking system. Since you have tracked down your customer's data in real-time, you can experiment by introducing a new dish in your menu for a few days. Based on how your customers respond to it, you can change or replace the drink.  
3. Less Wastage! More Money! 
Adopt a minimal stocking approach for your fine dining restaurant, especially in case of perishables. For fine dinings, less is more. Everything from your food portion on the plate to your stock purchase is kept in check.
Once you start following this strategy, you will understand the kind of dent wastage can have on your overall restaurant revenue. Minimizing wastage should be one of your primary concerns for any restaurant format. Keeping a check on your inventory in real-time helps you minimize wastage by identifying its root cause. 
4. Stock Yourself Better Using Real-Time Inventory 
Managing inventory is not a cakewalk. Most restaurateurs would agree that a well-strategized inventory is the first step towards making better decisions. Using real-time inventory makes your kitchen items go on a first-in/first-out basis. This way, you can keep track of what needs to be reordered. You could also set a reorder threshold level for each of your items. Working on such accurate numbers helps you increase your restaurant revenue like no other! 
5. Shelf Life Management 
Restaurants that stock lower shelf life raw materials need to work more on their shelf-life management. For instance, desserts and cakes in a fine dining restaurant, contain dairy products that are prone to go bad sooner than you would expect. The freshness and taste of a recipe are highly dependent on the quality of raw materials, which is why shelf life is a critical aspect for restaurants. 
Using your real-time inventory management system to track the expiry dates of all your raw materials helps you never waste on overstocking again. One feature that you should look for in your POS is Bar Code Management. Bar codes are not only for billing purposes but also to streamline your inventory tracking operations. You can easily capture the expiration dates of your raw materials using Bar-Code management feature in your POS. 
6. Tighter Vendor Integration 
Maintaining a tighter relationship with your vendors by placing orders electronically, and preventing errors by allowing you to receive your order confirmations are all a crucial step towards better inventory management. An ideal real-time inventory management system helps you keep track of variances in your stock, i.e. the difference between the perfect and actual stock consumption. 
You will get notified about any such wastages in real-time, and thereby your decision-making processes are quickened. Along with that, it simplifies your purchase orders by automatically reordering your stock after it reaches a certain level. 
All in all, getting updates about your inventory in real-time certainly helps you take better data-driven decisions. Moreover, you don't need to rely on social media or other online platforms to keep up with consumer trends. Your data will tell you everything! What you need to keep a note of is that no technology can be entirely useful if you don't update it regularly and accurately.