The COVID-19 pandemic has changed the food industry forever. Trends like food delivery have been reshaping the restaurant industry. As more customers began ordering food online, third-party delivery applications became increasingly popular. With the increase in restaurant deliveries, completely new delivery and takeout business model has evolved. Dark kitchens are highly efficient production units that don't have a storefront and are designed for delivery. Dark kitchens consist of premises where food is prepared for home delivery but do not have a dining area or waiters. The costs of maintenance, labour, and eating area rentals are thus removed, reducing overheads and allowing for more direct interaction with customers. 
Selling meals exclusively through delivery through Dark Kitchens is a concept that has proven its effectiveness in the post-pandemic scenario. Dark kitchens helped restaurants to continue operating despite bans on diners accessing their facilities. With new limits on operating hours and stricter hygiene and distancing requirements, restaurants are starting to reopen for dine-in customers.
So don't anticipate the ghost kitchen model to go away anytime soon. However, there is a cost associated with everything and so it is with dark kitchens. With lower start-up costs and improved sales, there are certain drawbacks along with the benefits. 
Setting Realistic Expectations In Ghost Kitchens And Understating The Challenges Faced By Them
Here are the key challenges faced by dark kitchens in the United States.
1. Dark Kitchens Don't Fit In Every Situation
While delivery opens up a whole new audience, that doesn't imply you can just set up a ghost kitchen anyplace and expect orders to flow in. As a dark kitchen owner,  you're not a tangible part of the community as a traditional restaurant is, which means you are not surrounded by our target market and it is harder to build that trust among new customers with a new idea.
Similarly, building a dark kitchen too far away from where your target consumers live and work will lengthen delivery times, making orders for those located more than 3-5 miles distant, less appealing. Third-party delivery providers can supply you with a platform with active users, but it's a crowded market. To stay ahead of the competition, you'll need to devise a strategy.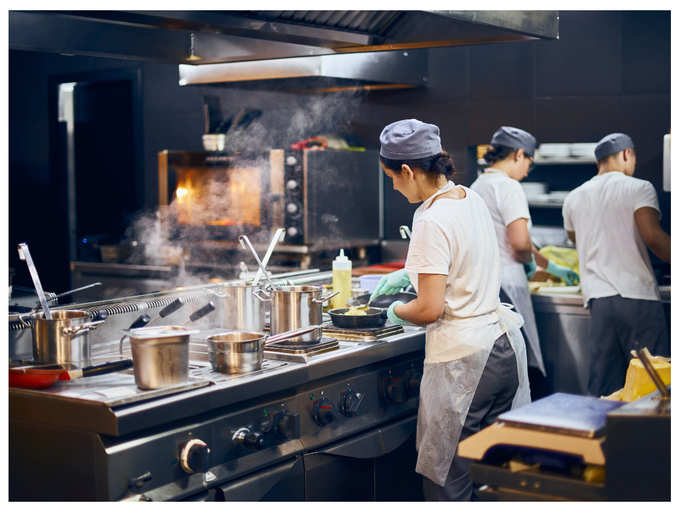 2. Dependency On Platforms For Delivery
Dark Kitchens struggle with being fully dependent on delivery platforms. Depending on third-party delivery services such as ChowNow, Uber Eats, Postmates, and GrubHub, comes high fees that can eat into your profit margins, and you have little control over last-mile delivery, which can compromise food quality and jeopardize your brand.
Offering your own delivery service is one method to combat this, but this comes with increased marketing expenses and logistical challenges. One example of a dark kitchen beating this challenge is Kitchen United, a Google-backed start-up, which plans to open more than a dozen delivery kitchens across the US this year. 
3. On-Demand Staff 
With ruining a dark/cloud kitchen, you are more inclined to hire on-demand staff to take control and manage more work and it helps you keep costs down. While this can help you save money on full-time employees, there are certain limitations. To some, it may feel more like working in a factory than in hospitality because workers would not be interacting with customers or receiving tips.
Of course, there are other methods to increase morale and inspire employees, but building a brand culture may be more challenging if you are not recruiting the best foodservice talent. 
4. Food Quality And Food Safety
When you're a delivery-only business, your reputation hinges on the food arriving in excellent shape. Keeping the food at the appropriate temperature so that it reaches the consumer as planned presents major problems. Not only should it be at the correct temperature for them to enjoy it, but it should also be safe to consume. Look into different packaging and invest in good quality containers so that your food is in good hands until it reaches the customers.
Another important part of running a delivery-only restaurant is keeping track of food costs. Incorporate a standard food cost system and invest in a strong POS system that maintains a track of inventory stock, records transactions, analyses the hidden costs of food waste and overstocking. 
5. Look Out For Local Regulations And Licensure
Local health departments regulate food production to a significant extent and often have different standards and regulations. Regulators are unfamiliar with cloud kitchens since these kitchens are so new. It is possible that they might impose unreasonable demands on you or treat you as if you were a full-service restaurant.
When seen through the lens of operating a ghost kitchen, the legal challenges that restaurant operators face are exacerbated. Corporate formation, leasing issues, and local ordinances and regulations are some of the key areas that you would want to look into. 
In addition to these three major factors, when you grow and transform your business into a ghost kitchen, you'll need to be careful of franchise disclosure requirements and trademark registrations, among other things. Furthermore, you would almost certainly need to get various licenses or permits from local authorities in order to carry out the ghost kitchen's operations in different regions which can include business operations, alcohol permits, etc. 
6. Real Estate Prices In Metropolitan Areas 
Delivery-only kitchens can take advantage of their "virtual" nature while metropolitan real estate costs continue to rise. However, the only stipulation is that they must be within reasonable delivery distance of a sufficient number of hungry consumers. Companies like Kitchen United, which is based in Pasadena, California, are focussing on light industrial areas outside dense urban centres but near enough to satisfy the demand of residential areas.
Cloud kitchens first appeared in the early 2010s in reaction to rising rents in city centres and increased demand for high-quality food delivery.  Green Summit Group opened one of the first cloud kitchens in New York City in 2013 and has grown to four locations across two cities. The emergence of millennials with disposable income who expect digital, mobile-friendly solutions is driving the trend. Ghost kitchens aren't going away anytime soon. There is a lot of opportunity in the market if you take the time to plan effectively, get the right technology in place, and market your business properly.