With the UAE restaurant industry going all tech-centric, many restaurateurs have considered shifting to cloud kitchens. The COVID-19 pandemic has only accelerated the transition from conventional to technologically advanced restaurant management methods. According to the UAE PRIME report published by Posist, around 70 percent of the restaurant professionals were interested in investing in cloud kitchens.
Although cloud kitchens quickly became a reality, managing the diverse operations running simultaneously in the kitchen required a coherent approach. A cloud kitchen software is crucial to streamlining and centralizing operations. Thus, cloud kitchen software falls into the category of 'essentials' when it comes to the smooth functioning of cloud kitchens.
Key Features To Look For In The Desired POS Software
An advanced POS software must cater to all the back-of-the-house operations efficiently. This article puts forth the things that should be considered when buying new cloud kitchen software. 
1. Payment Terminal And Easy Billing
The payment terminal is one of the basic features you need to look for in a cloud kitchen software. The software should enable a seamless experience for the customers at the time of payment and enable secure transactions across multiple payment modes anywhere in the UAE. Besides, the right POS should also facilitate easy billing, making end-of-day reconciliation easy for the cashier. Prevention of long queues for billing and sorting out bills faster than the conventional methods is an added advantage.
2. Web Ordering/Mobile Ordering
The ordering experience should become more efficient as a result of implementing cloud kitchen software. The latest software comes enabled with web ordering or mobile ordering features which are a must-have. A robust POS system would print instant KOT (Kitchen Order Tracking) and integrate online and offline orders, assisting in better scheduling and smoother deliveries. Furthermore, keeping in mind the COVID-19 safety norms, the right POS software should also be equipped with QR code ordering, digital menus and other contactless dining features to instil confidence in customers.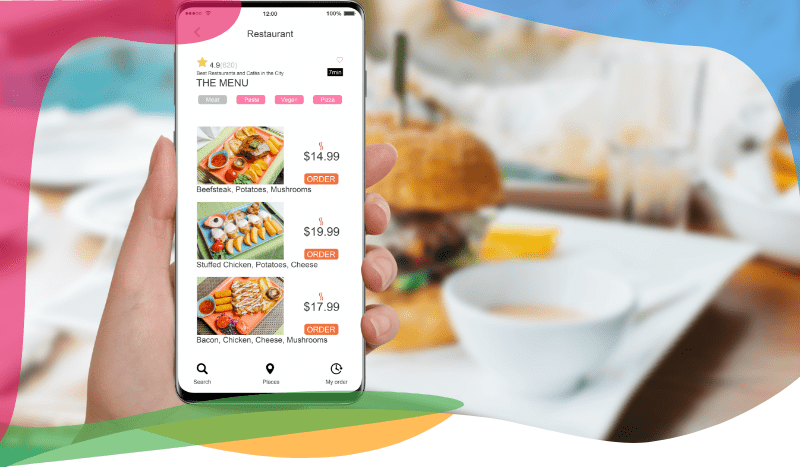 3. Mobile Analytics And Anti-Theft App
While looking for a POS software, it's advisable to choose one that works even on smartphones via applications or browsers. Mobile POS apps are an essential feature as they support portability and give managers full control over restaurant operations from anywhere and anytime. A good mobile POS app should have the following features:
Live outlet count: The app should keep track of what outlets are open and provide updates on order volumes in real-time to keep a check on the working hours of different outlets and manage the staff accordingly.
Total bill, sales and items sold count: The app should provide detailed reports regarding bills generated at each outlet so that it's easy to determine how much revenue each outlet contributes to the bottom line. Furthermore, maintaining the count of items sold out at every outlet is another feature a good app should have. This will help streamline your menu and inventory management.
Track discounts: The app should be able to track and analyze discounts given by your restaurant staff across all outlets, which will help you protect your profit margins and detect theft. 
Customer Details:  Tracking the order history of visiting customers and sales during peak and non-peak hours can help in segmenting customers and offering tailored discounts and promotions.
Anti-theft alerts: The mobile POS app will additionally provide the anti-theft feature by sending alerts in suspicious cases like KOT or item void, false complimentary punching, reprint of receipts, etc. 
4. Central CRM, Call Center Panels And Marketing App
Cloud kitchens are a hidden business with no physical outlets, due to which it is important to grab every opportunity to promote the brand or menu. A good tactic to enhance popularity is providing good customer service. A cloud kitchen software with a centralized customer-relationship-management (CRM) collates the customer data from various outlets into a unified dashboard.
This customer data can range from ordering frequency and favourite items, i.e. the most popular items, average order size, birthdays, marriage anniversaries, etc. The collection of data helps in adopting improved marketing strategies to attract more customers and reach out to existing customers through the marketing app. Call centre panels further provide 24×7 customer support to keep the customers delighted and satisfied. 
5. Stock & Inventory Management
Stock & inventory management is one of the most crucial and challenging tasks of running a restaurant, and carrying it out manually can be cumbersome. A restaurant should not be short of or have rotten inventories on a busy day. The absence of robust inventory management software may hinder the restaurant's growth, profitability and take down its image as well. 
Therefore, the stock & inventory management feature of cloud kitchen software assumes added importance. It keeps a check on inventory count, provides real-time updates about how much inventory is left, and sends alerts when the inventory needs restocking. Restaurateurs should certainly look for this feature when they buy cloud kitchen software. It is beneficial for streamlining inventory management, cuts excess inventory costs and makes restaurant operations easier by automating them. 
6. Open To Third-party Integrations
As the advent of COVID-19 has coerced restaurants to switch to online ordering and delivery services, it has become indispensable for restaurateurs to integrate delivery apps or food aggregators in UAE like UberEats, Deliveroo, Talabat, into their web and mobile portals. So, cloud kitchen software needs to be designed for easy integration and efficient utilization of data. 
Third-party integrations are essential not just for food deliveries but also for payment facilities. For example, contactless payment has become a priority in the restaurant industry amidst the coronavirus. Now, it is vital for the restaurants to integrate digital payment channels or e-wallets present in the UAE to facilitate seamless, contactless and secure payments.
Cloud kitchens are on the rise in the UAE. Adopting efficient POS software should thus be the number one priority for restaurant professionals in the country. Look out for these features while buying the POS software to reap the best returns on your investment.