UAE has seen extensive growth in the restaurant industry in the past few years and just when we thought that's all, the influx of cloud kitchens proved us wrong! A cloud kitchen is essentially a restaurant kitchen that accepts delivery only orders and has no dining-in facility. Customers place their orders online through the online food aggregator apps or the restaurant website or app. According to PRIME (Posist Restaurant Industry & Market Evolution) Report UAE Edition, 70% of dine-in players are willing to invest in cloud kitchens.
Growth Of The Food Delivery Segment And Cloud Kitchens In UAE
Considering the growing demand for online food delivery, restaurant operators in the UAE are now preferring to open a cloud kitchen instead of a brick-and-mortar restaurant. The low cost of experimentation and lower risks further encourage both new as well as established restaurateurs to venture into the cloud kitchen business.
On the other hand, several cloud kitchen operators and Kitchen as a service (KaaS) providers have also come up in UAE that provides the infrastructure, equipment, and utilities to facilitate the operations.
For instance, in the year 2017, Deliveroo, the London-based food delivery service, launched a new kitchen concept in Dubai. It was the first-ever remote kitchen that provided shared kitchen space for free to some of the famous restaurants such as, Burger and Lobster, Clinton St. Baking Company, and Joga. This collaboration enabled these restaurants to deliver to the places they couldn't serve before.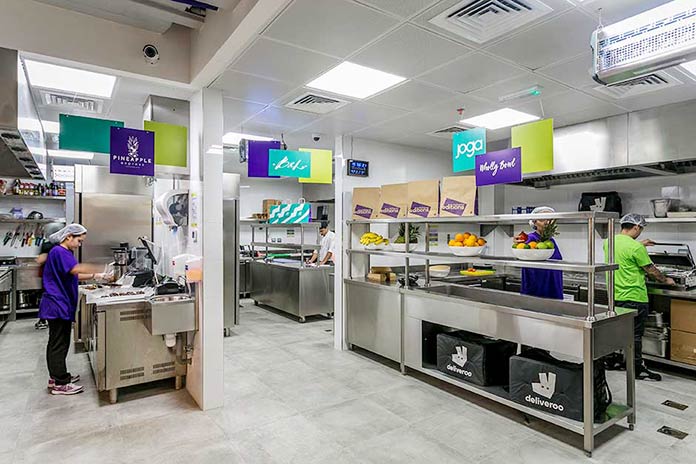 Image source: The Gulf News
Why Cloud Kitchens Have Become The Most Favored Restaurant Format
Low costs, saving on the overheads, and lower risks along with the growing demand have made cloud kitchens one of the most favored restaurant formats.
1. Savings On Infrastructure
The infrastructure cost for opening a restaurant is quite high but the cloud kitchen concept has helped in controlling it. Considering the high rentals for a good restaurant located in Dubai, cloud kitchens have an edge over the brick and mortar restaurant as the cost of the real estate drops down significantly. One can modify this kitchen unit as per the requirements for optimizing the food-making process.
2. Faster Service
If you have cloud kitchens all over the city the food can be served warm and fast with a much lower delivery time. This is known as "distributed cooking" which cloud kitchens can make use of. Also, cloud kitchens collaborate with food aggregators and delivery apps or websites to deliver food to their customers. This gives them more time to concentrate on preparing the food. Altogether, this makes the delivery service much quicker.
3. Nominal Food Price
Operating a cloud kitchen is more affordable than running a fully operated restaurant, where infrastructure and operational costs require a heavy investment. This helps cloud kitchens in the UAE make more profit and set nominal competitive rates, which attracts more customers. They do not compromise on the food quality yet provide a full meal at a nominal cost which people love and keep coming back for!
4. Easy Ordering
Cloud kitchens have made it easier for people to place an order. They often collaborate with third-party delivery apps or websites or have their own platform where people can place an order from. Ordering food is a common practice in Dubai with more than sixty percent of people preferring to order food via an app.
5. Low Risk, High Profit
Cloud kitchen is a low-risk yet high-profit business. The initial investment required for starting a cloud kitchen is quite less as compared to a brick-and-mortar restaurant. This makes opening a cloud kitchen a low-risk business. It gives restaurant operators the flexibility to experiment and cut down on the overheads, making it a profitable venture.
Cloud kitchens are fast capturing the FnB market in Dubai, and the food delivery sector is expected to grow at a rate of 6% annually and this is set to continue for at least the next five years.