The alcohol laws may be strict in UAE, but that shouldn't stop the bar owners from making attracting more customers and making profits! Promoting and marketing a restaurant and bar in UAE is even more necessary since not every restaurant may be serving liquor owing to the strict regulations. Thus, proper bar promotion and marketing is essential for running a successful restaurant in UAE. You need to make tourists or the Non-Muslim residents aware that you are licensed to serve liquor by the government, and people can enjoy a drink or two at your bar. Except in a few cities like Sharjah, it is legal to consume alcohol in UAE.
Excellent bar promotion ideas will get people talking and bring you more business; therefore we have curated a list of some buzz-worthy bar promotion ideas that will help you draw in more customers.
Bar Promotion Ideas To Encourage More Footfall In Your Restaurant And Bar
Bar promotion is all about getting creative and is an excellent way of making people aware of your bar and the arsenal of liquor you have to offer!
1. Marketing Your Brand
In UAE, you are not allowed to put up billboards displaying liquor or promoting the same. This makes it difficult to promote any deals or Happy Hour offers that you may be running to encourage the sales of your bar.
Thus, the best way of promoting your bar is to market your entire restaurant brand and promote the deals or the venue without explicitly mentioning the sale of alcohol. You can market your restro-bar as a fun place, with the ads displaying the vibe of the bar.
Once the guests start flowing in, you can then display the offers at your restro-bar itself. You can put up display boards and tent cards to advertise your special deals inside your restaurant premise.
It is an excellent way of broadcasting your bar and attracting more crowd to it. Mainly there are two ways you can market your brand first, is through online promotions and second, offline promotions.
Iris lounge and bar, located in The Oberoi Hotel, Dubai is a great example of how they attract customers. They do not post pictures promoting alcohol; instead, they post pictures of upcoming events and encourage people to come to visit them.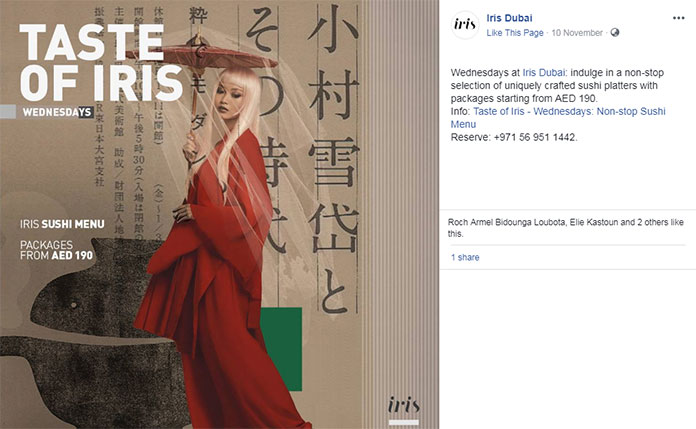 2. Registering On Online Restaurant Listing Sites
It is essential that you capitalize on the online restaurant listing and review sites such as Zomato and Tripadvisor to reach out to the people who are searching online for bars. This would especially help you attract the tourists and the non-residents who resort to Google to know about the restaurants and bars. Remember to add your restro-bar in the Drinks and Nightlife, and Bars and Pubs category so that your potential customers know that you serve alcohol as well. Also, include your drinks menu so that customers can view your selection of drinks as well.
Similarly, you can reach out to online food magazines and blogs so that they may cover your restaurant and bar in their list of 'Top restaurant bars in Dubai' and similar posts.
3. Collaborating With Food Bloggers
Collaborating with Food Bloggers is one of the most popular bar promotion ideas that is also high on ROI. Since food bloggers post pictures of the food and drinks and write reviews, they increase the reach of your restro-bar without explicitly advertising the sale of liquor at your bar.
This is a great way to tap the local audience as well since the followers of such food bloggers are usually residents.
Invite food bloggers and social media influencers to your bar and ask them to review your offerings. You can also host a bloggers' meet at your bar, especially if you're adding a new menu special and ask them to cover that in their blog.
4. Hosting Events
UAE is a famous tourist destination where people are continually looking for an excuse to have a fun time and events are one such excuse!
You need not host big events; something as common as a Ladies' Night can get you enough crowd. Events are a great way of promoting your bar and creating a buzz around town.
Some of the promotional events you can host at your bar are:
Celebrating anniversaries

: Completed five years in the food and beverage industry? It is a reason to celebrate! Host an event and send invited to people through email and SMS. Offer a discount or a free drink for your guests.

Host a famous bartender/chef

: You can invite a renowned bartender/chef to your bar and post about it on your social media. Having a big name associated with an event helps lure in more people.

Organizing a theme night

: Hosting theme nights is a fun way of engaging people and promoting your bar. Organize a disco night or have people dressed as celebrities. You can also make a competition out of it and reward the best-dressed person with a discount coupon or a free drink (alcoholic or non-alcoholic).

Wine tasting sessions

: These sessions are great if you wish to host a quite yet classy evening. You can have people come in for wine tasting sessions and have a gala time. People enjoy such events as they are refreshing.

Host a band/musician

: Treat your guest's ears with some good music. Host a famous band or a musician who can elevate the entire atmosphere and get your customers grooving.
5. Having A Diverse Menu  
Since in UAE, there are only a few options for people to drink and eat at making sure there visit is worthwhile will undoubtedly pay off.
Having a diverse menu with tons of options to choose from will definitely work in your favor. Have an exquisite array of drinks to choose from as this will satisfy every customer's taste buds.
A diverse menu will get people talking and even before you'll know, you would be the talk of the town. Along with the drinks offer a unique variety of snacks as well, this would help increase sales and also attract more people.
Always remember, people are there for a good time and would loathe hearing "no" for an answer; therefore have an assorted menu that caters to everyone. More extensive the choices the better it is for your bar's publicity!
If you own a bar in UAE, consider yourself fortunate! The competition in the Gulf's beverage (alcoholic) industry is relatably low which provides a great opportunity for the bar owners to promote their bar and attract more customers.
These bar promotion ideas aim to equip you with the best strategies that will help you lure in more people. Try them out, and see the footfall at your restro-bar increase!