Singaporeans love their food. The country, famously known as the Food Capital of Asia boasts of a rich and diverse culture which reflects itself in the food that we eat. On the streets of Singapore, Indian, Malay, Italian, Chinese and every other cuisine comes together to create a platter of experiences being served in hawker markets and fine dining alike. Naturally, it is tempting to open a restaurant in such a fulfilling industry space. Here we have for you a step by step guide that you can follow in order to open a restaurant in Singapore.
A Step By Step Guide On How to Open a Restaurant in Singapore
Here we have laid down for you all the technicalities of navigating through the process of how to opening a restaurant in Singapore.
1. Planning The Restaurant Business
Now that you have decided to open your restaurant, it is time to understand that it is no joke to run one. The market is rich and competitive, the rentals are high and survival is only of the fittest. So the first step to open a restaurant in Singapore will be to plan it for success. Take out a pen and paper and start charting out the details. What will be your USP, who is your target audience, what type of menu will you serve, which market do you want to tap, how much can you invest- pen it all down in the form a business plan.
This will give you a solid foundation to build your restaurant on and give your thoughts and investments a clearer direction. This business plan is for internal use only and will act as a guide map for you. All the future decisions that you take will be based on these factors and writing them down as a business plan will allow you to make investments with a higher rate of return and take risks which are calculated and to your capacity.
To understand more about planning your restaurant business, read 7 Elements of a Successful Restaurant Business Plan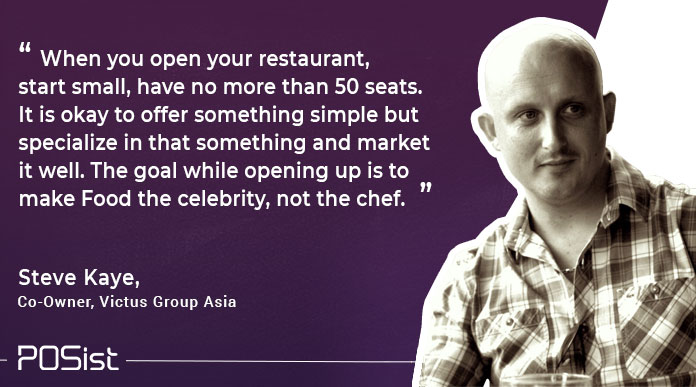 2. Raising Capital For The Restaurant
The next step to open a restaurant in Singapore is planning where you will get the money from. Until and unless you have deep pockets, entering the Singapore restaurant industry can be a little taxing. Food costs, rent, and labor costs are typically high and due to the high cost of living, depending on the size and format of your restaurant, these things can cost you anything between 50,000 to 600,000 Singapore dollars. In this scenario, the most common rookie mistake is compromising on the location thinking that the level of food can make up for it. This is a fatal mistake and we do not suggest compromising on the location to save cash.
Instead, what you must do is look for alternative methods of investment. You can go for angel donors, look for investors for your business, enter a partnership where your partner can bring the money or raise capital from the bank. Apart from that, there are a number of incentive-based schemes that the government is running to promote entrepreneurs in the F&B Industry. You can go through them and check if you qualify to avail the benefits of one. Click here to know more about the incentives being offered by the Singapore Government to the F&B Industry
3. Incorporating The Restaurant As A Company
Now coming to the third step, you need to incorporate a company that will further own the restaurant. This may seem unnecessary but truth to be told, it is one of the most important steps in the longer run. From an accounting point of view, the owner and the company are seen as two separate entities. Thus setting up a company will limit your own liability in case the restaurant turns out to be an unsuccessful venture.
You can apply to incorporate your company by simply visiting the 

Accounting And Corporate Regulatory Authority's Bizfile Portal

. If you are a local Singaporean with a Singpass, this is all you need to do. This will cost you about $300.

If you are a local Singaporean without a Singpass, you must first apply for a Singpass and then incorporate your company. You can apply for your

Singpass here

.

If you are a foreigner or have a foreign partner who wishes to work with you in Singapore, they will first need an Entrepass. You can apply for the Entrepass with the

Ministry of Manpower

. After getting the Entrepass, a Singpass will be required before the company can be incorporated.  
4. Deciding The Location
Next is identifying the location of your restaurant. While charting out your business plan, you must have narrowed down your target audience, your USP and your competition. Now based on all three, you must select your location. The location must be such that it is in close proximity of your target audience, where your USP can stand out and competition is minimum, but if you are the only restaurant of your kind in a market do some more research and figure out why no one else has tapped that market area. Sometimes no competition is also a sign of a bad location.
Now coming to the legal aspect, before you sign the lease and take the responsibility of paying rent, you must first be sure that you can even open a restaurant. There are a lot of regulatory approvals to be obtained before you can go ahead with opening the restaurant which means that you will need a landlord who will hold the location for you based on a Letter of Intent. A Letter of Intent indicates the parties' intention to engage in a rental transaction at a particular amount. You may need to set up a deposit and be prepared to lose it in case you cannot open the restaurant.  
5. Getting The Planning Permission
This is something that you may or may not need to do. You will need to apply for planning permission for your premises to be used as a restaurant if the given premises are being converted to new use as a restaurant. This means that if the premises did not originally belong to a restaurant that you may be taking over, then you will need planning permission. If the premises were earlier being used as a restaurant this step is not required. You can apply for Planning Permission by visiting the linked website.    
6. Code Of Practice Of Environmental Health
In order to open a restaurant in Singapore, you must comply with the Code Of Practice Of Environmental Health. Section 3- Food Retail Outlet specifies what all you will need to follow in order to get the food shop license. Before starting to apply for the licenses, agree with your future landlord to make any renovations which may be necessary to the premises in order to comply with the code.  
7. Review Property Owner's Fire Certificate
This is perhaps the most overlooked step when setting up a restaurant business. You must check the owner's fire certificate for the premises. Restaurant kitchens run the maximum risk of starting a fire which makes this one of the most important documents to have. The owner of the property should have a current fire certificate from the Singapore Civil defence Force which will certify that the property meets basic fire safety standards. The Fire Safety Certificate is renewed annually by the SCDF Inspections. Failure to have the certificate is an offence for which the owner of a premise can be persecuted.
If the premises were not being used as a restaurant before the owner may not have the certificate. In this case, insist that the owner gets this certificate before you sign the tenancy agreement for your restaurant. If the owner leaves getting the certificate to you, factor in the costs and negotiates for it in the rent. Obtaining a Fire Certificate is a lengthy process which may take up to months. You can obtain a Fire Permit or Fire Safety Certificate for the interim.       
8. Licenses Required to Open a Restaurant in Singapore
Now that your premises are set, the next step to opening a restaurant in Singapore is to get all the required licenses. Here are the details of all the licenses you may require.
(i) Food Shop License
Food Shop License is the most important license that you will need in order to open a restaurant in Singapore. Obtaining the license may take anything from a few weeks to months depending on whether you need to renovate the premises to meet NEA specifications. In case a restaurant operated in the premises before you took over, the previous license holder will need to write to NEA to cancel his/her license before yours can be issued. In the process of issuing the Food Shop License, NEA will-
Inspect The Premises

Specify requirements that you must comply with

Invite you to pay the license fee
A lot of documents are required in order to obtain a Food Shop License some of which may even take months worth of time. On the NEA website, you can see the List of Documents Required in order to obtain a Food Shop License. Here is the link to apply for the Food Shop License. Once you have opened your restaurant, you will need to renew this license annually.
(ii) Basic Food Hygiene Course
You will need to sign up to this in order to get certified for all food handlers before you open a restaurant in Singapore. A link to the application portal is here.
(iii) Liquor License
You need to apply for a Liquor License only if you plan to sell alcohol on your restaurant premises. There are several classes of the license. In order to get a liquor license, you will have to the Singapore Police Force (SPF). Click to know more about Liquor License.  
(iv) Import Food Ingredients
If you want to import any ingredient for your restaurant in Singapore, you will first have to get an import/export license. This is referred to as customs account which you can get from Singapore Customs. To know more about obtaining a Customs Account, click here. Once this is set up, you can apply for Import Licenses from the Agri-Food & Veterinary Authority of Singapore (AVA) to import ingredients for your restaurant. You can apply for Import Licenses from here.   
(v) Halal Certification
This again is an optional license which you need to require only if you plan on serving halal meat. In order to get Halal certification, you need to apply to the Majlis Ugama Islam Singapura (MUIS).  Apply for Halal Certification here. The process for Halal Certification is long and may take over months. The requirements for the license include but are not limited to only serving dishes or using ingredients that are halal-certified, hiring at least two Muslim staff members who must obtain halal training certificates, giving at least one of the supervisory position and giving MUIS the final authority over these hires.  
Here is a detailed guide explaining how you can get the Halal certificate for your restaurant.
(vi) GST Registration
When you open a restaurant in Singapore, you need to register your business for a 7% GST once it starts earning annual revenue of S$1 Million. With the new budget, the GST has been hiked to 9% but the law has not been practically enforced till now. You need to register with IRAS for the payment of Goods and Services Tax. you can do so by going to IRAS website or clicking here.
(vii) Signing the Tenancy Agreement
The tenancy agreement should be signed towards the end stages of getting the Food Shop License when it is clear that the license will be issued to you. The term of the lease for restaurants is ordinarily at least 2 years. You must also ensure that the agreement contains the clause that if the property is sold, the sale will be subject to your tenancy.  
9. Hiring Staff for Your Restaurant
Hiring staff is one of the biggest challenges that restaurateurs in Singapore's food industry face today. Local Singaporeans are not too keen on getting jobs in restaurants and because of government quotas, foreign talent cannot be indiscriminately hired. This makes hiring the correct employee a herculean job. Here is how you can create a Human Resource structure for your restaurant. 
Because of high labor costs, make sure that you only hire the best talent. You may actually have to shell out above industry rates or even let managers have a share in profits to keep them around. The attrition rate is also not low which makes retaining employees all the more important for you. Make sure that the person you are hiring is passionate about his/her work and is not in it just for the money. Given that radio mentions or ads in a local newspaper are costly and job portals mostly yield foreign candidates, you can go for headhunting from other establishments. For a better pay and work environment, employees do not mind the shift. There are several procedures to open a restaurant in Singapore. 
Any staff that you hire will need to have or obtain food hygiene certificates from NEA. you will also have to apply to the Ministry of Manpower to obtain work permits for your foreign staff. Apart from that, you will need to register for Central Provident Fund (CPF) and Inland Revenue Authority of Singapore (IRAS) for payment of their CPF contributions and reporting for their income for income tax purposes respectively. To register for CPF, click here and to register with IRAS, click here. In the case of foreign workers, you do not need to set up a CPF but you need to pay  Levy.
10. Getting the Restaurant Equipment 
Once all the formalities needed in order to open a restaurant in Singapore are done, up next is purchasing the restaurant equipment. It is always more practical to buy larger, more important equipment like ovens, freezers, grillers, stoves, etc. first. For this, you can either consider buying from standard F&B Companies or even buy second-hand machinery. If you plan to buy your equipment second-hand, make sure that it is in good working condition. Because of the number of restaurants that close down within the first few years, almost good as new equipment can be obtained at dirt cheap prices.
For restaurant standard utensils, Temple Street is the place. Sia Huat and Lau Choy Seng are two favorites of restaurateurs and chefs. Catering to the local food industry, if you mention that you are in the F&B Business, they will even give you a 20% discount. 
Here is a list of restaurant equipment that you would need to run your restaurant.
11. Getting The Necessary Technology
Now that all has been set, the final most important thing that you will need before you open a restaurant in Singapore is good restaurant technology. Invest in a POS that will make handling business easier for you. A POS that can not only give you precise reports regarding the days business but also tell you about your staff performance inventory so you that you can keep your food costs as low as possible. 
Opening a restaurant may seem like a tedious task because of all the formalities required but actually, the processes are not too taxing. If done right, you will be able to open a restaurant in Singapore in no time. Just follow these procedures to open a restaurant in Singapore and watch your dream of owning a restaurant become a reality!