It takes more than a vibrant location, eye-catching décor, and delicious food to run a restaurant. No business can be successful without going online these days. In a pandemic-affected world, a restaurant website is critical for your restaurant. A website is a tool for branding, expanding business opportunities, effectively engaging customers, and other stakeholders. Your restaurant website acts as an online storefront and defines your online identity. 
A poorly created website can reflect poorly on your business, regardless of how good your food, service, or ambience are. Many people believe that the quality of a restaurant's website reflects its overall experience. After you have mastered the menu, location, and interior, it is now time to make your website complement it. You should consider incorporating these elements into your website for better engagement and more people in your restaurant. 
Must-have Features For A Successful Restaurant Website
Successful restaurants should invest in a real website with many pages where they can attract customers and answer their queries. Here is a list of must-have features for your restaurant website.
1. Better The Photography, Higher The Sales 
A detailed menu page is undoubtedly one of the most crucial features of a restaurant website. A picture says a thousand words so don't underestimate the power of great photography. Not only can high-quality images reflect your restaurant's status as a high-end establishment, but they also help tell your restaurant's backstory. This can help you build a connection with them before they ever set foot in your restaurant.
Moreover, visual marketing is on an upward trajectory. As early as 2018, an estimated 84% of all branded communication was visual. If you add pictures to your marketing content, you stand to get 94% more views than without. A great menu coupled with quality photography can also increase sales because people are inclined more towards visually appealing imagery and the phrase "what you see is what you get" is true to life. 
Invest in a professional photographer to create stunning photos for your website which can include the interior ambience, exterior of the restaurant, and even the staff so that customers can have a completely virtual experience. 
2. Social Media Integration 
According to Statista, the millennial generation has a population of 72 million individuals, making it a significant buying group. Social media marketing is a great way to engage your customers daily. Everyone relies on social media sites like Facebook, Twitter, Instagram, and Pinterest to search for a good restaurant. Be consistent with your social media management and tell the customers about special promotions or events, loyalty programs, gift cards, and other restaurant news. 
To raise restaurant awareness, widen your consumer reach, generate traffic to your website, and establish long-term customer relationships, pay for advertising on social networking websites. Taco Bell has one of the largest followings on Instagram, but according to Iconosquare's Brand Index, it also has an impressive engagement rate – which speaks to the brand's ability to connect with that audience. 
Your social media platforms should link back to your website as well. Moreover, make your cuisine camera-ready and add decor that can be perfectly captured to entice everyone to share it on social media. 
3. Order Now Button
A decade or two ago, people used to have to place orders over the phone or drive to restaurants for take-outs, then wait for the meal to be prepared and delivered. Today, restaurant operators offer website, or app-based ordering or both to simplify the process for customers while also streamlining restaurant operations. A restaurant's day-to-day operations can thus be made more efficient by using an online ordering system. 
By integrating an end-to-end Customer Relationship Management (CRM) system, online ordering platforms can dramatically improve the customer experience. Having a strong online presence simply means being available for your customers 24×7 without having to pay for expensive media advertising billboards. 
One great restaurant franchise that is using this technique is Shake Shack. With its "Get online, not in Line" tag on its website, the restaurant makes herding online easy and hassle-free. All one has to do is select the location of the nearest Shake Shack and add food items in the bag.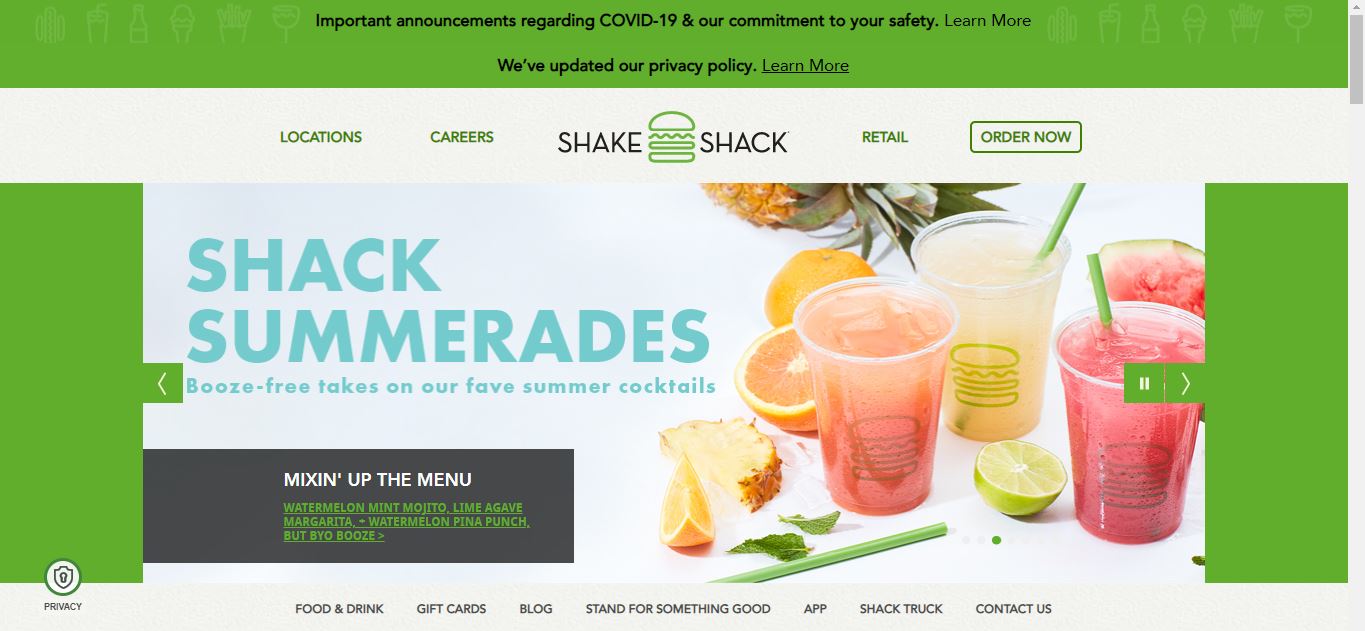 4. Carefree Reservations 
Online bookings are a must-have for any restaurant website, as foodies increasingly rely on the internet for information. Customers can order food immediately from a website using any device, thanks to interactive food menus and can also pay for their online orders using a secure website and a debit or credit card. Aside from offering customers an easier booking process, online bookings benefit restaurants greatly. It helps in streamlining the booking process.
Online bookings allow potential consumers to examine availability without the risk of human error, and restaurants to be certain of their reservations, making them quick, dependable, and efficient. It helps free up staff time and provides a wealth of marketing data as online bookings provide a one-of-a-kind opportunity to collect clients' complete names, email addresses, physical addresses, and phone numbers. 
5. 'About Us' Section 
Your restaurant's About Us page is your space to tell people your story. Tell the customers what made you open the restaurant? What kinds of services do you offer like WiFi or free parking? Starbucks is a great example of this. In their "About Us" section, they highlight their rich heritage, which they consider to be at the heart of the Starbucks experience. The company also connects people with a sense of community which revolves around striving to become resource positive and trying to give back more than what we take from the planet. 
Your website should also include all important information, such as your restaurant's address, phone number, parking information, whether you offer valet service, an embedded Google Map of your location, and other details that make it easy for guests to find you.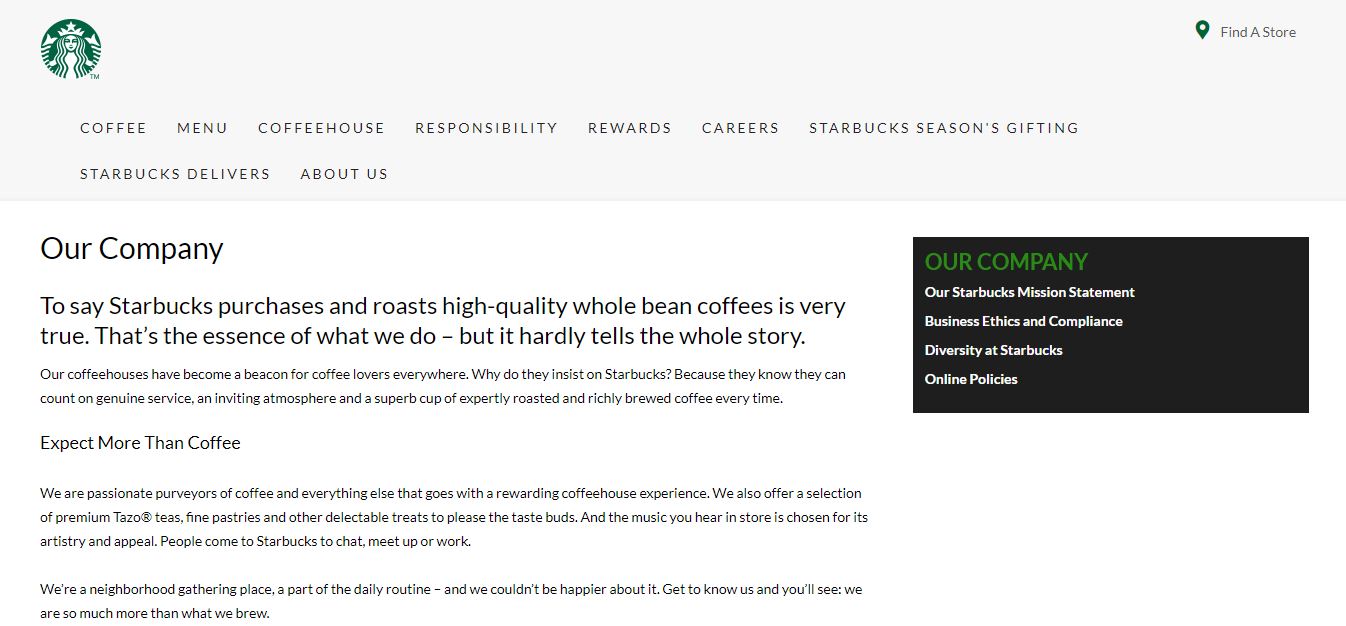 6. Optimize For Search Engines
SEO aids in the visibility and attraction of visitors to your restaurant's website. Search engines like Google decide how your content will rank during a certain search by utilizing keywords in your site's content.
For instance, a customer searching for "best sushi restaurant near me" on Google, may find your restaurant as one of the top results- provided you have good SEO. Accurate NAP (name, address, phone) data that is consistent across all data sources is a critical foundational element of local SEO. Restaurant SEO entails optimizing your restaurant's website, social media, and overall digital presence by adding relevant content to your website.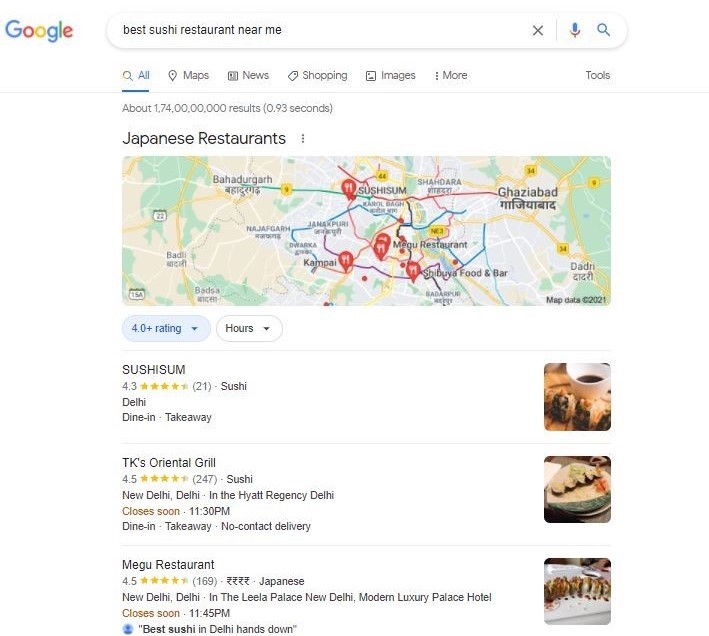 7. Customer Feedback That Builds Trust 
Last but not the least, you can put reviews on different sections of your site to drive loyalty and sales. The good news is you don't have to be a developer or have any technical skills. You can use advanced APIs to automatically extract reviews from places like Google My Business, Facebook, and Yelp, or you can incorporate a rotating customer review section into your restaurant website design.
Maintain contact with your customers and promptly respond to any issues they may have. While having a website is essential, it is equally important to partner up with food delivery services such as Zomato, FoodPanda, UberEats etc. as they expand your reach considerably and also provide a feedback mechanism so that you don't have to go through the hassle. 
Running a restaurant is difficult, and you must balance a lot of tasks as a restaurant owner. Building a restaurant website, on the other hand, should not be one of your concerns during the day. When you know what essential restaurant website features to consider, creating a new website isn't all that tough.