The past few years have seen an increasing number of fire outbreaks in the F&B industry. Tragedies like that at a  Mumbai pub in 2017 and recurrence of Uphaar incident were both unfortunate and avoidable. In 2018, the Supreme Court directed authorities and the restaurant industry to ensure strict compliance with fire safety norms at hotels, restaurants and other public places to avoid such accidents. As per the law, the owners would have to seek permission on several things while constructing their restaurants, including the material used in the building. Thus, obtaining a Fire Safety license has become mandatory to open a new restaurant.
Checklist To Make Your Restaurant Fire Safety Compliant 
The most common causes of fire outbreaks at your restaurant are mishandling cooking equipment, electric faults, cooking oils/grease and gas leaks. The first step towards making your restaurant fire safety compliant is to minimize possibilities of any such accidents. We have thereby made you a checklist to help you keep everything in check while getting your restaurant a fire safety license. 
1. Have A Fire Suppression System In The Kitchen
Studies suggest that around 57% of restaurant fires happen due to mishandling of cooking equipment. Installing a fire suppression system is more than necessary to control freak fire accidents. These cylinders contain what are called clean agents- a category of gases which must be stored in a protected area. Whenever smoke or fire is detected, an electronic signal is sent to the control unit to release the clean agent from these cylinders into the restaurant. 
2. Have Portable Fire Extinguishers For Backups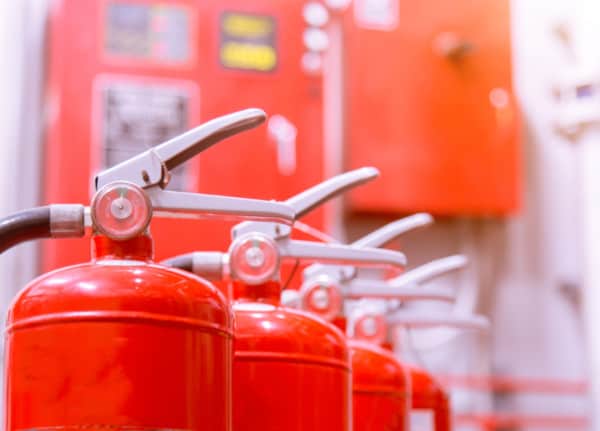 Portable fire extinguishers serve for an extra layer of protection in your kitchen area. Class K fire extinguishers work best by putting out fires that result from grease or oils. The Class K fire extinguishers are mostly used after the activation of a fire suppression system. However, the other classes of fire extinguishers, like A, B and C can be used for other fires caused by electrical faults, plastic or wood. 
3. A Regular Maintenance Schedule For Your Fire Protection Equipment. 
Ensure that your fire suppression systems are inspected and maintained at least twice a year. It would help if you hired a professional team for inspection. Along with the fire suppression system, you need to manage your fire protection equipment and systems as well. 
4. An Automated Fire Alarm System Is An Essential 
Another essential to make your restaurant fire safe is getting an automatic fire alarm system. It monitors the environment for any presence of unwanted fires. Along with alerting people to leave the premises, an ideal alarm system should also activate your fire suppression system. 
5. Emergency lights and exit signs to keep people safe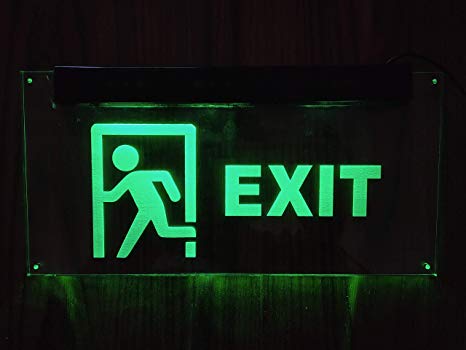 Having enough emergency lights and exit signs is crucial at the time of accidents. Considering that the safety of people inside is of utmost importance,  restaurants need to keep their exit routes empty most of the time. Emergency lights must be installed in areas where the staff members and customers gather the most. The signs should be above all doors and need to be serviced from time to time. 
6. Have Smoke detectors installed in your restaurant 
Smoke detectors, both wired and wireless, are critical to saving restaurants from fires. Install the detectors in washrooms, lobbies and the dining areas. Also, you must keep a perpetual check to ensure these detectors are in good shape. 
7. An Efficient Fire Sprinkler system must be installed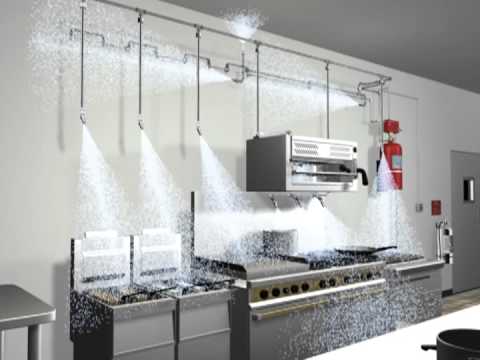 Fire sprinklers have a glycerin-based liquid kept in a glass bulb, which sprinkles its constituents whenever triggered. These sprinklers must always be in good shape to deal with fire accidents and emergencies. Along with sprinklers, you can get in fire blankets made of wet chemicals as a supplement to the fire suppression systems. 
8. Staff Training To The Rescue 
Staff training is a critical part of making your restaurant fire safety compliant. Your team members should know how to use the equipment you've installed at your restaurant. Furthermore, they must be trained to deal with accidents, especially in taking care of affected people inside the premises. Here are some tips you can use while preparing your staff: 
Ask your team to remove ashes from wood. Especially around smoking areas or tables. 

Never throw water on a grease fire. Add this as one of your kitchen SOP.  

Clean up grease regularly 

Store flammable liquids carefully 

Clean up to avoid hazards 

Ensure staff members know how to use fire extinguishers 

Be ready to power down
Along with the instrumentation and fire safety systems, your restaurant also needs a contingency plan to deal with fire outbreaks and other such emergencies. Have your staff members fiercely follow your restaurant SOP. 
All in all, for a restaurant to be fire compliant, it needs to have regular maintenance and inspections done, along with getting all the equipment onboard. Ensure that all the fire prevention and suppression systems are in place, and your staff knows how to use them in case of accidents!